Helping older people make better use of technology and stay connected in a digital world.
Whether you've always wanted to make a video call or shop online but have never had the courage. Or, you've got some knowledge but want to improve your skills. Our Click & Connect project may be able to help.
Click & Connect, helping you use technology in a way that's important to you.
Our free-to-access service can:
Advise on what equipment to use and how to better use it as well as the best ways for you to access the internet.
Support you to achieve the things you want to do with technology.
Help you if you have no friends or family who can assist.
Make technology equipment more affordable by checking your entitlement to welfare benefits and grants.
Click & Connect is not a training course but it will provide 1-2-1 support to help you achieve what you tell us is important. We cannot lend or give out equipment, but we can advise on whether your equipment is suitable and suggest options for equipment you may need.
We can't provide you with help indefinitely but we can provide support until you are confident in performing the tasks you want to do.
If you feel there is something you want to do but don't know how, then Click & Connect could help!
How to access the service
If you would like to find out more, please call our team on 01380 710 296 and we will be delighted to speak with you.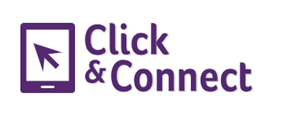 is delivered in partnership with: