Bromsgrove Activities & Events
Amphlett Hall (Crown Close, Bromsgrove) is a great place to socialise and join in with our community based activities!
Please see information below about our current activities at Amphlett Hall, but we are constantly developing our programme, so please contact us and let us know what you are interested in!
Computer Club
Our computer clubs meet three times a week for those who want to learn more about modern technology and how it can help them:
Tuesday mornings from 10.00am – 12.00pm and Wednesday afternoons 1.30pm – 3.30pm are for Beginners
Tuesday afternoons from 1.30pm – 3.30pm, is for those with a little more understanding
All the groups are relaxed and friendly, and very supportive. There is a charge of £3 per session. Please note that numbers are limited per club, so please contact us on 01527 570490 for the latest availability.
Move More with Paul (from 20th January 2022)
Age UK BRWF is piloting a new exercise class to help with Resistance Band Exercises and to encourage our communities to 'Move More'.
Thursdays afternoons 1.15-2.15pm
There is a charge of £4 a session. Resistance Bands provided, so why not come along and #GiveItATry!
'A Stronger Me' Resistance Band Programme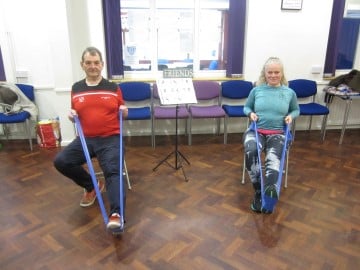 Being active is one of the most important things that you can do for your health and wellbeing
Resistance band training can support people to build muscle strength, improve balance and in turn reduce falls and maintain independence
In addition to our Move More with Paul class, Age UK BRWF is also a pilot site for Worcestershire County Council's 'A Stronger Me' Resistance Band Programme to help encourage positive and active ageing throughout the county. To find out more about this 12-week programme, come along to our Move More class or contact our Activities Coordinator, Adele, at activities.coordinator@ageukbrwf.org.uk
Find out more about our Activities and Events
To find out more or book your place, call us on 01527 570490 or email: enquiries@ageukbrwf.org.uk