News, Events and Activities
We are delighted to be the Aylesbury Town Mayoral Charity of The Year alongside Youth Concern, championing those who might feel marginalised and isolated due to their age and stage in life. ​
We hope to use this important platform to support more Aylesbury residents and recruit more fabulous volunteers so we can do more for local older people.
Many thanks then to the new Mayor and his staff, for this wonderful opportunity. We're looking forward to working together over the coming year!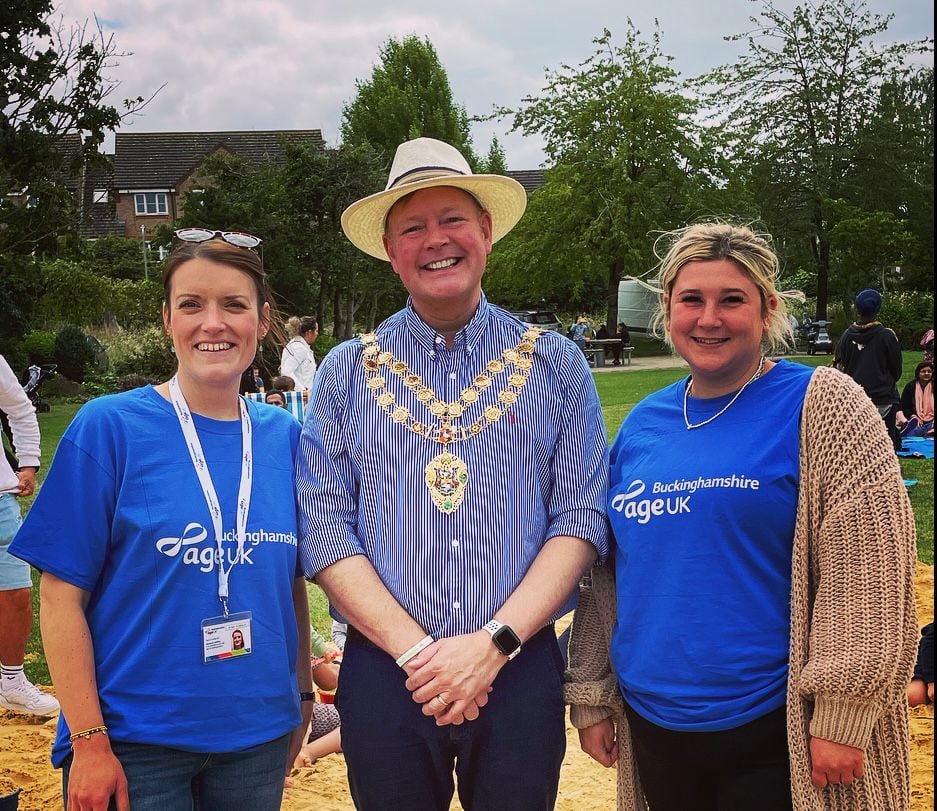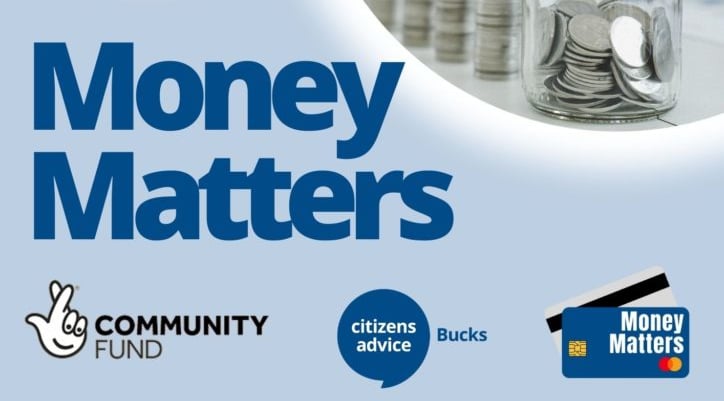 Money Matters is a FREE financial education programme brought to you by Citizens Advice Bucks that aims to empower & educate people further so that they are able to handle their finances effectively and prevent people from entering into debt where possible.
We are being offered to opportunity of attending some of these sessions - please see below
Household Costs - Establish how to manage, track & reduce your outgoings by identifying priority & non -priority costs
Budgeting & Income Maximisation - Identify ways to boost your income & reduce your spending by budgeting
Credit & Borrowing - Evaluate the true cost of borrowing & products available
Dealing with Debt - Learn about the implications of not paying bills & how to manage debt
These sessions can be delivered digitally – on Teams – or in person at community venues. If you are interested in attending any of the sessions, please contact our Volunteer Coordinator Leah Phipps on 01296 388051 or lphipps@ageukbucks.org.uk


The Cost of Living Crisis is something that is affecting all of us across the country, young and old.
With that in mind, please see some information and contacts below that may ease the pressures that you or somebody you know may be facing.
Helping Hand
Support from Bucks Council if you or your family (or someone you know) are in need of support, on low income or experiencing a financial emergency or crisis. Call 01296 531 151 Mon-Fri
https://www.buckinghamshire.gov.uk/cost-of-living/
Better Housing Better Health
The Warmth and Wellbeing Service. They offer advice and financial support in order to help improve the energy efficiency of your property. Call 0800 107 0044. https://www.bhbh.org.uk/
Buckinghamshire Housing Support
This is delivered by P3 Charity and can support with a range of needs including, housing advice, health and wellbeing, risk of homelessness or eviction, Pension Credit, budgeting and debt issues and accessing financial support. Call 0808164 1810. Call the Pension Credit Helpline on 0800 99 1234. https://www.p3charity.org/services/buckinghamshire-housing-support-service-
Winter fuel Payment
You usually get a winter fuel payment automatically if you receive a State Pension or Pension Credit. However, if you don't receive a State Pension or Pension credit you may still be eligible. Please Call the Winter Fuel Payment Centre on 0800 731 0160
Food Banks
Aylesbury Foodbank 01296 395514
Chiltern Foodbank 01494 775668
Slough Foodbank 01753 550303
Wycombe Food Hub 01494 913626
Volunteer Meetups
Interested in volunteering for Age UK Buckinghamshire?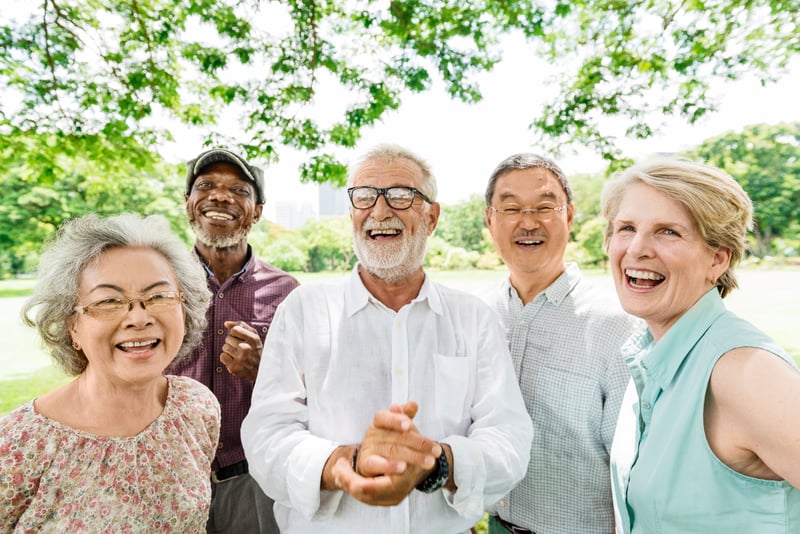 Our fabulous Age UK Buckinghamshire Area Facilitators and other volunteer leaders hold a series of meetups with local volunteers, offering support and guidance, understanding training needs, and sharing our vision of a new Volunteer Voice forum.

Please keep your eyes peeled for when we post the next volunteer meetups.
Help for Households, with the Energy Support Scheme
Please have a look at the poster below for further information on how you can apply for this.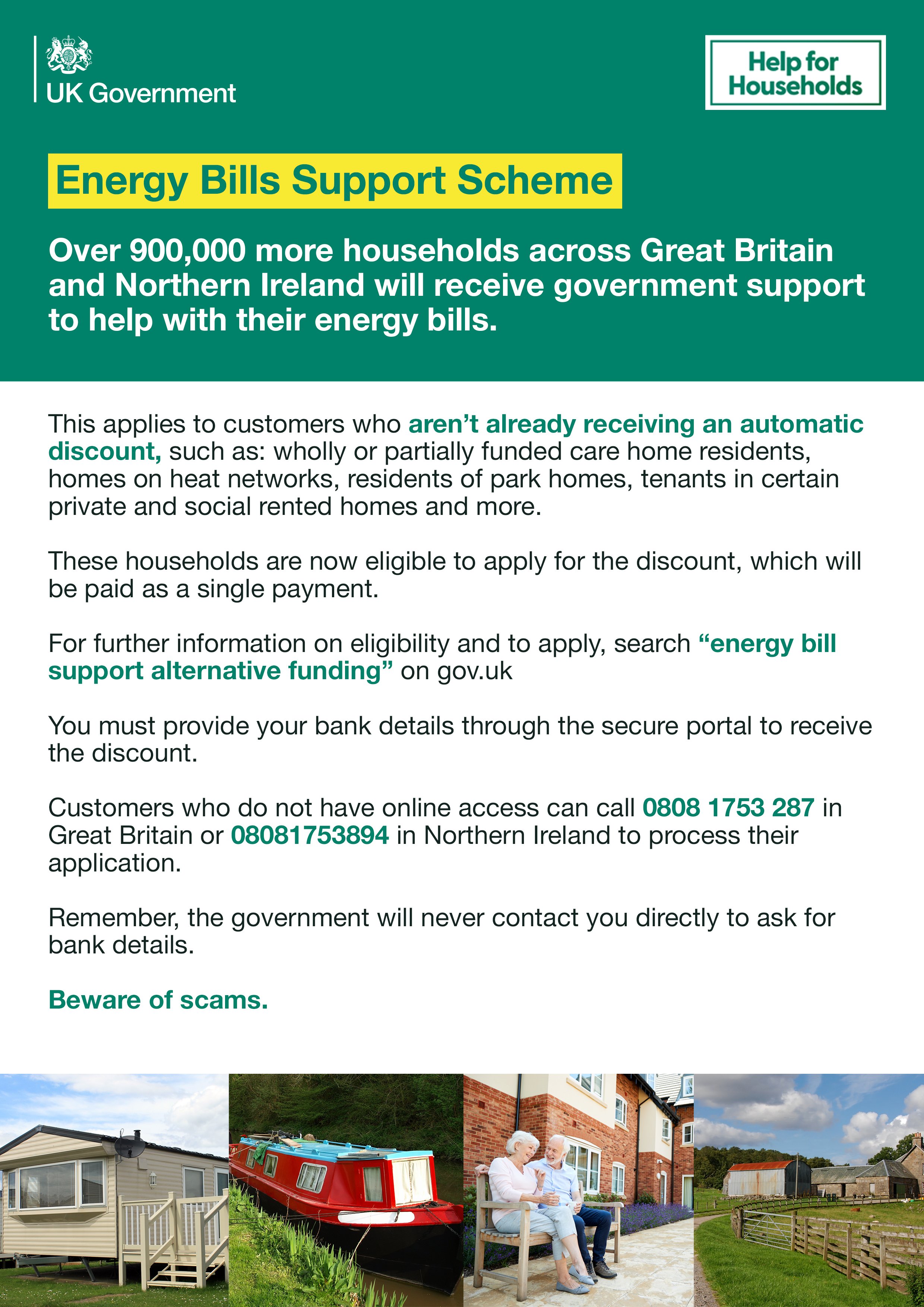 Bucks Vision and Age UK Bucks working in partnership across Buckinghamshire helping older people and the visually impaired.

We are delighted to announce that as of Friday 24 June, BucksVision will deliver the Buckinghamshire Integrated Sensory Service (BISS).
The current BISS team have transferred across, and we want to reassure you that it should be "business as usual", with the same service continuing to be delivered at its current high standard.
We will be working in partnership with @Age UK Buckinghamshire and @Young Deaf Activities to help people even more effectively.
The BISS team will share our office in Meadowcroft, Aylesbury and can be contacted by telephone: 01296 479 970 and email: biss@bucksvision.co.uk, or you can call our office number on 01296 487 556.
We believe that this is a really positive development and by delivering the BISS service alongside our current services, we hope to reach even more people with sight loss and make an even greater impact.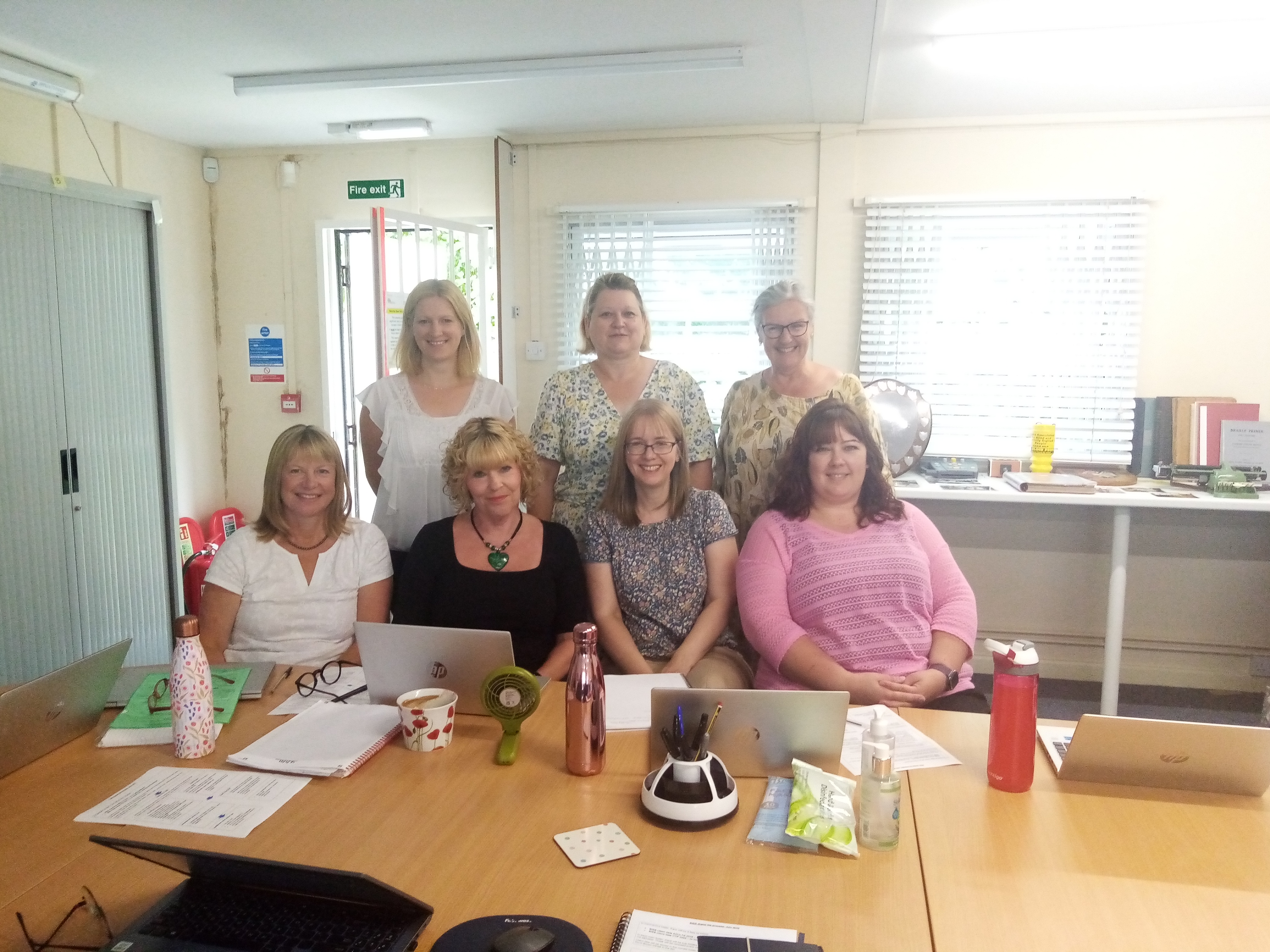 #VolunteersWeek #proudtobeageuk #thankyou
We would like to thank all of the volunteers who attended our THANK YOU tea party yesterday. It was lovely to see all of you and hear some of your stories over a cup of tea and a slice of cake.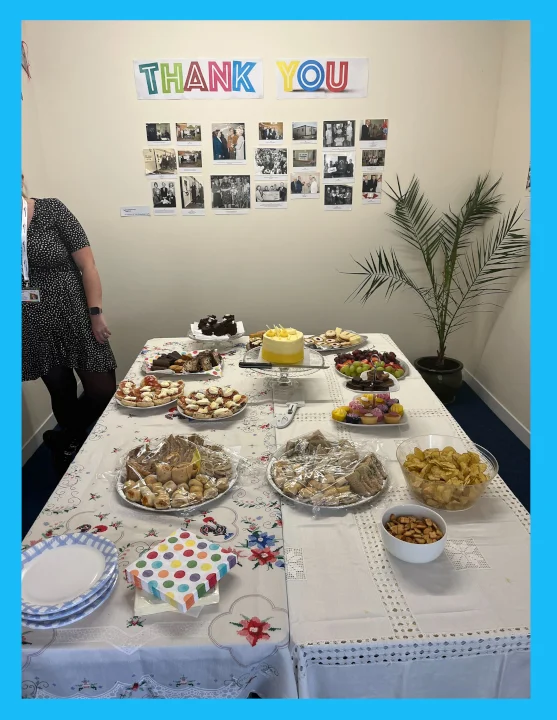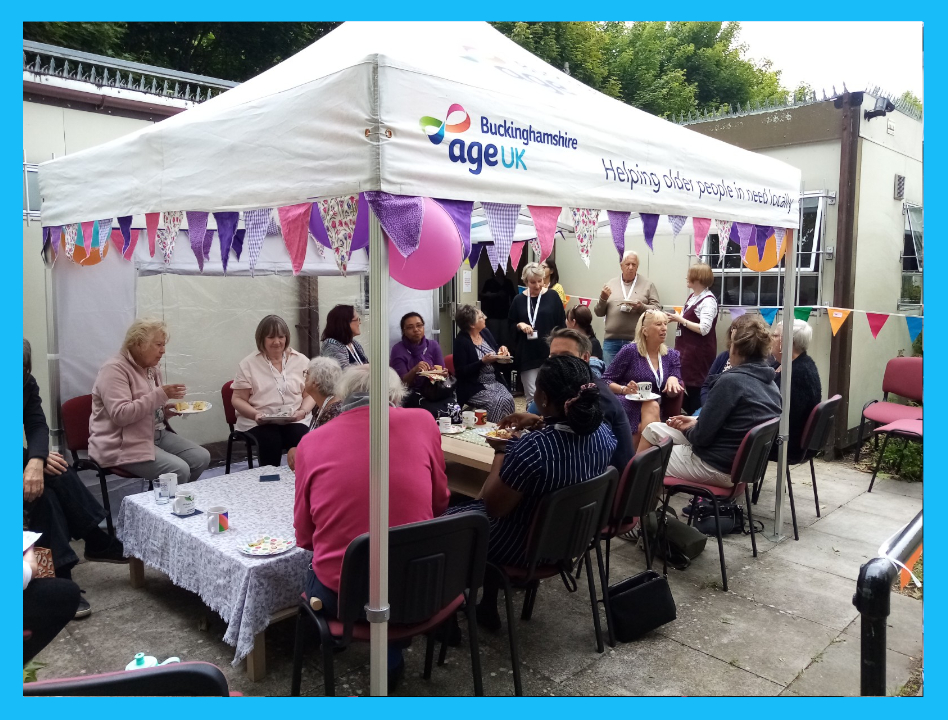 -𝑇ℎ𝑎𝑛𝑘 𝑦𝑜𝑢 𝑎𝑙𝑠𝑜 𝑡𝑜 𝑒𝑣𝑒𝑟𝑦𝑜𝑛𝑒 𝑤ℎ𝑜 ℎ𝑒𝑙𝑝𝑒𝑑 𝑡𝑜 𝑔𝑒𝑡 𝑒𝑣𝑒𝑟𝑦𝑡ℎ𝑖𝑛𝑔 𝑠𝑒𝑡 𝑢𝑝 𝑓𝑜𝑟 𝑜𝑢𝑟 𝑣𝑜𝑙𝑢𝑛𝑡𝑒𝑒𝑟𝑠 𝑡𝑒𝑎 𝑝𝑎𝑟𝑡𝑦 𝑦𝑒𝑠𝑡𝑒𝑟𝑑𝑎𝑦. #𝑡𝑒𝑎𝑚𝑤𝑜𝑟𝑘
We would like to thank all of the volunteers who attended our THANK YOU tea party last month. It was lovely to see all of you and hear some of your stories over a cup of tea and a slice of cake.
-𝑇ℎ𝑎𝑛𝑘 𝑦𝑜𝑢 𝑎𝑙𝑠𝑜 𝑡𝑜 𝑒𝑣𝑒𝑟𝑦𝑜𝑛𝑒 𝑤ℎ𝑜 ℎ𝑒𝑙𝑝𝑒𝑑 𝑡𝑜 𝑔𝑒𝑡 𝑒𝑣𝑒𝑟𝑦𝑡ℎ𝑖𝑛𝑔 𝑠𝑒𝑡 𝑢𝑝 𝑓𝑜𝑟 𝑜𝑢𝑟 𝑣𝑜𝑙𝑢𝑛𝑡𝑒𝑒𝑟𝑠 𝑡𝑒𝑎 𝑝𝑎𝑟𝑡𝑦 𝑦𝑒𝑠𝑡𝑒𝑟𝑑𝑎𝑦. #𝑡𝑒𝑎𝑚𝑤𝑜𝑟𝑘