Become a Welfare Benefits Volunteer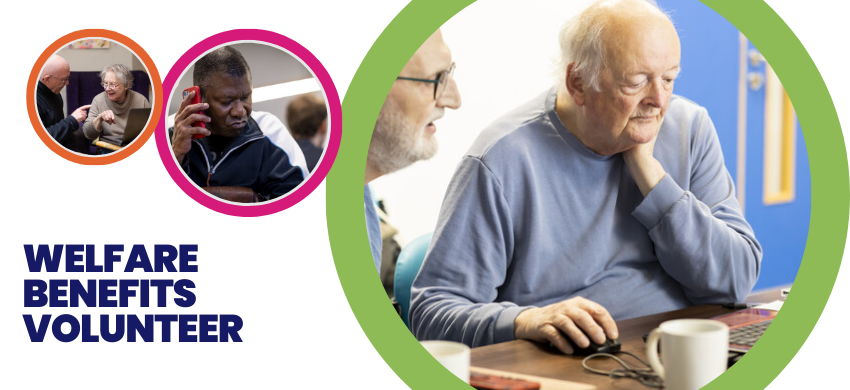 Become a Welfare Benefits Home Visiting Volunteer
Help maximise older peoples income by becoming a Welfare Benefits volunteer. Most older people struggle financially because they do not maximise their incomes by claiming the welfare benefits to which they are entitled. At Age UK Buckinghamshire we help older people to claim the welfare benefits they are entitled to by sending trained volunteer advisors to their homes to establish entitlements and help them through the process of claiming, by filling in the forms on their behalf.
We are especially looking for volunteers in the Aylesbury area and other counties including Gerrards Cross, Iver, Denham, Stoke Poges, Burnham, Farnham Common, High Wycombe and Amersham.
What skills does a Welfare Benefits Advisor need?
A welfare benefits advisor needs:
Empathy and patience with older people
A professional, friendly and approachable manner
Attention to detail and good record-keeping skills
A non-judgemental approach
Willingness to learn about older people's benefits
What training do we provide?
Successful applicants would need to undergo a series of training sessions regarding the needs of older people and welfare benefits. These sessions can be arranged on days mutually suitable for the trainees. At the end of the initial training, you will be "buddied" with one or more experienced volunteers, first as an observer and later as an advisor until you have the knowledge and confidence to undertake one-to-one visits.
How much time do we expect you to give?
Once trained, you can commit to as many or as few visits per week as you wish. Each visit takes, on average, about 2 – 3 hours. There are quarterly meetings that provide support and additional training days from time to time to keep up with new legislation.
What is our commitment to you?
We will provide initial and ongoing training to help you develop your knowledge and skills.
We will continue to support you in your role, providing information and advice as necessary.
We will discuss with you any problems you may have with your role, or any concerns we have.
We will reimburse reasonable, approved out of pocket expenses.
What is the next step?
Complete and return the volunteer application form with the names of two referees, to Age UK Buckinghamshire. Application forms will be used to select suitable applicants to interview.
Contact us today or fill out the form below and our Volunteer Co-ordinator Leah will get back to you.
Email: lphipps@ageukbucks.org.uk
Telephone: 01296 431911
Post:
Welfare Benefits volunteer application,
Age UK Buckinghamshire,
145 Meadowcroft,
Aylesbury,
HP19 9HH
Application forms:
Word format
Age UK Bucks - Volunteer Application Form.docx


PDF format
Age UK Bucks - Volunteer Application Form.pdf
Meet one of our Welfare Benefits Advisors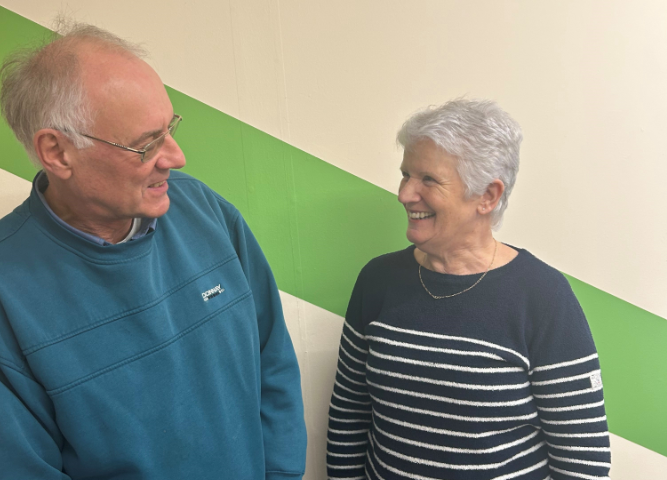 Peter Oxbrow, pictured here with Sue Gehnich, Welfare Rights Officer, started volunteering with AUKB after an incredible 46 years working for DWP! During the pandemic, his role involved assisting people with benefits, so our volunteer Welfare Benefits Advisor role was the perfect fit for his skills and experience.
In his spare time, Peter is the ultimate quizmaster, and even took part on Tipping Point, the TV quiz, 6 years ago!
Peter was recently recognised in the New Year's Honours List. He received the information via email but at first thought, it was a joke or a scam! He was later contacted by the Cabinet Office to say in fact it was not. Peter will be awarded the medal by the Lord Lieutenant of Berkshire and will also be invited to the King's Garden Party later this year.
We asked some AUKB clients about Peter, and they said: "Very helpful – explained everything and a wonderful representative came to the house and spent a lot of time helping us – Really, really kind."
Congratulations on your very well-deserved BEM, Peter! We're so happy to have you as part of our team.