Companionship days to help you get together with others.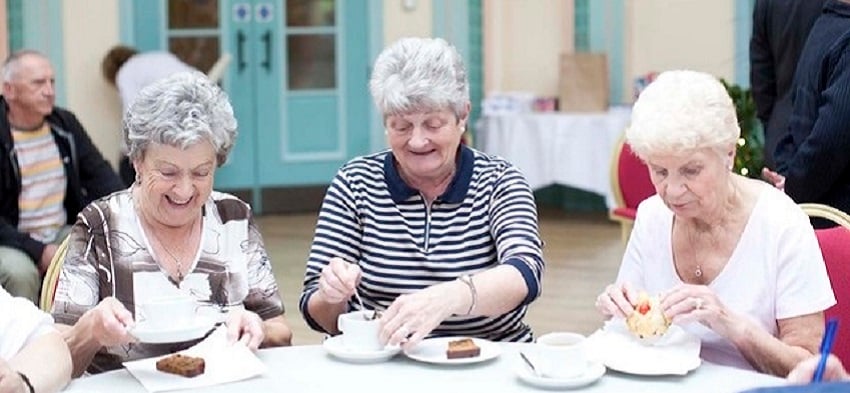 Age UK Calderdale and Kirklees have friendly centres in both areas where older people can get together for a chat, lots of different activities and a hot and healthy midday meal. All our centres are fully accessible.
Age UK Calderdale and Kirklees can collect you from home in our wheelchair accessible minibuses and transport you to your nearest centre where you will be welcomed with a cup of tea and a friendly face. We provide activities on request, and these vary from bingo which is our favourite and most requested activity, ​quizzes, arts and crafts, listening to music and IT lessons.
Days out
The centres also offer regular days out, with recent visits to local pubs for lunch, the bowling alley, shopping malls and the mining museum.
Respite for Carers
Our wellbeing (care) centres are a great way for older people to get out and meet new people and try new things. ​They can also offer very welcome respite for carers, who can relax, knowing that their loved ones are in safe hands.​
Sundale Spa
Sundale House, our centre in Huddersfield has it's very own older people's spa facilities: we can offer a bathing service in our accesible Parker bath, a mini hairdressing salon and it has it's own Relaxation Room, for some well deserved time out.

Fridays are Spa Days at Sundale House so you can visit for a combination of any of these services.

Download our Spa Leaflet for more information.
Weekend Day Care
From September 2021, we will be running Weekend Day Care on Sundays in our Rimani Wellbeing Centre in Halifax, including plenty of entertainment and opportunities for days out.
The Service is for adults aged 65 years and over or people with a physical disability who can maintain their own personal care needs whilst accessing the Service.
The service is free, but transport is £10, and a hot 2 course meal is £5.00. Referrals can come from GP's, family, or self-referrals.
Assisted Bathing Services
Professional and caring staff can ​offer assisted bathing in a fully accessible bath with hoist at our Sundale House Centre on Fridays.
Booking is required and you must bring your own toiletries, towels, and slings for the hoist ​(if required​). To find out prices and book call us on 01484 559935.
How to attend our Wellbeing (Care) Centres
Our centres are open to anyone over 50. Some people receive financial support from Gateway to Care after an assessment of their needs. Prices are £53.30 per day. Please contact us for more information.
If you are not sure whether a day centre is for you, we would be happy to arrange a taster day free of charge. Simply call your nearest ​centre to arrange a visit!
​We want all our clients to have the possible experience and encourage them to tell us what activities or trips they want to do and we will do our best to accommodate this.
Our staff and our centres
Our warm and caring staff are our biggest asset, and they are all well trained and vetted to offer you the best possible ​service.
The centres where we currently offer ​day care are:
Rimani House, Halifax - ​Open Monday, Tuesday, Thursday, Friday and Sunday.
Telephone - 01422 252 040
Sundale House, Bradley, Huddersfield - ​Open Monday to Friday.
​Telephone - 01484 559935
The Whitfield Centre, Society for the Blind of Dewsbury, Batley and District - Open Tuesday and Wednesday

We try to be flexible at all our centres and to offer a friendly and safe environment for all our clients and we have an overwhelmingly positive response:

"May I take this opportunity to thank you for allowing my client to have her lunches with the group. It had a positive impact on her general health and provided a sensible solution to some of the issues at that time. She enjoyed the company of Age UK clients and joining in with activities, especially bingo! Your staff were and are always kind, considerate and inclusive."

- Claire Schofield, Service Support Officer at Places for People
Contact us
To contact any of these centres please call either 01422 252040 or 01484 535994