Older People's Advisory Group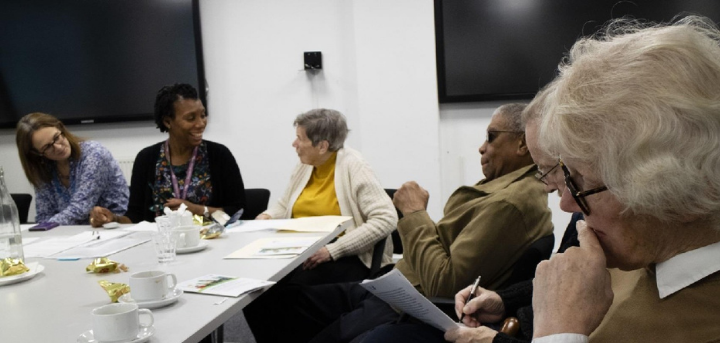 Want to use your voice to help make Camden more older people friendly? Why not Join our Older People's Advisory Group with Ageing Better in Camden.
Our Older People's Advisory Group (OPAG) is to provide a voice for older Camden residents over 60. The group come together on a monthly basis to discuss interesting topics relating to older people and have the opportunity to ask questions and participate in disucssions about these topics.
Please note down the below dates and location for future OPAG meetings, which will take place on Thursdays 10:30am - 12:30pm.
Location: The British Library, Centre for Conservation, Foyle Suite, 1st Floor.
29th June 2023
27th July 2023
31st August 2023
If you would like to have your opinion about the issues that matter to older people in the borough, please get in touch on maria.robinson@ageukcamden.org.uk
Meet our members
Phyllis

"It's like a stew, it all comes together and makes something very nice".

Basil

"I do a bit of good and help other older people in my position".
Shahana

"What I wanted is, I should be active, to participate. I also want to help other people."

Costas

"Without this group, we won't have a way of being inclusive, of getting together".
Read our latest report on the positive impact of OPAG
In 2021 we survey OPAG members and the professionals who came to consult with them. This demonstrates the positive and life-changing impact of OPAG demonstrates the positive and life-changing impact of OPAG during the Covid-19 crisis. Do give it a read to find out more about OPAG and the support they provided for one another during the pandemic.