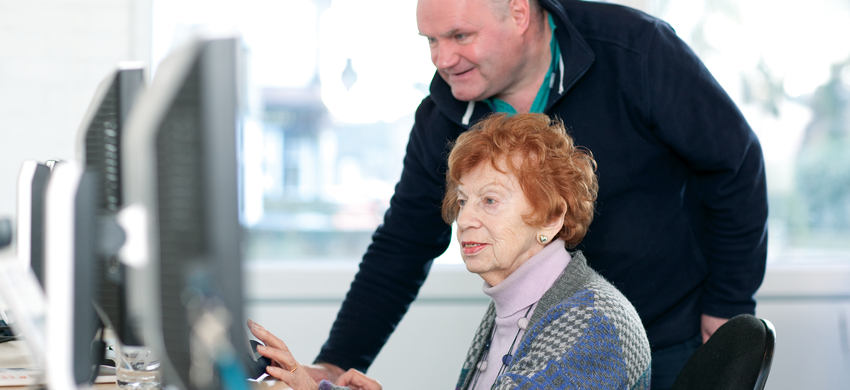 Age UK Camden relies on volunteers to help us offer vital services in the local community. Would you like to lend a hand?
Volunteering roles with Age UK Camden
Could you visit an older person with dementia or provide other support?

Meet new people, help us raise funds and have fun while volunteering in our shop.

Could you provide vital information and advice to older people in Camden?
Could you help older people in Camden learning new digital skills?

Do you have 100 supervised hours of counselling? We're looking for a volunteer counsellor to take on a challenging and rewarding role.

If you have a couple of hours to spare during the week and would like to make a difference to the quality of life of older people, we want to hear from you.
Help set up and facilitate groups with our Dementia Wellbeing team. These could be creative activities, reminiscence or other topics depending on your skills.

We are looking for volunteers who are artists and performers to visit people in their homes abd deliver a short performance to an older person.
Why volunteer?
Volunteering is a great way to meet new people, learn new skills, and support the work we do in the community. We offer a range of services to support older people to live independent, enjoyable and fulfilling lives. And the skills, time and energy of our volunteers is vital in helping us do this.
Who can volunteer?
We have a wide range of roles which suit different people and different skills. We also have employee volunteering opportunities.
How much time do I need to give?
It depends on the volunteer role you are interested in. Some people give an hour a week, other people do more. If you can't commit to volunteering on a regular basis maybe you could support us occasionally by helping out at one of our fundraisers or events? This could include anything from selling raffle tickets to shaking a collection tin.
Or perhaps you could organise a one-off fundraiser of your own, something you'd really enjoy doing. Find out more about fundraising for us or email Suzy Barber.
020 7239 0400
Please get in touch to if you'd like to discuss any of these roles
What else you can do to support us
Could you help us to raise vital funds by taking part in a sponsored event or hosting a cake sale?

Could you talk to your colleagues or your employer about how you can support us? We have lots of ideas for how organisations can get involved.