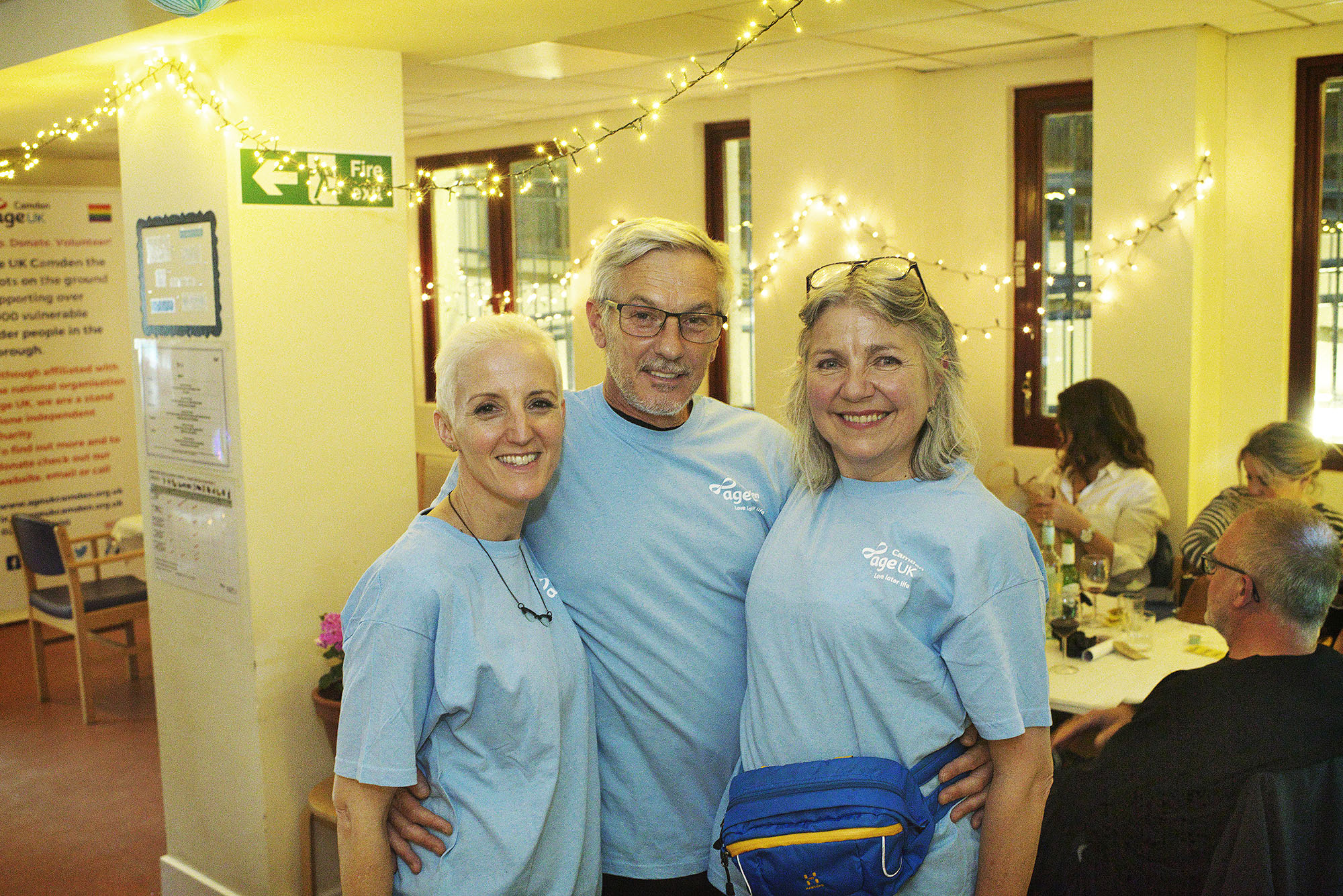 There are lots of ways you can help raise money to fund vital Age UK Camden services.
Pledge for 2020 - Take part in a sponsored activity!
What's your Pledge For 2020? Why not pledge to compete in a sporting challenge in 2020? Get fit, beat your personal best, and help fund our vital services at the same time! We have places on some fantastic sports events this year and signing up couldn't be easier, just contact info@ageukcamden.org.uk or call 0207 239 0400.
Prudential RideLondon-Surrey 100 Miles (August 2020)
Celebrating the legacy for cycling created by the London 2012 Olympic and Paralympic Games, Prudential RideLondon-Surrey 100 starts from 05:45 in Queen Elizabeth Olympic Park, then follows a 100-mile route on closed roads through the capital and into Surrey's stunning countryside. Click here for more information.
Prudential RideLondon-Surrey 46 Miles (August 2020)
The Prudential RideLondon-Surrey 46 comprises a spectacular 46-mile route on traffic-free roads, beginning at Queen Elizabeth Olympic Park in east London and following the same route as the Prudential RideLondon-Surrey 100 for the first 27 miles before taking a new two-mile route, which then links up with the last 17 miles through London to the finish in The Mall. Click here for more information.
Swim Serpentine 1 Mile Open Water Swim (September 2020)
Swim Serpentine is a one-day open water swimming festival staged in the heart of London.Organised by London Marathon Events, the festival is held in and around the beautiful Serpentine in Hyde Park, the venue for the open water swimming competition at the London 2012 Olympic Games. Swim Serpentine takes place on the same course as the London 2012 Marathon Swimming Olympic event, with one full lap around the Serpentine making up the one-mile swim. Click here for more information.
Royal Parks Half Marathon (October 2020)
The stunning 13.1 mile route takes in the capital's world-famous landmarks on closed roads, and four of London's eight Royal Parks – Hyde Park, The Green Park, St James's Park and Kensington Gardens.Click here for more information.
Pledge for 2020 - Hold your own fundraising event or collection!
Fundraisers come in all shapes and sizes. Why not pledge to put on your own fundraiser for us this year? You could organise a cake sale or coffee morning with a hot drink and a slice of homemade cake for £5. Or a special dog walk where owners and their pooches pay £10 for a designated route and end up somewhere for tea and sandwiches. You could organise a children's party, where guests pay £5, or a dinner party, posh picnic or kitchen disco. If event organising is not your thing, you could start a swear box at home or in the office or collect 20 pence pieces in a bottle. The important thing is to plan something you'd enjoy doing, to put the fun into fundraising!
In 2020 we are committed to reaching and supporting even more older people in Camden. In 2019-20 we worked with over 12,000 service users. We are always looking for supporters to help us by to volunteering, donating and fundraising with Age UK Camden. If you would like to take part in a challenge event please contact Sassaka.amena@ageukcamden.org,uk
We'd love to hear your ideas too!
Please get in touch by emailing info@ageukcamden.org.uk or calling 020 7239 0400
Read the stories of our fantastic fundraisers
Fundraising Standards and Principles
We have developed our fundraising activity with our donors and local older people in mind. Money donated to us stays in the borough and if money is given to us for a particular service it is ring-fenced for that service.
•Our fundraising is regulated by the Fundraising Regulator and as such we always abide by their Code of Fundraising Practice. We are also members of the Fundraising Preference Service which informs us if anyone has a complaint or concern about us. We will keep our fundraising practices under review and we will work with others with the aim of improving practice across the charity sector;
Anyone who is kind enough to consider supporting us can be reassured that:
•We do not undertake any fundraising door-to-door activity;
•Due to the nature of our charitable work and objectives, in particular our safeguarding policies and work around protecting older people in their homes, we do not send our fundraisers to knock on people's doors to ask for donations;
•We do not ask for direct debit donations on the street
•We will not approach you on the street and ask for your bank details;
•We do not share personal data beyond the Age UK Camden Group;
•We will never pass on your personal data to other organisations or charities for marketing purposes and will only contact you about products and services provided and/or offered by the Age UK Camden Group and Age UK Network;
•We do not sell personal data;
•We will never sell your personal data to other organisations or charities;
•We do not 'cold-call' people for fundraising purposes. 'Cold calling' involves a company or business calling someone with whom they have had no prior contact. We only phone people with whom we have an existing relationship, supported us in the past or told us they would like to hear from us;
•We will always check first that you're happy to speak to us when we phone. And if you don't want to be phoned, just let us know;
•Every communication from us to members of the public will always include information on how to opt out from future communications;
•We only want to contact people who are happy to hear from us and we encourage people to get in touch if they'd like to change the way we communicate with them;
•If you tell us you don't want to hear from us again, or want to hear from us less, we will respect that;
•We always stop direct debits received from donors if a third party (e.g. family and friends) advise us that the donor is vulnerable in some way; if we are satisfied that such third party is entitled to act on the donor's behalf;
•We know peoples circumstances change and will always cancel donations if one of our supporters is in a vulnerable situation. And if you're ever worried about an older friend or relative, don't forget we have lots of information and advice to help, just give us a call on 020 7 239 0400;
•We will only work with professional fundraising organisations that meet our high standards.