Henderson Court Health & Positive Living Hub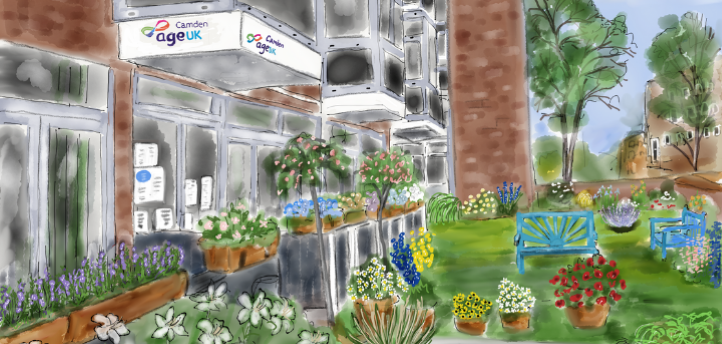 Henderson Court provides a wide range of activities and workshops as well as being a specialist centre caring for older people with complex needs.
The hub also provides a hot lunch and a range of outings and special events, including musical afternoons, theatre performances, talks and much more.
Dementia and complex needs
We have a dedicated specialist team at Henderson Court, which places emphasis on supporting people with care needs, including those with dementia and complex needs.
If you think you, or someone close to you can benefit from attending our Henderson Court day centre, simply complete one of our referral forms, and a member of our team will be in touch.
Who can attend the Health and Positive Living Hubs?
Older people attending can have their fees paid for by Camden Adult Social Care (if assessed as eligible) or be 'self-funders'. The day rates paid by Adult Social Care currently vary from £25 to £65 depending on the level of need.
Weekly activities schedule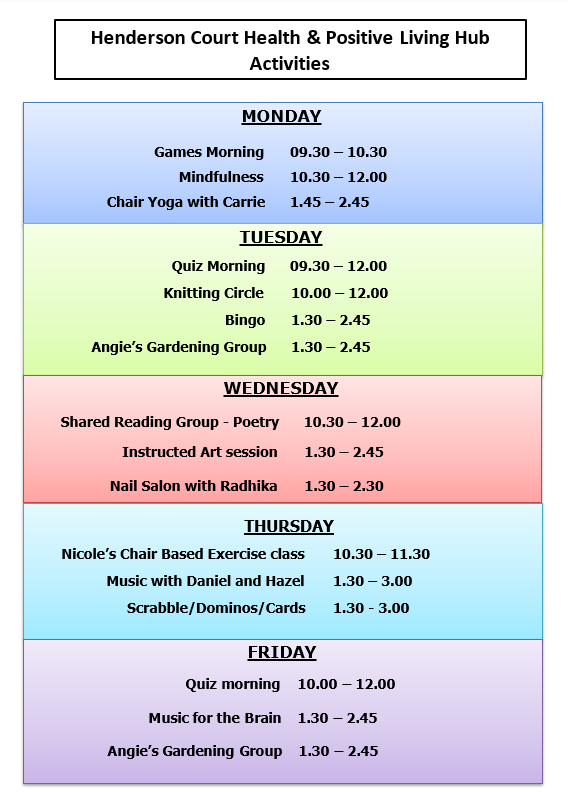 Opening hours and access
Henderson Court has a friendly atmosphere and we welcome visitors. Please pop into the hub or call us if you would like more information.
The hub is open from Monday to Friday 9.30am - 4.30pm. We are five minutes walk from Hampstead tube station and buses 46 and 268 stop nearby. There is wheelchair access to the main entrance of the centre, which is in Prince Arthur Road.
Community space for hire
As well as providing services for older people in the NW3 area, Henderson Court also offers spaces for rent weekdays, evenings and weekends for the whole community:
A large studio for rent, with wooden parquet floor and mirror - £30 p/h
Meeting/counselling room - £20 p/h
Therapy room - £20 p/h

For availability and more details contact Suzy Barber on suzy.barber@ageukcamden.org.uk
NW3 Together - Community. Space. Partnership
We are pleased to announce we have formed a strategic partnership with Hampstead Community Centre, called NW3 Together.
The aim is to improve the wellbeing of local older people by sharing our services to increase opportunities for older people in the NW3 area, especially for those living with dementia.
Hampstead Community Centre is open seven days a week offering a range of activities for the NW3 community, including play schemes, support groups, leisure activities and an over 60s club.
At the weekend there is an indoor market and space for hire for private use.
By working together, Henderson Court and Hampstead Community Centre aim to create a more inclusive and supportive community for older people in the area in which they operate.
Hampstead Community Centre
78 Hampstead High Street London NW3 1RE
Tel: 020 7794 8313
hampsteadcommunitycentre@btconnect.com
Contact us
Henderson Court Health & Positive Living Hub
102 Fitzjohns Avenue
London
NW3 6NS

Phone: 020 7794 6588
Email: Hcourt@ageukcamden.org.uk