Platinum Jubilee Cream Tea
Published on 25 June 2020 03:04 PM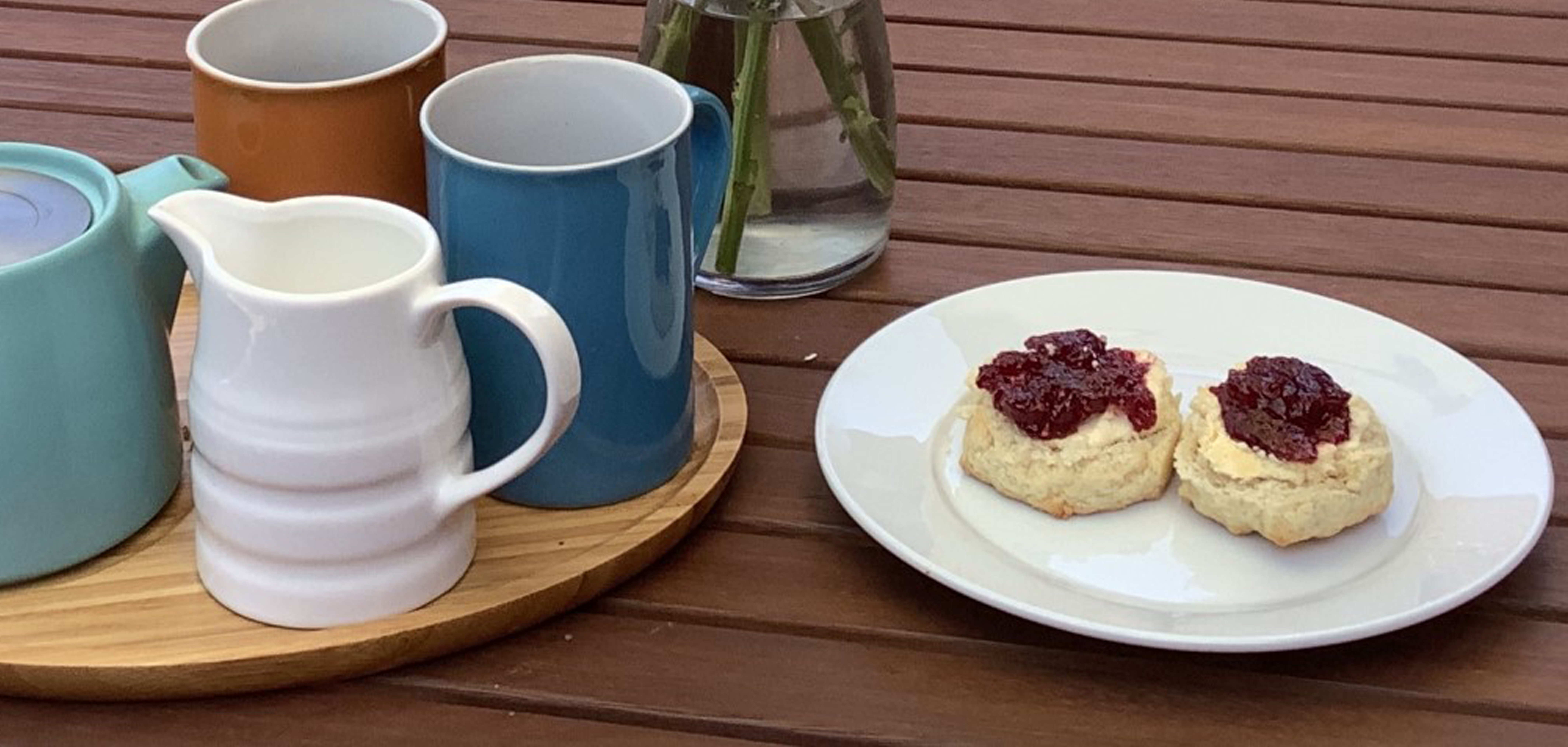 Friday 26th June 2020 is National Cream Tea Day. For us at Age UK Devon, we planned to host our Kings Manor Care Home Garden Party on this date, where we would be enjoying cream teas with residents, their families and local dignitaries and raising vital funds for our Information and Advice Service.
Sadly this event as with others arranged for our Platinum Jubilee year was cancelled as the Covid - 19 Pandemic hit and we all went into lockdown. At this point our Platinum Jubilee Fundraising Campaign was put to one side, while we worked tirelessly from home, to adapt our services and ensure older people across Devon had access to the support they needed at this difficult time.
We are now ready to restart our Platinum Jubilee celebrations in a slightly different way and we are asking for your help to do this. From 26th June 2020, National Cream Tea Day, we are asking you to enjoy a cream tea at home while making a donation to us. This can be on your own, or with friends and family either virtually or adhering to the current social distance guidance set by the government. After simply visit our Virgin Money page and make a donation to our Platinum Jubilee fundraising campaign
All monies raised will be used to help fund our Information and Advice Service. As a automonous and independent charity, who is responsible for raising our own funds for this service we rely heavily on donations and grants to keep our Information and Advice lines open. During lockdown our team of advisors have been busier than ever being a vital point of contact for worried, scared and isolated older people, their families and carers across Devon. Every penny raised will support our Information and Advice Team to help even more older people across Devon.
What to do next:
First decide whether you are going to host a virtual cream tea or face to face. If you decide to hold a socially distanced cream tea please ensure you are adhering to the governments current guidence, which can be found here - https://bit.ly/3hVzSnf. Could you make it more interesting by hosting a 1950's quiz or bake off style competition to see who cooks the best or most unusual scone?
Invite friends and family and share with them how funds raised will support our Information and Advice team.
Bake or buy your scones ready for the big day. A simple scone recipe from the National Cream Tea Society can be found here - https://bit.ly/3hX32lR
On the big day, enjoy your cream tea and remember to ask those attending to donate to our Virgin Money page.
It's really that simple, just remember the correct way to prepare your scones; cream first then jam!