Age UK Devon's Outdoor Activity Club celebrates three years at Stover Country Park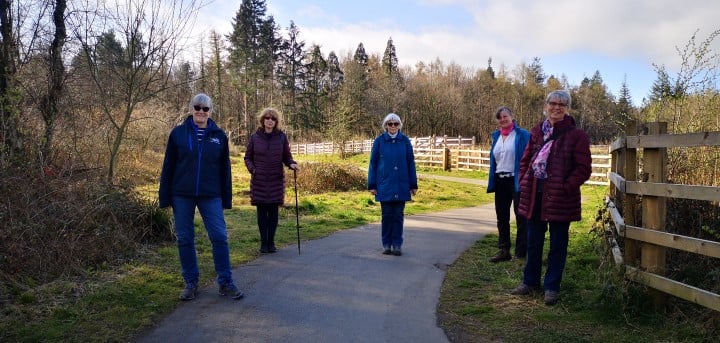 Published on 08 September 2021 12:09 PM
This September Age UK Devon will be celebrating three years since the launch of their Outdoor Activity Club based at Stover Country Park.
The Outdoor Activity Club began as a 12-week project through the Connecting Actively with Nature (CAN) programme, funded by Sports England and managed by Active Devon. Over those 12 weeks the club gained popularity and with the help of Age UK Devon's volunteers, the Outdoor Activity Club continues to meet regularly today.
CAN aims to inspire those over 55 to be more active in our beautiful countryside, discovering the physical and mental benefits in doing so along the way. Age UK Devon's Outdoor Activity Club provides a range of activities, which does just that from themed walks to forest crafts. Being out in the fresh air at Stover Country Park helps to improve mood and reduce anxiety while the regular gentle physical activity makes a difference to health.
Tom Mack, Active Devon Programmes Manager and Connecting Actively to Nature Lead added "The Age UK Devon Stover Activity club was the first CAN project we ever funded 3 years ago and is still going strong. This means that lots of people have been able to reap the benefits of being active in a friendly, inclusive group, in a beautiful natural setting."
Age UK Devon's volunteer, Michael Cranmer, explains how the Outdoor Activity Group has positively benefited him. "I have learned a lot about the Park, its history and inhabitants. I have also been able to share some of my interests and expertise with others which makes me feel valued. To help less able or inactive people regain confidence and fitness also helps me and adds purpose to my life. The Age UK Devon staff are hardworking and pro-active; full of innovative ideas, and great fun."
Laura Whitehouse from Stover Country Park said, "The Outdoor Activity Club has been a joy to facilitate here at Stover Country Park. It's lovely to spend time with people who are so enthusiastic about the Country Park and its wildlife. I always look forward to any involvement in the Monday sessions and I've learnt just as much information from the group members as I've imparted - long may it continue!"
Age UK Devon will be marking the Outdoor Activity Club's anniversary by hosting a special session on Monday 13 September. They will be inviting special guests associated with the club to join them for a gentle stroll taking in the beauty of Stover Country Park's landscape and wildlife followed by a celebratory picnic with a specially designed cake.
If you are interested in finding out more about the Outdoor Activity Club, please call Age UK Devon on 0333 241 2340 or email info@ageukdevon.co.uk