Changes to our Help in the Home Service
We are restarting our HitH Service due to the need for support with domestic tasks for those who have not had help over the last few months. This will be done with extra safety precautions in mind to ensure that our help is carried out in the safest possible way.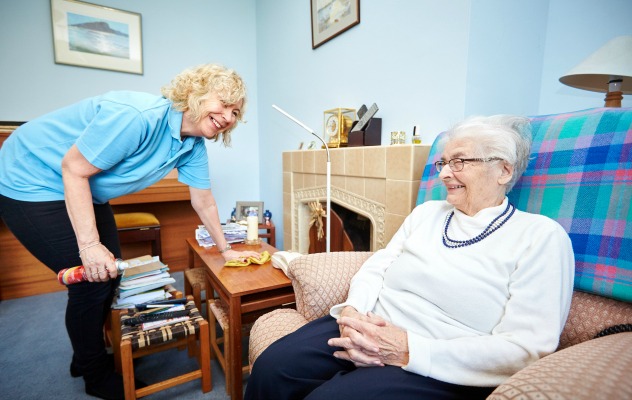 Our home helpers can assist with general cleaning, vacuuming, laundry and ironing, collecting shopping or prescriptions and preparing light meals. You choose which tasks your home helper carries out for you each week, helping you to keep control of your home the way you like it to be.
We visit a minimum of 1.5 hours weekly or 2 hours fortnightly to help with your household tasks. You pay £18.24 per hour, plus a pre-service visit and registration fee of £20. We can also provide a deep clean service at £100, which will involve two home helpers cleaning for approximately two hours. This service is available Monday to Friday 9am to 5pm.

Our Home Helpers can also spend time chatting, bonding over an activity, sharing a meal, or simply providing company while a family carer takes a break. This can be provided in addition to, or independent from, our original cleaning service and is provided at the same cost of £18.24 per hour.
Our thorough recruitment process ensures that we have the best team for the job! All of our home helpers are checked through references and the Disclosure and Barring Service (DBS) and are covered by our insurance. Your home helper will be trained in health and safety, first aid and food hygiene. We have a team of local home helpers, so we always endeavour to fill gaps in your service if your regular home helper is on holiday or unavailable.
Our Help in the Home services are available throughout Hertfordshire.
Testimonials
"It's wonderful when my Home Helper visits – she's always smiling. She helps me with the things I don't have the strength to do."
Mrs France, client
"Your service has been exemplary both from the actual help given and the communication aspect. Living a hundred miles away, it's comforting to know that anything of concern would be reported to me."
Mrs Tweedale-Sexton, daughter of client
If you would like more information about Help in the Home, please contact us on the details below 8.30am - 4.30pm:
North and East Hertfordshire
Covering: Welwyn/Hatfield, Stevenage, North Herts, East Herts and Broxbourne
Tel: 01707 386 066
Email: helpinthehome.ne@ageukherts.org.uk
South and West Hertfordshire
Covering: Watford, Three Rivers, Dacorum, St Albans and Hertsmere
Tel: 01923 224 472
Email: helpinthehome.sw@ageukherts.org.uk
Become a Home Helper
If you would like to join our Home Help team, visit our Careers page for further detail.