Volunteers' Festive Afternoon Tea
Published on 21 December 2018 05:36 PM
holds its first joint Volunteer Party!
As many of you will know, Age UK Hillingdon joined forces with Age UK Harrow and Brent on the 1st July 2018, becoming part of Age UK Hillingdon, Harrow & Brent. On the 23rd November 2018 the new charity held a Volunteers' Festive Afternoon Tea in Harrow on the Hill. Around 100 volunteers attended from all around the area and listened to music, danced, ate delicious food, won prizes in a raffle of goods donated by local businesses and recieved awards in recognition to their contributions to the charity. The London Fire Brigade also gave a talk on fire safety in the home, which was well received. A fantastic time was held by all.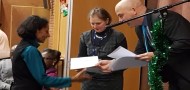 Julian Lloyd, the CEO of the new charity said "It was great to see so many of our volunteers from across Hillingdon, Harrow and Brent coming together and enjoying themselves. It gave us a great opportunity to thank volunteers and to celebrate the enourmous contibution we receive from our volunteers from across the 3 boroughs"
Age UK Hilllingdon would like to thank the Age UK Harrow staff who worked extremely hard organising the event, which was a huge success.