Uxbridge College Donate PPE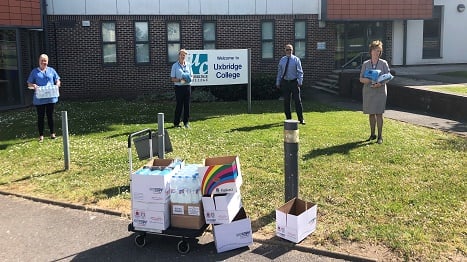 Published on 21 May 2020 03:26 PM
On Wednesday 20th May our Director of Services Tina Smith, Falls Prevention Physiotherapist Lucy Andrews and Help at Home Assistant Sandra Riley collected face masks, aprons, shoe covers, hand gels, small water bottles from Uxbridge College in Hillingdon. These items were kindly donated to us after they heard from one of our former staff members that we were in short supply of PPE. The college have also donated items to local nursing homes around Hillingdon since start of the COVID-19 pandemic back in March.
These items will help key services such as the Falls Prevention Team and Help at Home to continue to safely support vulnerable older people during the COVID-19 pandemic. Our home visiting staff are now confident they can carry out their work safely, both for themselves and the older people we look after.
We extend a huge thanks to Darrell De Souza Principal/CEO and Kiran Rami Head of Guidance & Student Support for their support and kindness in donating these items. We would also like to thank Hillingdon Council for delivering a supply for our Help at Home Service!