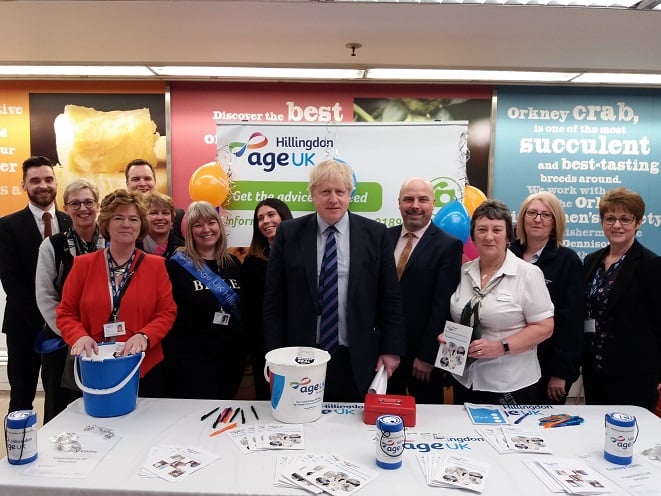 A great afternoon followed where we set up an I &A stand by the food tills and we helped with bag packing and had a presence in their café. I want to thank the I&A team for taking the lead and setting up a great display area and also our Townfield service managers Pam & Orla (we also had great fun talking to M&S customers in and around the shop.) and Claire G and Mandy who did a sterling job waiting on tables in the M&S café. Julian (AGE UK Hillingdon's C.E.O) joined us and met with the Store Manager and the lady championing our cause at M&S Maureen Payne. Some M&S staff wore our T-shirts and sashes for the event which really helped raise our profile.
Thanks to contact made through our Trustee Ian Edwards who invited Rt Hon Boris Johnson MP. Boris spent time with us and did a 'walk about' around the store talking to M&S staff and shoppers.M&S will continue to fundraise for us during the year with their own staff events and we will be supporting them by popping in and out. Money raised on Friday will go towards the target M&S want to achieve for us.
Fundraise at work
Companies can support us in many ways. At company level you will be raising your profile within the community and fulfilling your CSR responsibilities and at employee level you are getting actively involved with the community.
A corporate donation could secure the future of one of our services or activities.
As an employee, you can nominate us to be your company's Charity of the Year. You can help us by holding small regular events such as cake sales, a company football match or raffle. Even a collecting tin on reception helps!
If you're feeling ambitious, you could enter a company team into an organised sporting event such as Triathlon or Dragon Boat Race, or do a long distance cycle ride, anything at all!
We will support you all the way with fundraising materials, information and merchandise.
How can we get involved?
There are a number of ways your organisation can partner with us.
Choose Age UK Hillingdon, Harrow and Brent as your Charity of the Year
Please consider choosing Age UK Hillingdon, Harrow and Brent as your business Charity of the Year. In return we would offer joint branding on our fundraising materials and our events, as well as positive PR and local media coverage.
Sponsor one of our events
Your staff could get involved in our events thoughout the year, such as our annual Bake-off contest and summer garden party. By sponsoring an event you help us with the costs, for example, food and decorations and in return get some great PR and local media coverage.
Display a collection tin
Could you display a collection tin in your office or shop? This would help us to collect much needed donations to ontinue our vital work.
Donate a raffle prize or service
Could you donate a prize for one of our many fundraising raffles and competitions - perhaps a bottle of wine, box of chocolates or biscuits, bath goodies, gift vouchers or free services?
Donate equipment
If you would like to donate a piece of equipment, we would be very grateful. We usually need raiser chairs for people in our day centre, kitchen equipment for our lunch clubs and computer equipment for our staff.
Send employees to volunteer
Could you send a team to help out at an event or activity? It's a great way for staff to bond by working together to help vulnerable older people. Previous staff teams have served Christmas lunches, taken older people on days out, painted our day centre and revamped our garden.
Run a fundraising event
Your employees could run their own fundraiser to help raise vital funds for our work. They could do a cake sale, dress down day, a sponsored walk or run, or a raffle. There's so many things they could do - contact us for more ideas!