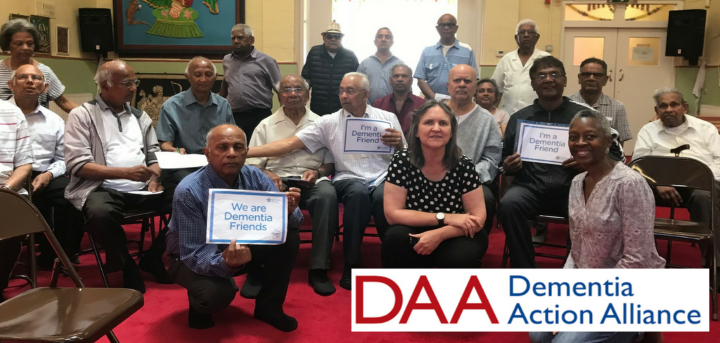 Lambeth Dementia Action Alliance
In 2017 Age UK Lambeth became a member of the National Dementia Action Alliance. A network across the UK aimed at bringing organisations together to improve the health and social care of people living with dementia and their carers. We established and published an action plan to build on current work and establish a strategic partnership in Lambeth.
In October 2017 we held our first Dementia Friendly Seminar Workshop which asked questions such as "What should a dementia friendly borough look like?" and "What are the key issues surrounding people living with dementia in Lambeth?" Following the seminar we set up a Lambeth Dementia Action Alliance (LDAA). Currently there are 17 members of the LDAA including Lambeth Council, the NHS, The Alzheimer's Society, care service organisations, community and voluntary sector organisations. See a full list of members below.
Currently the LDAA meets every quarter. We recognise it is early days but have agreed the need for a simple and effective plan of action including work with local businesses, traders, schools and local organisations. Our Terms of Reference is committed to taking action to improve the lives and environment of people living with dementia and their carers, and to make Lambeth a dementia friendly community by 2023.
If your organisation would like to become a working member of the LDAA and part of a dementia forum, you would need to complete a Dementia Action Alliance Action Plan spelling out how your organisation will contribute towards the work of making Lambeth a Dementia Friendly community. Please download a copy of the action plan here and return the completed plan to Cathi Blake (cathi@ageuklambeth.org).
Please also let us know if you or your organisation wish to be kept up to date of future LDAA progress and we will add your name to our generic mailing list, please email Cathi Blake (cathi@ageuklambeth.org).
If you or your members or relatives would like to kept up to date of social activities and events for people over 55 why not become a free member of our MYsocial Service and receive a monthly programme of events.
Members of the Lambeth Dementia Action Alliance
Alzheimers Society (Southwark)
Bluebird Care Clapham & Streatham
Homestead Senior Care Wandsworth, Lambeth & Dulwich
King's College Hospital NHS Foundation Trust
Right At Home Mitcham, Streatham and Dulwich