Our innovative Men in Sheds projects provide a place for men to come together and pursue practical interests with a high degree of autonomy.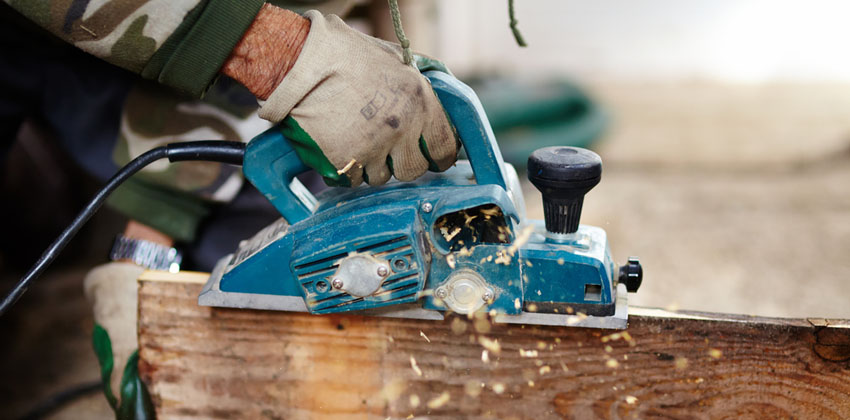 Our Men's Sheds welcome older men who would like to use and share practical skills, tools and resources to work on projects of their own choosing. Whichever activities are pursued, the essence of a Shed is not the building but the network of relationships between the members.
What is a Shed?
Our Sheds are just larger versions of the typical man's garden shed. They are equipped with work benches and specific equipment relevant to what the Shed members would like to do. The Shed is a place of individual pursuits and community projects, of purpose, achievement, and social interaction. They are a place of leisure when men can come together to work. Reclamation, reuse, and restoration feature strongly - and some say that is true of the men too!
What can I do at a Shed?
Within reason, whatever you want! Current activities at our Sheds include woodworking, a model railway, gardening, bike repairs and pottery. It is a diverse range and activities are not limited to what is already going on at a Shed. You may want to get involved with some electronics, re-upholstery, computing, or something else entirely. The activities are led by the men and we try to accommodate requests for different activities (space allowing and dependent on any specific equipment needed).
Where is my nearest Shed?
We have 2 Sheds: Loughborough and Oakham.
Charnwood Shed
Men in Sheds: Mon and Wed — 9 am to 1 pm.
Women in Sheds: Tues — 9.30 am-1.30 pm
Memories in Sheds: Every 2nd and 4th Thurs of the month: 10:30am-12.00pm.
Memories in Sheds is for people living with dementia who would like to engage in practical activities such as woodwork, craft, gardening and making things for the home.
The Sheds Carers' Social Group is an informal group for carers of people attending Memories in Sheds, with the aim of enabling social networks.
For more information about Memories in Sheds, please contact our dementia support service:
Tel: 0116 223 7363
dementia.support@ageukleics.org.uk
Loughborough Men in Sheds
Unit 9 Oaks Industrial Estate
Festival Drive
Loughborough
Leicestershire
LE11 5XN.
Tel: 01509 211603 or Mobile: 07738 820948
Rutland Shed (Men in Sheds)
Monday, Tuesday, Wednesday
Morning and afternoon sessions available - 9.30am - 12.30pm and 12.30pm - 3.30pm

Oakham Men in Sheds
Unit 2A,
Oakham Enterprise Park,
Ashwell
Oakham
LE15 7TU.
Tel: 01572 720319
Is it free of charge to attend a Shed?
Our Sheds operate on a membership basis with a quarterly membership fee of just £25. We invite anyone interested in joining the Shed to visit us and experience what's so great about the space, the activities and the members. If you then decide to join us, the Shed Co-ordinator will be able to give you more details and the membership form.
Once you start coming along, we suggest a voluntary donation is offered to help towards sessional expenses (tea, coffee and biscuits are always welcomed by our members!).
These contributions help us to keep the Sheds open and running alongside the support we receive from the local council, corporates and other funders. The use of tools and materials at the Sheds is then free to all members
How do I join a Shed?
Just get in contact with the Shed Coordinator and let him know you'd like to come along.
Men in Sheds Rutland Gallery
This gallery shows a selection of the type of items that have been made to order by Men in Sheds Rutland.
If you are interested in ordering a bespoke item, please contact the Rutland Shed by email, brian.lee@ageukleics.org.uk with your request.
If we are able to proceed with your order, we will ask you to provide a drawing or scale model of the item. A price will be agreed before we commence work on the project.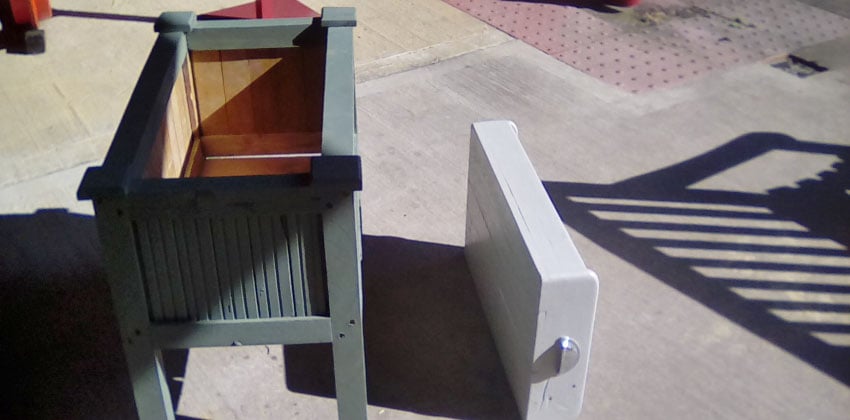 Men in Sheds Charnwood Gallery
Below is a selection of items that have been made to order by Men in Sheds Charnwood.
If you are interested in ordering a bespoke item, please contact the Charnwood Shed by email, with your idea.
If we are able to proceed with your order, we will ask you to provide a drawing or scale model of the item. A price will be agreed before we commence work on the project.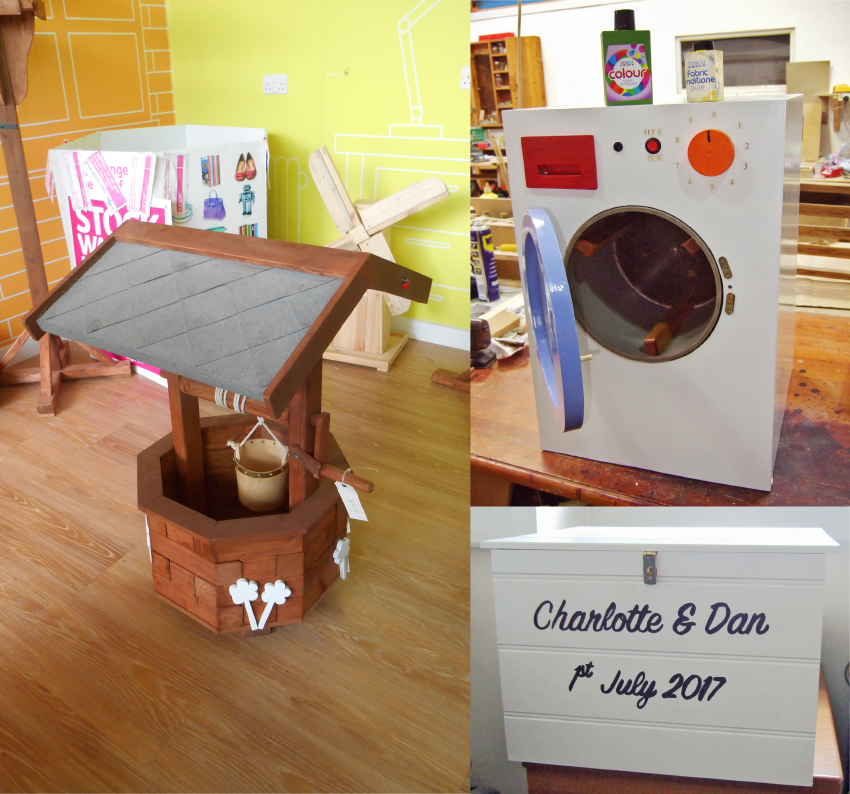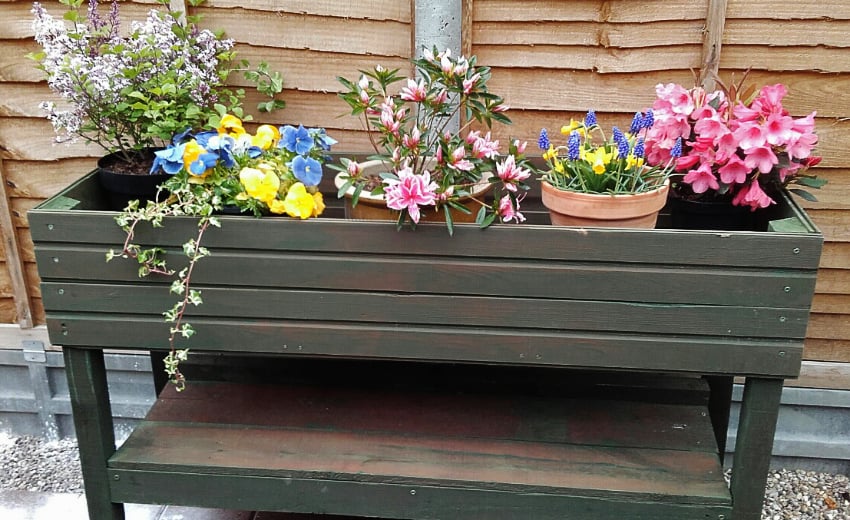 Rob's Story — 'Shed Loads' of support for men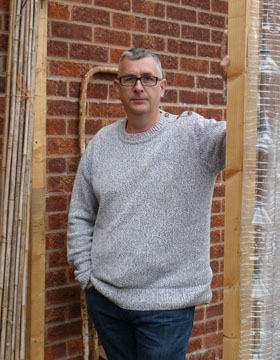 Rob Davies has experienced multiple life changing events since April 2014. It was then that he was made redundant from his GP Practice Manager position and embarked on a lengthy job search. Having always been very successful at interviews, Rob and his wife, Lisa, found it strange that it was taking so long to find a job. A visit to his GP resulted in a diagnosis of anxiety and depression and a prescription for anti-depressants, but Rob still struggled on the job front.
Eventually in 2015, he joined Hinckley logistics company DPD helping them to set up the local operation. It was the perfect job, being stress free and local to him, but after a few weeks his Manager took him to one side and sensitively explained that he felt something wasn't quite right. He suggested that Rob visit his doctor because his performance didn't tally with his impressive CV and his experience.
A GP referral resulted in Rob's diagnosis of early onset dementia in October 2015 at the age of just 52. Life at this point changed radically for the whole family. Whilst Rob isn't so aware of the impact his dementia has, his wife Lisa says that forgetfulness has changed the sorts of things he can do. Rob had been a fantastic cook but can no longer follow a recipe or work out cooking timings and his brilliance on the computer has also gradually waned. Lisa and Rob now live their lives by lists to help Rob remember what he needs to do while Lisa is at work – to have lunch, pop in to check on his mother and to take some exercise, usually a walk or bike ride.
The diagnosis also meant that Rob was no longer allowed to drive. Lisa worried about Rob being home alone all day and was keen for support to get him out of the house. Their Occupational Therapist suggested attending the Loughborough Men in Sheds project and Adult Social Services arranged for someone to drive him there for his first 16 weeks.
Rob joined the Shed after Christmas and attends one day a week, getting involved in the greenhouse project and woodworking. In Rob's words: "When I first walked through the door I felt at home. It has a good atmosphere and the members are friendly and supportive. Everyone helps each other and that's the best bit – someone always says 'I know how to do that, I'll show you'. I used to do a lot of DIY so I've been able to use those skills here but if you're not sure about something, someone else in the Shed will know."
Whilst the support and camaraderie are valued by Rob, Lisa feels that the structure of the day is really important: "Rob was 17 when he got his first job and worked every working day right up to 52. So coming here perpetuates the feeling of going somewhere, doing something, feeling productive and coming away feeling that he's achieved something – and that's very important to Rob. When we talk in the morning about what Rob is doing that day, he's much more positive on days he's due to visit the Shed and then there's something to talk about in the evening. Rob's always been a very social person so to be stuck in the village, in a house on his own when everyone else is out all day is just alien to Rob. I know he's amongst supportive and friendly people but also that he is doing something that he likes doing."