Helping you to look after your feet and keep them in healthy condition.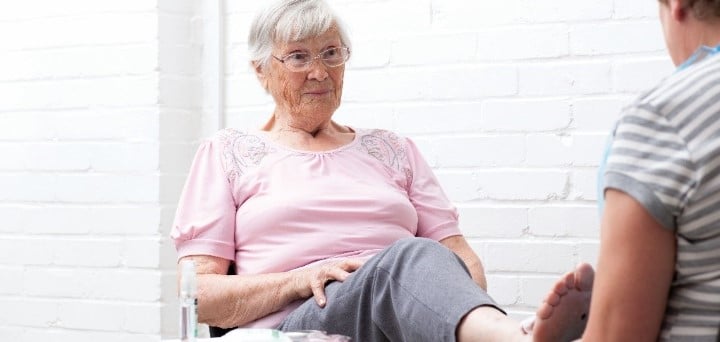 The older we get, the more important it becomes to take good care or our feet. After years of walking and working, our feet deserve a little TLC and looking after them well helps keep you steady on your feet and prevents some of the challenges of ageing.
What does the service offer?
Our trained, professional staff will welcome you into a private room for your treatment. If you need some help to remove your shoes and socks they can assist and will make sure you are comfortable for your treatment.
Each treatment will include: a hand or foot soak to cleanse and soften the skin and nails, a nail trim and then the application of hand or foot cream to moisturise and prevent skin dryness or itchiness.
Each treatment takes 20 – 30 minutes and you can have a longer appointment for both a hand and foot treatment.
Why might I need the footcare service?
A natural part of ageing is that we lose flexibility so it becomes harder to reach down to maintain our feet in good condition. In addition, our nails grow more slowly which means that they become thicker, more brittle and so harder to cut. If you can no longer manage to keep your toenails clipped and your feet in good condition, it is sensible to seek professional help as failing to look after your feet can contribute to poorer mobility and increase the chance of falls in later life.
You might want to use the service simply because it's nice to be pampered occasionally and have a trained therapist attend to your hands and feet.
Where is the service available?
The service is currently available for appointments on Wednesdays and Thursdays between 9.00 am and 4.00 pm at:

Age UK
Thorncroft
244 London Road
Leicester
LE2 1RN.
Tel: 0116 299 2266

And on Fridays between 9.00 am and 4.00 pm at:

Age UK
Clarence House
46 Humberstone Gate
Leicester
LE1 3PJ.
Tel: 0116 299 2266

We have also started a mobile foot care service where we can come to your house. This service is available Wednesday to Friday and there is a £40 charge for the first visit which includes an assessment and your own nail kit, and £28 for each appointment afterward.

We are always looking to expand the service to meet local needs so please contact us on 0116 299 2266 if you would like the service to be available in your area. As soon as we have enough local interest to start the service near you, we'll be in touch to let you know.
Is the service free?
No, this is a service for which we charge a competitive rate. Our current charges are:
| | |
| --- | --- |
| Toenail trim with foot soak | £18 |
| Fingernail trim with hand soak | £10 |
| Both service in the same appointment | £25 |
| Initial charge for your personal nail cutting kit | £8 |
How do I book an appointment?
Your first appointment needs to be booked with our friendly team on 0116 299 2266. Once you have started using the service you can book subsequent appointments with your therapist at the end of each treatment. To maintain good foot health and keep your toenails in trim we recommend an appointment every 6-8 weeks.