Past Campaigns - Making London a Great Place to Grow Older
Published on 09 March 2016 02:38 PM
Age UK London launched its London Mayoral and Assembly Election Manifesto, 'Making London a Great Place to Grow Older' at the London Mayoral Hustings 2016.
Areas for action in the Age UK London manifesto included digital inclusion, making London's housing age friendly and making transport in London accessible to all. Specific calls made in the manifesto included asking candidates to commit themselves to: retaining the Freedom Pass; ensuring that a range of suitable, accessible and genuinely affordable housing options were available for older people in all London boroughs; providing funding for digital inclusion programmes for older Londoners; and appointing a Deputy Mayor or Mayoral Adviser to an Age-friendly London portfolio.
In early 2015, before the General Election, Age UK, our national partners, published their ambition for the next Parliament, stating that older people should to feel well, be safe at home, have enough money, be active in communities and have access to quality health and care services. We feel our manifesto for London reflects what older people want across the country. We consulted with hundreds of older people, as well as organisations representing thousands more individuals, across every London borough to ensure we best represented what they wanted to say to the candidates.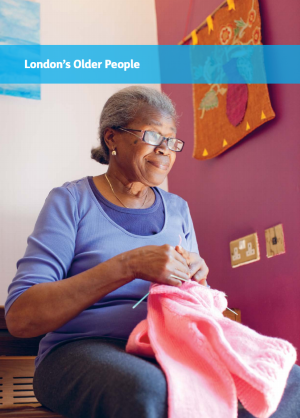 This is not the first time we've published a manifesto before a London mayoral election. Four years ago we called for the successful candidate to raise awareness of the contribution of London's older population, work with Transport for London to ensure buses were fit for purpose and promote intergenerational activity in communities. We also worked with the Mayor of London, on programmes like Know Your Rights, which are essential in giving older people in the capital what they need. We trust programmes like this will continue into the future.
We are delighted to be able to say the voice of older Londoners was heard on these issues. Research reports on older Londoners' economic contribution to the capital, bus driver training programmes and a host of intergenerational projects are to be commended. The London Plan has also set standards for age friendly housing.
However, much remains to be done.
Some areas have seen policy changes, but a question remains over whether practical changes to real life have taken effect. Other areas were ignored. In a city as fast-paced as London, it should be unsurprising that new challenges have presented themselves since 2012. Not everything is positive for older Londoners. Loneliness and social isolation remain an issue for older people in London, while poverty and equality are two more areas in which more needs to be done.
Age UK London proposed that a Deputy Mayor or Mayoral Adviser to an Age Friendly London portfolio be appointed. We have called for a commitment to older people, from the candidates, throughout this manifesto. We ask them to listen to what older people want to say to them, and pledge to act on that.
Older people pointed out that changes are needed in housing, that more needs to be done to get them online, that London needs to become more 'Age-friendly' in terms of attitudes and that the physical environment can be modified and designed to be better to age in. In this manifesto we have identified three key areas, housing, digital inclusion and transport, that are of most importance to older Londoners where the Mayor can make a tangible difference and have written specific sections on them. We then move on to five more areas in which the Mayor of London will also be able to support older people.
The hustings were attended by the four main mayoral candidates, Sian Berry, Green; Zac Goldsmith, Conservative; Sadiq Khan, Labour; and Caroline Pidgeon, Liberal Democrat. All four candidates produced exclusive articles for our blog too, take a look!