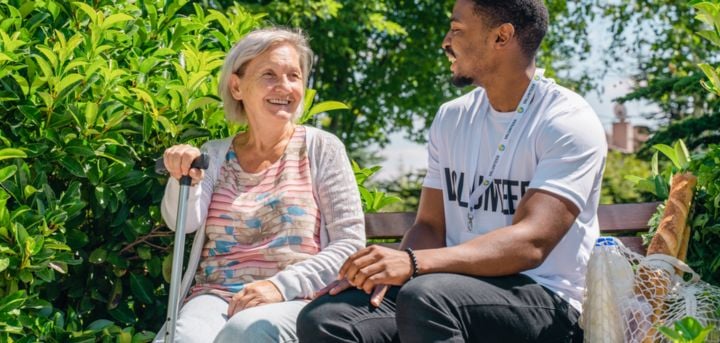 We are now returning to face to face services and will be offering both telephone and face to face befriending options ongoing. If you are interested pleased get in touch to discuss.
Merton Befriending Service is a joint service between Age UK Merton and The Wimbledon Guild, working together to deliver a high quality befriending service for isolated older people. Age UK Merton is leading on this Service.
We offer a free face to face and a telephone befriending service. Emphasis is on reducing social isolation, empowerment and promoting independence. This is done by providing emotional support and/or enabling people to be re-integrated back into their local community.
Face to face befriending:
Volunteers need to be able to commit up to two hours a week. The visit can be done on any day of the week. Volunteers are matched with an appropriate client and visit them once a week at a mutually agreed time for about an hour just to have a chat, share an interest or, if the client has been assessed to be mobile enough go out on short outings.
Telephone befriending:
There are also opportunities to become a telephone befriender which is more appropriate for people who work full time. Calls can be made around the working day, early evenings or at weekends. Calls usually last for about 20 minutes but no more than one hour per week.

Our volunteers:
Our volunteers are interviewed and fully inducted into the role. Two references are taken up. A Disclosure and Barring Service (DBS) Check is also carried out. Volunteers are regularly supervised and monitored.
Referral criteria:
We welcome referrals from anyone for
• Merton residents
• Age 65 years and over
• Who are housebound
• And/or living alone
• And/or recently bereaved (within the last year)
• And/or with a recent diagnosis of a long term condition (in the last year)
• Who want to be befriended through once weekly visits and/or telephone calls.
• Who are socially isolated and not engaged with activities in the community.
Socially isolated people are those not in regular personal contact with family, friends, community organisations and activities.
Regular personal contact is anything greater than 3 days a week and not in a caring capacity. Carers may be in regular contact with family but this is not regarded as "regular personal contact".
Priority will be given to those who are BOTH housebound and living alone.
Please note:
Service users must be able to meaningfully engage with and remember the befriender in order to benefit from the service. They must be able to understand what the service offers and give informed consent to the request for a befriender. They must be able to complete the short Warwick and Edinburgh Mental Well-Being Scale (see below for details).
The service is not suitable for anyone:
• With high support needs e.g. severe mental health or memory problems
• Who wants help with household chores, physical care, care after being discharged from hospital, respite care or a sitting service, shopping, banking and DIY
• The service is not an emergency intervention service. If you are concerned about an older person, phone Merton Social Services on 020 8545 4388.

The referral process
When a referral is received, the Service Coordinator will contact the client to introduce the service and make arrangements for a home visit. At this visit the client will be assessed to gauge their suitability for the service. All information shared is confidential. Following this assessment, if the client is suitable for the service, we try and find a suitable volunteer match. There will be a wait involved at this stage.

Usage of Short Warwick-Edinburgh Mental Well-Being Scale (SWEMWBS)
We are required to justify outcomes through various monitoring data. This includes usage of SWEMWBS. Clients will be required to sign a consent form which asks for their consent to use the Scale. It also asks for their consent for the information generated from the questionnaire to be used anonymously to explore if and how befriending has positively affected their mental well-being. The Scale will initially be used at the assessment stage and thereafter at six monthly intervals for as long as clients use the Service.
Click here to download a Befriending Service referral form.
Telephone 020 8648 5792 for a referral pack by post.
Interested in volunteering for the Befriending Service? We are currently recruiting for volunteer befrienders!
Click here to go to the Volunteering page.