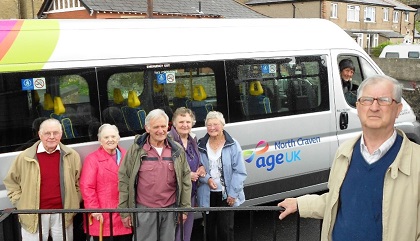 If you like to go out on day trips, meet new people and explore new places, why not come along on a day out with Age UK North Craven?
Our day trips
Door to door pick up and drop-off in our minibus.
Go out for the day with a fun and friendly group of people.
Explore new places - including market towns and places of interest.
New trips lists are produced three times a year so you can plan in advance and pick any that take your fancy.
Just register with us in order to come along.
There is a charge for our trips which you pay on the day.
---
Trip list 2017:
| Date | Details | Price |
| --- | --- | --- |
| Wednesday 31st May | Kendal - Always a popular day out! Stroll around the town centre and explore "The Yards" that offer hidden gems. | £8.50 |
| Saturday 3rd June | Ulverston Market Day OR The Dock Museum in Barrow - which one do you prefer? | £10.00 |
| Saturday 17th June | Hayes Garden Centre, Ambleside, and Lakeland - the home of kitchen gadgets - on the way back. | £9.50 |
| Saturday 24th June | Morecambe - Catch the Wind Kite Festival. Marvel at the wind kites or just take in the breath-taking view across the bay. | £8.50 |
| Sunday 25th June | Harlow Carr - Flower Show (please note, you will need to pay an additional £12.10 for the entry fee for the show) | £9.00 |
| Saturday 1st July | Richmond and Hawes Creamery - Explore the ruins of The Norman Castle with stunning views, or peruse the cobbled market place. | £10.50 |
| Saturday 15th July | Ripon - Visit one of England's oldest cities. | £11.00 |
| Saturday 22nd July | Carlisle - Venture into Cumberland. How will you spend your day - at the Cathedral, the castle, or with some retail therapy? | £13.00 |
| Thursday 27th July | Larch Cottage Nursery - a secret garden in the heart of Eden Valley, then calling in at Abbot Lodge Jersey ice-cream farm with over 40 different flavours of ice cream to choose from! | £11.00 |
| Saturday 5th August | Halifax Piece Hall - a recently refurbished Grade 1 listed building, the Hall is a unique space with 2 floors of independent and artisan shops, cafes, bars and restaurants. | £10.50 |
| Saturday 12th August | Kendal - A relaxing walk by the river Kent or shopping in the town centre. | £8.50 |
| Wednesday 16th August | Barnard Castle - A scenic run through to The Durham Dales. It's market day so you may find a bargain! | £12.50 |
| Sunday 20th August | Morecambe - Browse through the stalls at the Sunday market, or take the sea air. | £8.50 |
| Thursday 24th August | Barton Grange - It's blooming gorgeous! So much more than just a garden centre. | £9.00 |
In order to come on one of the trips, please contact us on 01729 823066 or fill in the form below online. We will only contact you about the trips you have specified, and only by the method you prefer. Check our privacy policy if you want to find out more about how we responsibly use personal details.
---
Some previous trips we have enjoyed include:
Barton Grange - voted Destination garden centre of the year 2017

Harrogate - a fascinating historical town
Ripon market - a great day out with over 100 stalls to browse

Yorkshire sculpture park - including the poppy installation commemorating World War One.