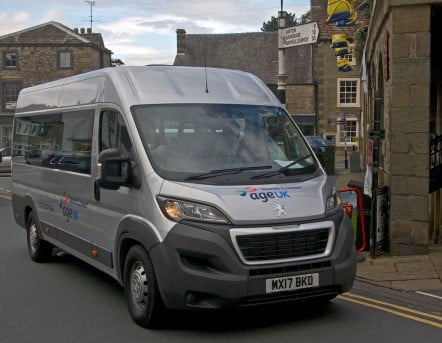 Whilst the Volunteer car scheme, taking people to health appointments, is still operating on a smaller basis, our Minibus shuttles have just restarted our trips are suspended for the moment. We are at looking at new ways to offer day trips etc and will update you here as soon as possible.
If you like to go out on day trips, meet new people and explore new places, please keep checking here for our updated information....
Our day trips
Door to door pick up and drop-off in our minibus.
Go out for the day with a fun and friendly group of people.
Explore new places - including market towns and places of interest.
New trips lists are produced three times a year so you can plan in advance and pick any that take your fancy.
Just register with us in order to come along.
There is a charge for our trips which you pay on the day.
November to December 2021 - Age UK North Craven Trips List

Wed 3rd Nov 21
HARROGATE
£10.00
Sat 6th Nov 2`
KENDAL
£9.50
Sat 13th Nov 21
MORECAMBE
£9.50
Wed 24th Nov 21
BOUNDARY MILL, COLNE
£9.00
Thu 25th Nov 21
CLITHEROE
£9.00
Wed 1st Dec 21`
BARTON GRANGE, nr Preston
£9.50
Sat 4th Dec 21
HARROGATE
£10.00
Sat 11th Dec 21
KENDAL
£9.50
Sat 18th Dec 21
KENDAL
£9.50
We are back up and running, the list is only a basic one at the moment but hopefully in time we will be able to add to it - Many thanks.
---
Please click this link to open the document with the form in.