Journey through Tyne
Published on 20 November 2018 03:49 PM
Go North East transports Norham High School youngsters on 'Journey Through Tyne'
Youngsters from Norham High School in North Shields will embarked on a journey of discovery with Go North East this Autumn, delving into the history of transport in Tyne and Wear and learning from those who experienced the changes first-hand.
Aiming to provide students with meaningful experiences to best prepare them for life after school and the world of work, teachers at the school are bringing the curriculum to life through employer engagement – starting with an intergenerational project for their Year 7 students.
Entitled 'Journey Through Tyne', the project concentrates on changes in transport systems and the local community over the past 50 years.
Working with local charity Age UK North Tyneside, students engaged with older residents in the area, who were invited to share their memories and personal experiences of how public transport has transformed since their youth.

The project saw the students working with Open Lab at Newcastle University to create an interactive journey app, adding in the data they have collected. Go North East buses then took the students, and their mature companions, on a tour from the Percy Main depot to Gateshead Riverside. During the trip, the students used the app to highlight the experiences they've uncovered at different locations and landmarks along the route.
The excursion culminated in a guided tour for the older passengers and a careers' meeting for the youngsters at Go North East.
The video of the trip can be viewed above.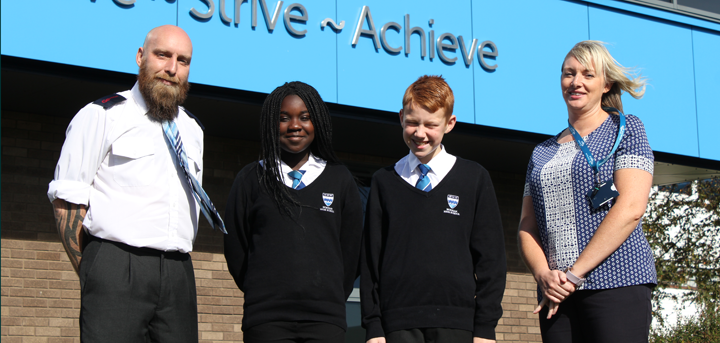 Co-ordinated through the North East Local Enterprise Partnership, Lucy Johnson, Industry Alignment Manager at Norham High School comments: "We're really grateful to Go North East for supporting this project. Input from local employers is essential, to enhance the learning and understanding of our students, while developing the skills they will require for future careers."
In support of the Government's Sustainable Development Goal 11, which aims to make cities inclusive, safe, resilient and sustainable, the project will also look at the barriers to public transport, and how to provide accessible and sustainable transport for vulnerable groups – a cause close to Go North East's heart.
Go North East recruitment and training manager, Keith Robertson, adds: "This is such an interesting and worthy initiative which we're so pleased to be part of alongside Newcastle University, Age UK North Tyneside, the North East LEP and Norham High School. Educating youngsters on the importance of accessibility, particularly for elderly groups and those living with disabilities, while providing an insight into how our company and transport infrastructure in the region has evolved, will be invaluable for everyone involved."

On the Go since 1913
For over 100 years, Go North East has connected the region's towns and villages with the cities of Newcastle, Durham and Sunderland; currently operating across Northumberland, Tyne and Wear, County Durham and into Tees Valley.
Around 200,000 people use Go North East bus services every day. Travelling to work or education, visiting friends and family, having a night out, or experiencing one of the region's many tourist and leisure attractions.
Employing over 2,100 local people, with a fleet of almost 700 buses and coaches and an annual turnover of £100m, the company is the regional subsidiary of the Go-Ahead Group plc, one of the UK's leading providers of passenger transport.
Go North East has a reputation for being passionate about service and innovation and a strong reputation for being a flexible and innovative partner – with both the private and public sector.
The company is dedicated to engaging with local communities through its innovative, branded bus routes which not only engender community pride but business success.
Find out more at www.gonortheast.co.uk.