Young and old plant a lasting legacy on International Day of Forests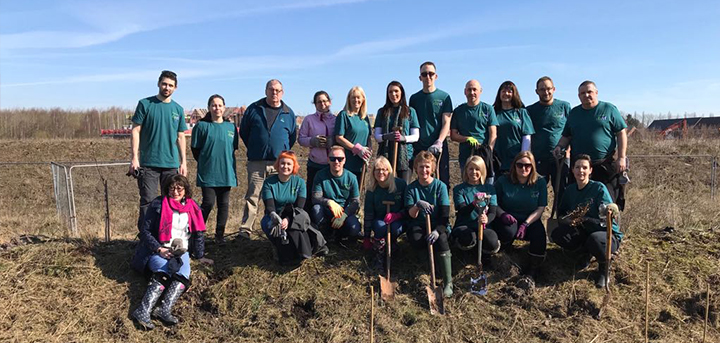 Published on 26 March 2018 11:35 AM
International Day of Forests, Wednesday 21st March, saw a community intergenerational planting event at Cotgrave Country Park organised by Age UK Nottingham & Nottinghamshire.
Year 1 students from Candleby Lane Primary School in Cotgrave were joined by their families, including parents and grandparents, to plant a selection of rowan, silver birch, wild cherry, common oak, field maple and grey willow trees, donated by the Woodland Trust.
Before eager pupils planted with their families, they were given a lesson on the benefits of trees to the environment, how to plant a tree and the nature and wildlife at Cotgrave Country Park by Nottinghamshire County Council and the Friends of Cotgrave Country Park group.
Maggie Ross, Fundraising Director, commented "Age UK Notts is passionate about intergenerational work which can be very beneficial to children and older people. There is great synergy between Age UK Notts and planting trees as trees provide the oxygen needed for life and Age UK Notts provides the help and support needed for older people to enjoy later life."
Also digging deep throughout the day were volunteers from VF Northern Europe's Calverton site for their annual Community Day. The sun shone as volunteers prepared the ground for the pupils. The day provided an opportunity to get out of the office, improve the environment and learn about the work of Age UK Notts.
Linda Newman, VF Corporation commented "We have really enjoyed the day, it was fulfilling and a pleasure to help with the Cotgrave Country Park tree planting"
Another volunteer added "Sustainability and the environment are very important to BF and Age UK Notts is a charity close to my heart as I already volunteer with the Visitors Service so it looked like too good an opportunity to miss."
The event is part of Age UK Notts' 75th anniversary Trees of Life campaign, which partnered with Rothera Sharp Solicitors, aims to plant 750 trees across the city and county to leave a lasting legacy for the environment and raise vital funds to continue the support to local older people through tree sponsorship.
To sponsor a tree or request more information you can call the freephone number 0800 088 6349 or email getinvolved@ageuknotts.org.uk.