Time to get moving?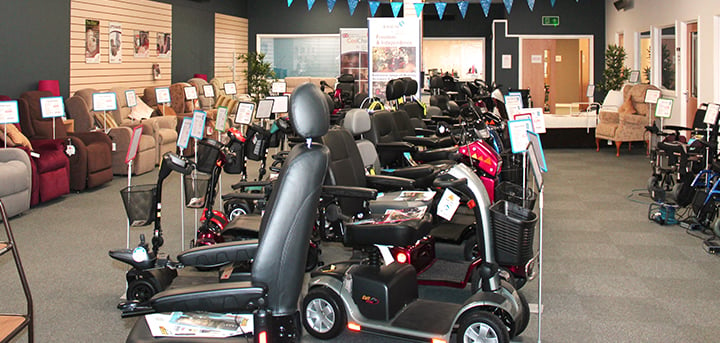 Published on 07 January 2020 12:02 PM
If all you wanted for Christmas was to be a bit more mobile, why not visit our Advantage at TLC showroom and see what help is available? You'll find a great range of mobility and living aids and they could make a real difference to your quality of life.
If you're in the market for a new scooter then an internet bargain might seem like the thing for you BUT there are some key points to consider before you buy:
What do you want to use it for? Just indoors or in your garden, going shopping locally or further afield? Consider the full range of activities you'll use your scooter for and make sure it's suitable
Will your health conditions affect your choice? Think about frailty, flexibility, eyesight, back problems, and anything else that might impact on how you use your scooter
The physical environment around you – stairs, uneven paths, gravel, different flooring surfaces etc
Aftercare and servicing – what kind of warranty comes with your scooter, can it be serviced locally, is it easy to access help online or by telephone in case you need any extra help?
It's also important to have a test drive – can you handle the scooter, do you feel comfortable in it, can you park it? There are so many important considerations to think about when spending money on your wellbeing so please make sure you're getting the best advice. Don't part with your hard-earned cash before consulting with the experts so why not visit our showroom for some free help and advice (without obligation) and make a really informed choice?
Financial help if you're disabled:
If you are disabled, you may qualify for VAT exemption on a range of products and services that can help you? Find details here:
www.gov.uk/financial-help-disabled/vat-relief
VAT exemption is available at Advantage on all qualifying products and we have the paperwork you need to make the claim.

Getting to The Lifestyle Centre
Address: 16-18 Bridgeway Centre, The Meadows, Nottingham NG2 2JD
By Car: For Satnav purposes, please use postcode NG2 2HR. Directions are to Willersley Drive. Ample Free car parking can be found at the Bridgeway Centre.
By Bus: 11, 11C & 48 run to the Bridgeway Centre. Frequent Services are available. For timetables, please visit Nottingham City Transport's website: www.nctx.co.uk
By Tram: The Bridgeway Centre is a 3 minute walk from the 'Queens Walk' Tram. The Tram runs every 7-10 minutes in the daytime.
By Train: 5 minute walk from Nottingham Train Station.