You've donated and we are grateful!
We've received numerous donations from many people throughout the past few months and every single penny has made a real difference. Thank you to everyone who sent in a cheque or donated online. Your donations have made it possible for us to help people when they felt most vulnerable and afraid. We've shopped, collected medication and made wellbeing telephone calls to isolated people. Your donations have helped make that possible. We're working hard to continue to provide services that matter to older people and donations always help us to deliver. If you're looking for a worthy cause to support, well…look no further!
Please note:
Our Sybil Levin Centre has been closed since March 2020 because of the Covid pandemic. We will be reopening the centre as soon as it is safe to do so and are working with the local authorities to ensure this can happen in a safe way.
In the meantime, our centre users continued to be supported by our Community Dementia Support worker. Our Sybil Levin Centre attendees are very much in our thoughts and we want to do everything we can to help them during this challenging time.
We will keep government guidance under review and, when safe to so for our members and our staff, we will re-open the centre.
Would you or a loved one enjoy a dementia specialist day service?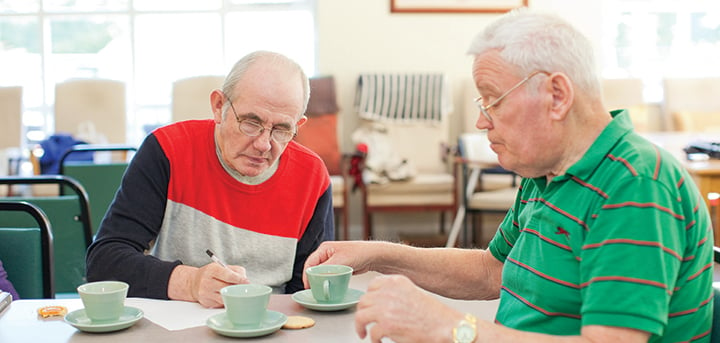 Dementia is a condition that affects individuals and their families. Age UK Nottingham & Nottinghamshire is here to help at our Sybil Levin Day Service.
Our Sybil Levin Day Service is like no other in and around Nottingham. It is a place where joy and laughter can be found as well as the specialist care that is needed to ensure a good quality of life. It's a place that carers can trust to look after their loved one so they can have some personal time, enjoy their own hobbies and interests or just take a well-earned break. All our dedicated staff, together with our dedicated volunteers, really enjoy helping you enjoy life a little more
The day starts in a leisurely fashion – you are welcomed with a hot drink, biscuit, and a flick through today's papers in our Sage Café. Once refreshed, there is a range of activities to choose from:
Flower arranging
Arts and Crafts
Quizzes
Reminiscence activities
Whilst we encourage people to join in with activities, there is no pressure. If members want some quiet time to sit and read, do some artwork or just reflect then there is plenty of space to do that. Our staff and volunteers are always on hand to help.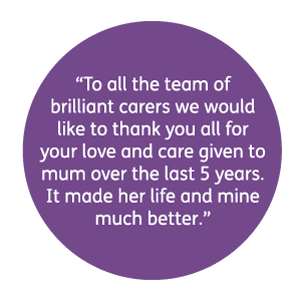 Our supervised games are all about encouraging people to move about, to remain active and to socialise with others. Everyone is able to participate as staff and volunteers are on hand to provide assistance where required.
We've recently added Maintenance Cognitive and Stimulation Therapy (MCST) to our portfolio of activities. This specialist service is a really valuable way of helping people to maintain their creative thinking abilities as long as possible in a fun and engaging way.
With regular attendance and familiarity of setting, Sybil Levin offers significant emotional, mental and social benefits to you or your loved ones.
Home cooked meals
The service provides a home cooked meal each day, which takes into account the individual's dietary needs and preferences
Additional services (charges apply):
Travel: Within a certain geographical distance, we are able to collect you and take you home in our very own mini-bus. Other members come by taxis or are brought by relatives and we'll be happy to discuss all the options with you.
Services available to the local community (charges apply):
Bathing: We have a specially created Bathe and Pamper Room for when you need a little help to feel fresh as a daisy. This service is provided by trained staff and is available to book as and when you want to enjoy a little pampering. This service is available to the wider community so give us a call for more details. We are grateful to the Aviva Community Fund and all those who voted for us for making this room a reality.
Find out more:
What do we offer?
Specialist support for older people with higher levels of care needs
Companionship, support and personal care such as bathing or hairdressing
A variety of stimulating activities including arts and crafts, music and movement, and reminiscing
Nourishing hot meals and refreshments
Door-to-door transport via our specially adapted minibus
What extra support do we offer?
We can help you to access:
Carers' respite if you are supporting an older person
Information on other agencies and services that can help
Counselling if you need someone to talk things through
Advocacy if you need support, representation or help to make difficult decisions
Information and advice on benefits entitlements, financial matters, aids and adaptations
Who is the service for?
Anyone aged 55+
How is this service delivered?
Via experienced staff and volunteers who are DBS (Disclosure Barring Service, formerly CRB) checked.
Where is this service delivered?
The Sybil Levin Centre
577a Nuthall Road
Cinderhill
Nottingham
NG8 6AD
How much does this service cost?
Prices vary according to individual needs
You may use your Personal Budget as determined by the Council or self-fund