The Sybil Levin Specialist Dementia Day Service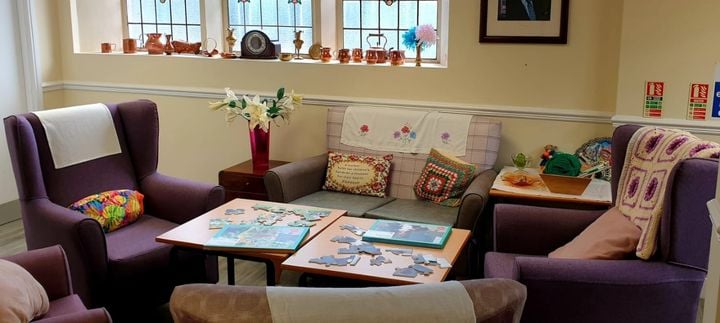 Please note, this service is not available outside Age UK Nottingham & Nottinghamshire - Head Office's catchment area.
The Sybil Levin Dementia Day Centre
577A Nuthall Road
Nottingham
NG8 6AD
United Kingdom
The Sybil Levin Specialist Dementia Day Service is a SPECAL- informed day service, unique within Nottinghamshire; which uses an innovative approach which quite simply changes the lives of people with dementia. The word SPECAL is used to describe a unique dementia management method that can be learned and used by anyone involved in the care of a person with dementia. The SPECAL method is based on an innovative way of understanding dementia from the point of view of the person with the condition. This unique, person-centred approach underpins everything we do. The service is very different from traditional day service provision, and we witness immediate and sustained improved wellbeing from the moment the person arrives at the service
We are thrilled to announce the re-opening of our Sybil Levin Specialist Dementia Day Service, providing dementia support for people living in Nottingham and Nottinghamshire. The centre has undergone refurbishment and has opened as a SPECAL-informed specialist dementia day service, which is unique in Nottinghamshire. The day service presents opportunities to experience the benefits of the SPECAL method and to make a difference to beneficiaries, carers and their families. A recently completed evaluation highlighted:

Family carers were overwhelmingly impressed by the Sybil Levin day support service and the dedication and skill of its staff and volunteers. As a result, they have described how they have felt a reduction in their own stress and anxiety levels due to their loved ones attending the service
Knowing that the staff and volunteers were focusing on the individual wellbeing of their loved ones made a big difference to family carers. They reported that users that had been to different day centres were noticeably happier and more contented at the Sybil Levin service
The service operates Mondays to Fridays during the hours of 10 am – 3 pm.  We provide a two-course lunch and in some instances, we can assist with minibus transport.

Charges apply Day Service - £47.17, Minibus - £5.50 each way and Lunch: £6.00
Financial support is available if you meet the local authority eligibility criteria.

For more information or to book a visit, please contact us at sybils@ageuknotts.org.uk or telephone 0115 978 0011
https://www.ageuk.org.uk/notts/our-services/downloads/
You can also download the Contented Dementia Brochure.
https://www.ageuk.org.uk/bp-assets/globalassets/nottingham--nottinghamshire/downloads/service-leaflets/contented-dementia-brochure-.pdf