Tackling Fraud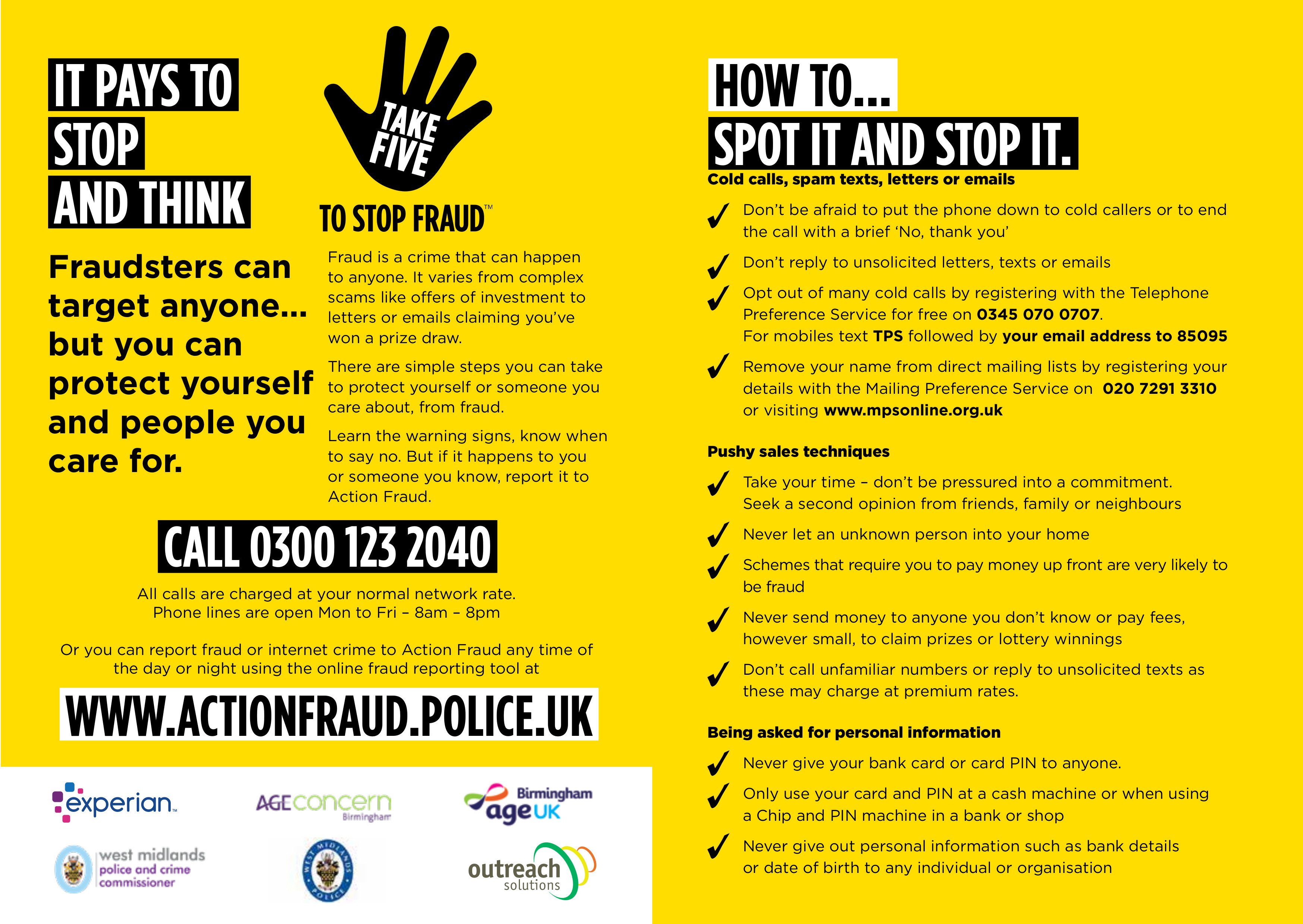 Published on 17 October 2018 03:15 PM
Age Concern Birmingham and Age UK Birmingham are helping protect individuals across the city becoming victims of fraud.
An outreach campaign has been launched to help residents throughout Birmingham tackle the threat of fraud.
Age Concern Birmingham & Age UK Birmingham have been appointed by Outreach Solutions to deliver the Tackling Fraud Together campaign, which is funded by credit reference agency Experian. It is expected that thousands of people will benefit from advice and support that will be provided to community groups and individuals during the course of the programme.
Over a 6 month period the two charities will be making contact and working with a range of community groups and individuals to provide advice on how to SPOT fraudulent activity, and STOP it happening to them or people they know or care for.
The campaign is aimed primarily at those who are aged 55+ who are deemed more susceptible to fraudulent approaches. It will look at some of the most common scams this age group encounter, and advise what people can do to protect themselves from becoming a victim of one. Age Concern Birmingham & Age UK Birmingham will also be providing advice on how to report a scam and how to access help and advice.
Some of the hints and tips that are provided include:
Never give your bank card or PIN to anyone
Never send money or pay fees to claim prizes or lottery winnings
Don't be afraid to put the phone down to cold callers or to end the call with a brief "No, thank you"
Take your time and don't be pressured into a commitment – ask questions or seek a second opinion from someone you trust
Don't call unfamiliar numbers or reply to unsolicited texts as these may charge at premium rates
And the familiar, yet often ignored …. If it seems too good to be true, it probably is!
If you run a group; work with people aged 55+; are a carer or an individual who would like to learn more contact Age UK Birmingham at info@ageukbirmingham.org.uk or call 0121 437 0033.
Tackling Fraud Leaflet
Download the Tackling Fraud 4 page leaflet as a PDF file here!