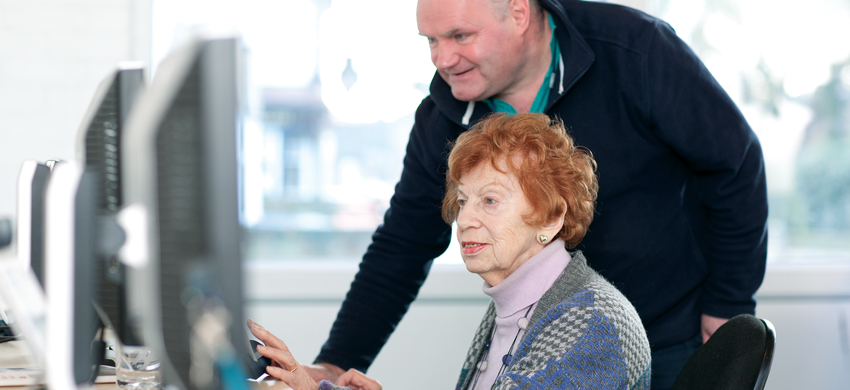 Age UK Birmingham relies on volunteers to help us offer vital services in the local community. Would you like to lend a hand?
Volunteering roles with Age UK Birmingham and Age UK Sandwell
Why volunteer?
By joining Age UK Birmingham and Age UK Sandwell as a volunteer you'll play a vital role in improving later life for older people across the city. Volunteering with us is a great way to meet new people, develop your skills and experience and make a meaningful contribution to your community. To help you fulfil your role we will provide;
An induction to volunteering with AUKB
Relevant guidance and training
Regular supervision
Opportunities to observe staff and other services
Reimbursed travel expenses
A friendly and inclusive team environment
Professional references following 3 months of volunteering
Who can volunteer?
We accept applications from volunteers 16 years and older. Some volunteer roles require specific skills or other criteria to be able to do the role e.g. be able to drive, be willing to undertake a DBS check. The volunteer role descriptions below will outline any requirements.
In order to ensure we match you to the right volunteer role we follow the recruitment procedure below for all applicants
Volunteer application form
Informal interview
Reference and ID checks
DBS check (dependent on role)
Volunteer induction
How much time do I need to give?
The time commitment will depend on which role you interested in. Most roles require a minimum of 3 hours per week and the majority of our services operate during office hours Mon – Fri 9am – 5pm, however there are some roles that can be carried out during evenings and weekends. Get in touch with us to find out more.
Contacting the volunteering team and form download.
Thank you for considering volunteering with Age UK Birmingham.
Above is only a small number of the volunteer roles available so get in touch to see if there is a role suitable for you. We are also looking for IT Support Volunteers, Administration Support Volunteers and other voluntary roles at our HQ at Stratford House, or maybe you just would like to help us raise money and awareness?
You can download the electronic version of our volunteer application form (in .docx format for word processors). If, however, you need us to send out copies in the post please either email volunteering@ageukbirmingham.org.uk or call our main line on 0121 437 0033.
You can also contact our Volunteering Manager with any questions or queries on volunteering with us by telephone, text message or WhatsApp on 07967611630
Contact the Volunteering Team
Any questions? Email the Volunteering team directly - volunteering@ageukbirmingham.org.uk
What else you can do to support us
Could you help us to raise vital funds? Running a fundraising event or even just having a collection pot at a community hall or event can help us help older people across Birmingham through our services.

Get your colleagues involved

Could you talk to your colleagues or your employer about how you can support us? We have lots of ideas for how organisations can get involved, including sponsoring an event, making us Charity of the Year, or donating equipment.