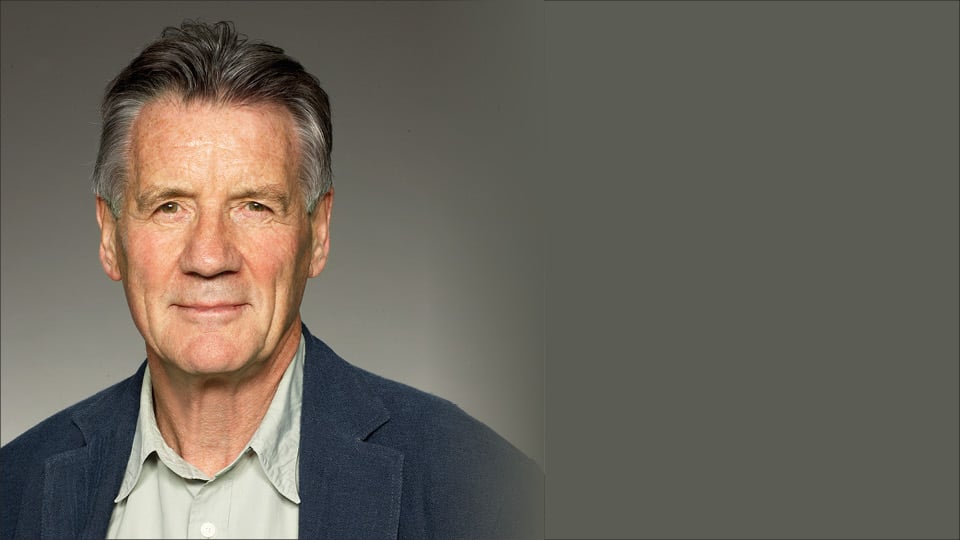 Exclusive interview with Sir Michael Palin in support of Age UK Camden
Age UK Camden Trustee and daughter of Sir Michael, Rachel Palin, chatted to her father about comedy, travel, the joys and challenges of getting older and the importance of always keeping your sense of humour…
This interview was first published in the event programme for an exclusive sell-out show Sir Michael Palin performed at Cecil Sharp House, London on 7th September 2023 to raise funds for Age UK Camden.
Thank you for agreeing to do 'An evening with...' in support of Age UK Camden. This isn't the first time you've been to Cecil Sharp House is it?
No, I've been a few times, but most recently in 2014, when we were rehearsing for the Monty Python reunion at the O2 Arena and the earliest rehearsals we had were at Cecil Sharp House. That's the first time I'd seen all the Pythons together for a very long time and that's where we had our read through. It was then that we knew whether it was worth doing the show or not, whether it was funny or not, whether we could still be funny, and they turned out to be very, very good sessions at Cecil Sharp House.
I watched your Hell's Grannies Python sketch again the other day when you were 'senile delinquents' beating up young men. Did you think about getting older back then?
We just thought people were really funny and I think the idea then, of course, was that any grannies were considered very old people and you could put them in certain situations where it would be funny. And Hell's Grannies instead of Hell's Angels, it's a wonderful situation to put older people in. That made the joke and then you could play on it and have them swaggering up the street, pushing the young people off the pavement and chewing gum and generally twirling their handbags around and all that, which I thought really was a great vision of what older people could do. Maybe not what they should do, but what they could do, so it was a sign of confidence in age, I think.
And on your travels, I think you recently told Bertie, your grandson, that you'd been to 98 countries. Did you notice a difference in how different cultures treat their older population?
I mean, generally speaking, the poorer the country, the more they need the whole family to pitch in all the time and as a result, I think older people, the grandparents, have to take more of a part in daily life. Their knowledge and their experience and their wisdom is very important, it's fed back into the community, so a lot of the traditions and a lot of the ways people live, is handed down from generation to generation. So, I would find in a lot of countries, especially the poorer countries, old people are not seen as redundant at all, they're seen as very, very important elements in the life of that society. Family units are important.
I think there's an idea that the internet has in some ways replaced the wisdom of the old because you don't have to find someone to ask, you can just Google it, can't you?
I think that's the problem with digital media anyway. You feel you can answer every question just by getting onto the right website, but you can't really. A lot of the questions you want to ask have come from direct contact with whoever you're talking to because life isn't linear, you don't sort of sit down and say, I want to talk about X, Y and Z. Part of the enjoyment of conversation and teaching is that you both exchange ideas and sometimes ideas are very unusual, they're different or they're not the obvious connection that you would get if you went to a website. I think it's very good that people are distracted and diverted every now and then from just getting the right answer.
You must have met some wise and wonderful older characters on your travels?
Yes, and now I am one! The Dalai Lama, of course, comes to mind. He was remarkable really, because he was such a direct and friendly man and yet he was seen as sort of the centre of Tibetan Buddhist religion, a very important, almost godlike figure. The way he interacted with people was to treat each person as an individual human being with their own characteristics and he was completely - despite having people all around him - himself; very straightforward and unpretentious and he would hug people and he really felt like someone who was a kindly figure and projecting that idea of kindness into the religion which he led.
You're still full of energy and engaged with the world… you're blessed with good health and you're still working. What do you think has been the key?
You have to have an appetite for life, you have to enjoy every day as much as you can, you know. Whatever the weather is, whatever you're going to do, whatever you're going to read, whoever you're going to see, whatever meal you're going to share, try and make each day a new fresh experience. Also, just to be curious. I think that's really, really important. That's been the key thing in my life is just wanting to know about the world around me and the people in that world and why they think the way they think or why they are the way they are. There is a danger that as you grow older, you think you're going to fall behind and think 'oh, I can't do this, I can't do that'. Whereas each day in some way, shape or form, however small it might be, you can have a different experience if you're curious and want to learn something - we live in a great society for that and we can find out a lot of information. Curiosity is the thing.
Do you feel that technology is quite geared towards the young? Age UK Camden offers digital inclusion and computer training for older people, and I know it's one of the things that, we as your children, help you out with the most. Does the world of technology make you feel isolated?
Yes, I need a lot of help. I'm lucky I have you all to help me with difficult technical problems because I think we live at a very, very pivotal time at the moment. Technology is moving so fast and has the ability to not just help you think but think what you think and select what you see and what you do. It's sort of becoming so sophisticated that you're in danger of being left behind. I mean, I'm 80, so for seventy odd years of my life, we haven't had this sophisticated digital world, so most of my experience is based on a different, slightly slower way of life. Now all the possibilities for a technical change are there and in some ways it improves our lifestyle enormously. In other ways, I think there are very bad problems stored up for us. Older people will be left behind because they don't have the knowledge or the ability to take advantage of the digital world the way the young can - they just seem to automatically be able to work their iPhones and all that sort of thing.
In your older age, do you still find the same things funny?
Oh yeah, I do. I mean sense of humour; I think that's quite an important thing to maintain and in my case I had a rather inflated sense of humour. When I could first remember looking at life, I was just fascinated by people and how they behave and human behaviour which very often is very funny, that's what humour is all about. I think if you have the ability to laugh, not only is it something that brings people together, it's a very, very important tool that also just relieves the pressure sometimes. I think if you can find something funny, you're better off than someone who would find it absolutely ghastly so it's a positive help, humour.
And so, you're not retiring anytime soon obviously, so what's on the agenda?
No, I'm not retiring. I've got a book coming out in September, which is a family history about a great uncle, great Uncle Harry, who died on the Somme. That's been quite a bit of interesting work because I've had to really find out about someone for whom little was known apart from his war career, it's been fascinating. It's been like a detective story in a way but also, it's finding out something about your family and especially someone who was not considered interesting enough and I hope I've made him interesting. I feel quite close to him in an odd way. And then I should be doing some travelling, hopefully in October, doing another travel series in Africa.
Do you still find travelling a pleasure now you're older?
The actual being in a foreign country I find terrific; I still enjoy that because again this is curiosity x 100. Everything is different in some places and because history and geography were my favourite subjects, I'm learning a bit about the history of a country I didn't know and learning about how it looks, so that's all important. I think moving around the world now, travel itself is becoming quite difficult, especially if you're older. Insurance companies charge enormous amounts to insure you, you're not encouraged to travel around the world, but then I think of some of the wonderful eccentrics of British travelling and exploration, they wouldn't be put off by a few bits of paper. But it is getting a little more difficult, the procedure of travel, whereas the experience of travel, I still love it.
Age UK Camden was established in 1965, offering a range of services to help older people in the borough. I know you don't like being reminded too often that you recently turned 80, but how do you feel about ageing?
I think it does have its problems. Part of it is you're slightly deluded because you think you're still 27. A lot of people of my age, 80 or whatever, still think that mentally they are in their twenties and then they think they're perhaps physically in their twenties - and then you get a lot of surprises that you can't actually move with such agility as you did before. And of course, all sorts of little problems occur as the body begins to say, 'well, I've served you well for 80 years and now bits are beginning to wear out'. So, I think part of me is very pleased to be 80 and still reasonably fit and to take advantage of all the wonderful things in the world to see and do and eat. But I know it's not long to go really and you kind of think back a lot, which is not a bad thing, but it slightly slows you down.
But are there some good things about getting older?
Yes, I think there are good things about getting old. One is just you have a sort of breadth of life, you've been taught lots of different things. I think by the time you get to 80, you know all the mistakes you've made, and you hopefully will try and avoid them again. You have a broader spectrum of experience. And also, if you're lucky enough to be reasonably fit at the age of 80 or something, you get enormous satisfaction from just doing simple things like going for a walk or a short swim or even bicycling up the road. You don't have to do much to give you a real feeling that you've achieved something.
And how do you feel about spending your later years in Camden? Have you ever been tempted to retire out of the city and live somewhere quiet and peaceful?
No, actually. I think apart from the odd day or so, I've been quite happy living in Camden, and I'm lucky that we found a house which we liked. It was in an area we liked, a community we liked and that hasn't changed really, and that's a very, very important thing. Plus, there's Hampstead Heath, the most wonderful asset, which I never, ever get tired of and still use every day. Camden's just out of the centre of London, but very quick to get into London and I think there's a lot of vitality in Camden. I just like the fact that it seems to be a borough that is open to change and diversity, it's not blinkered and it's not totally kind of mono-cultural at all. There's a lot going on. And as a traveller, I appreciate the fact that there are many, many people in Camden from different lands and different places and I find that quite stimulating.
-Ends-
As a local independent charity, we are dependent on support for a significant proportion of our income. If you would like to donate to Age UK Camden, donations can be made here or by text. To donate £10 text AUCP10 to 70460 or to donate £20 text AUCP20 to 70460. Texts will cost the donation amount plus one standard network rate message.