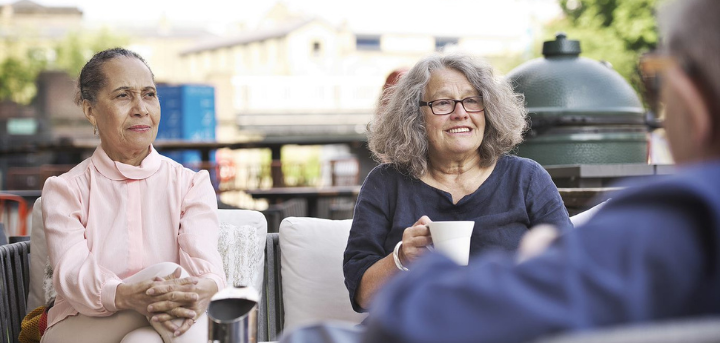 Our experienced team can help connect you to events and activities in Camden.
How does the service work?
Camden's Community Connectors help you to connect with your community in a way that suits you. This could include introducing you to activities you might like like to try in Camden:
Your Community Connector will Call you to discuss your interests, and source activities or events that you might enjoy.
Your Community Connector will help you get there or help you get online if the activity is hosted virtually.
Your Community Connector can also attend with you (where possible) initially to see if it works for you, and to help you get your confidence up.
Alternatively, our Community Connectors can assist you with helping others get involved with activities or events taking place in Camden.
Chatting with people and make them feel welcome at activities or events being hosted in Camden.
Welcoming you into our family of services, and supporting you to share your experience with others.
Who is the service for?
Camden Community Connectors is a free, informal and friendly service for any Camden resident aged 60 or above.
How to access the service
If you'd like to benefit from our Community Connector service, simply fill our referral form below.
Once a referral form has been submitted, a member of the team will contact you a few days later to arrange a time to chat over the phone about your interests, and how we can suppport you through the Community Connector service.
If you need more information or want to know about how the Community Connectors service is adapting as a result of the coronvirus pandemic, please call or text: 07506 025 375. Alternatively you can call our freephone number: 0800 161 5716.
Please be aware that as a result of the coronavirus and the changing Tier status within London, the operating hours of our telephone lines may vary. If you still need to get in touch, please email: communityconnectors@ageukcamden.org.uk
Do you want to help older people get out and about in Camden?
If becoming a Community Connector sounds interesting to you, you can find out about volunteering with Age UK Camden here.
Our partners
We're working with Ageing Better in Camden to deliver our Community Connector service. Ageing Better in Camden is working with us, and other organisations in Camden to tackle social isolation and loneliness among older people. For more information, please visit their website.
Without the National Lottery's Community Fund, we wouldn't be able to provide our vital Community Connector Service. Demand for our services since the start of the pandemic has risen exponentially, but we still need the support from vital donations to help us continue providing support. To donate now, click here.