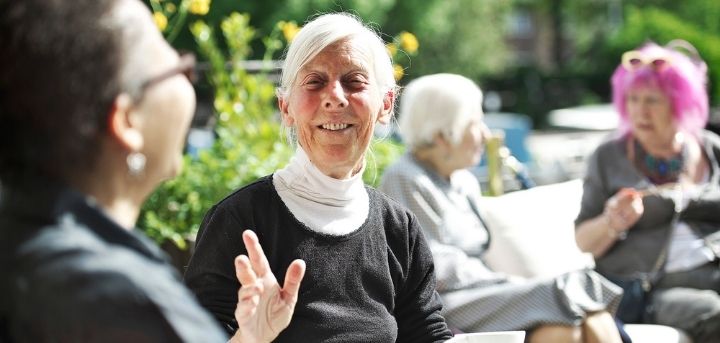 Our volunteer befrienders can visit socially isolated older people with dementia or memory loss
How does the Dementia Befriending service work?
In addition to our Dementia Wellbeing service, we also offer Camden residents the opportunity to join our Dementia Befriending service. We match you (or a loved one with dementia) with a volunteer befriender who'll visit you, or give you a phone call on a regular basis.
Our befriending service can make a difference in so many ways; from helping you continue with a much-loved hobby, to providing a connection with the local community. Regular social interaction has proven to be beneficial for the wellbeing of those with dementia, so if you, or a loved one can benefit from our befriending service, please get in touch!
Referral criteria for the Dementia Befriending service
age 55 plus and living in Camden
has concerns around memory or diagnosed with mild cognitive impairment or dementia
and meet meet one of the following criteria depending on the service
not engaged with other services (resource/day centres, lunch clubs) and has limited or no support network (from family/friends)housebound and has limited or no support network (from family/friends)
housebound
For more information or to make a referral please email dementia.wellbeing@ageukcamden.org.uk or call 0207 239 0400
Volunteering as a Dementia Befriender
All volunteers will need to have a DBS (criminal record) check and we aim to match you with an older person you are likely to have something in common with. You will be introduced slowly by the befriending coordinator, before you meet independently and will be supported throughout.
Contact us 020 7239 0400
If you, or someone you know, would like to know more about Dementia Befrienders, of if you're interested in volunteering please get in touch.
Download dementia wellbeing information