Digital Inclusion and Computer Training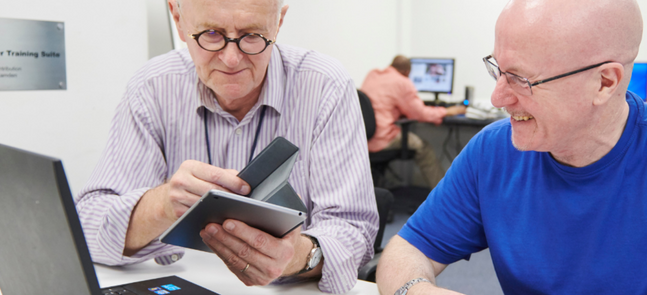 Henderson Court
102 Fitzjohn's Avenue
London
NW3 6NS
United Kingdom
Enhance your digital skills and get technology savvy with our in-person digital workshops and gadget clinics.

You can find all of our classes and drop-ins here:
https://www.ageuk.org.uk/camden/activities-and-events/digital-and-it-classes/
Despite the wide popularity of the internet and 'smart devices', the thought of getting online can seem daunting - but it doesn't have to be!

Our trained team are here to help you if would like to learn the basics of your new gadget (phone, PC, laptop, tablet), how to shop online, how to set up an email account or even how to download your favourite games. We run one-to-one gadget support or drop-in sessions to help you enhance your skills and unlock your digital potential.
One-to-one Gadget Clinics
The sessions will take place at our Henderson Court Hub and on Primrose Hill Library but we will be announcing new venues very soon! Our Gadget Clinics are the perfect space to have dedicated time to ask any question about your device and enhance your digital skills, while being supported by our industry expert volunteers every step of the way.

Come and join us to learn about your new gadget and get tech savvy.

Sign-up to a Gadget Clinic today! If you're interested in this service, please contact our friendly team on:
digitalinclusion@ageukcamden.org.uk

Find out next sessions here:
https://www.ageuk.org.uk/camden/activities-and-events/digital-and-it-classes/
Tech Loan Scheme
We are now offering a FREE 'try before you buy' service, where by you can loan a tablet, e-reader and internet access for three months and test it before before you commit to spending money on a device. You can also then book a one-to-one gadget session with the team to learn the basics of the loan device, or any other tech question that you may have.

If you have a piece of tech in mind that you would like to try out, please contact us on:
digitalinclusion@ageukcamden.org.uk
Digital Help Guides
Read our short and easy guides as we take you through getting to grips with the basics online.
https://www.ageuk.org.uk/camden/our-services/information-guides/
Help our community stay connected
25% of older people in London are living in poverty, which is the highest borough in the UK. Help us to develop a Tech Library of tablets, kindles, home devices and fun technology that older people in the borough can borrow and stay connected in their community and with their loved ones.

Visit our Amazon Wish List here:
https://www.amazon.co.uk/hz/wishlist/ls/IENM7H8Y2EVZ/ref=hz_ls_biz_ex