Digital Inclusion and Computer Training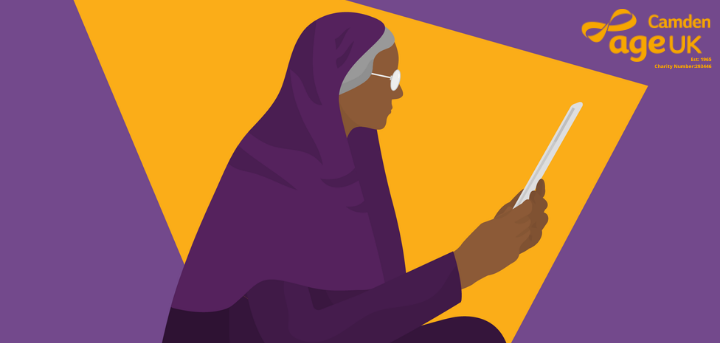 Stay connected with Age UK Camden
Setting yourself up online
Our short and easy guides are here to take you through getting to grips with the basics online.
Despite the wide popularity of the internet and 'smart devices', the thought of getting online can seem daunting - but it doesn't have to be!
Our trained team are here to help you if would like to learn the basics of your new gadget (phone, PC, laptop, tablet), how to shop online, how to set up an email account or even how to download your favourite games. We run one-to-one gadget support or drop-in sessions to help you enhance your skills and unlock your digital potential.
One-to-one Gadget Clinics

The sessions will take place on Monday afternoons from our Leather Lane charity shop and will be a dedicated time to learn or enhance your digital skills, supported by a volunteer tutor. These sessions provide the perfect opportunity to help you learn about your new gadget or how to get online. Sign-up to a Gadget Clinic today!

If you're interested in this service please email: jake.preston@ageukcamden.org.uk or call 020 7239 0400 and we can book you in.

Amazon Kindle Renting

We are now offering a limited number of Amazon Kindles for anyone age 55+ in Camden. Amazon Kindles are E-Readers which are proving popular with regular readers as they can hold lots of books on the one small device that can fit in your pocket or bag. The E-Reader will be on loan to you for a period of three months.

We are only offering this to Good Neighbours Scheme and Information & Advice Service Users at the moment.
Multimedia Mondays
In collaboration with Samsung KX, we've been providing weekly digital workshops - Multimedia Mondays - which give older people in Camden the opportunity to learn new skills and find new ways of using technology in everyday life. These free workshops take place every Monday (as the name suggests) and includes sessions on a range of subjects, including:
Scam and fraud awareness
Online virtual exercise classes
Language classes
Meditation for beginners
We welcome you to the Samsung KX store in Coal Drops Yard, where the below sessions are free to attened. If you wish to come along to our free sessions, please email Jake.Preston@ageukcamden.org.uk or call: 020 7239 0400
1.Still Life workshops
Our Multimedia Monday's supported by Samsung KX will host a series of four Digital Drawing workshops. Each workshop you will learn to use a different tool/technique (on the Pen Up app) and have the change to work on your still life drawing at the end of each session. By the end of the 4 weeks, you will have created a masterpiece that will be shown on the 10m wide screen so you can see each other's work. All workshops will be running 10.30am - 11.30am.
August 23rd: Pen up basics
September 6th: Creating shapes
September 13th: Blind sketching
September 27th: Still Life Masterpiece Creation
2. Age UK Camden x Baringa Gadget Clinic
An opportunity to have an hour with a skilled volunteer to help you with any technological problems or areas of interest. The event will be running on Friday 3rd September: and there are two slot times for this event:
9.30am - 10.30am
11am - 12pm
Please keep checking our website for more Multimedia Monday events in 2021. Alternatively, subscribe to our mailing list to receive the latest news direct to your inbox.
What is Zoom?
Zoom is a cloud-based video conferencing service. It's free for personal use and can be used on compatible tablets, smartphones and laptops. If you have a smartphone or tablet, you can download the Zoom app using the below links.
If you'd prefer not to use Zoom, then you can join the Zoom call by telephone. Just call the telephone number labelled 'Phone into the Zoom' under the event you'd like to attend.
If you'd like help using Zoom so that you can keep in touch with family and friends, email: jake.preston@ageukcamden.org.uk or call 020 7239 0400 and we can book you in.