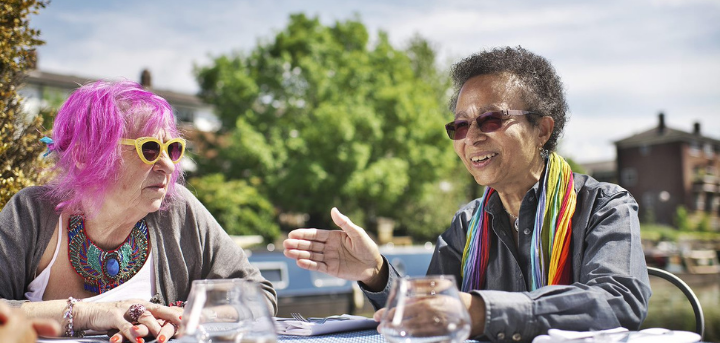 Age UK Camden
68 Parkway
London
NW1 7AH
United Kingdom
Free advice about benefits and money, housing options and care and support.
What do you offer advice on?
Our Information & Advice team offer advice on welfare benefits debt and money, housing, accessing services, charitable grants and supporting you with arranging Lasting Power of Attorney and later life planning.

If you or a loved one are going through a life changing event such as; a bereavement, retirement or redundancy, relationship separation, a change in your finances, a change in your care needs, your housing is no longer suitable for your needs, you need adaptations to your current home to make it more comfortable, a deterioration in your health or a reduction in your mobility, feeling isolated or lonely and would like to socialise more, our team can help you adjust and manage this impact on your day-to-day life. The Building Resilience Programme can help you with any issue you feel is causing a change in your life - our experienced team is here for you!

If you, or someone you know would like to benefit from our Building Resilience Programme, simply submit a referral form in the link below. Alternatively, you can call 0207 239 0400 or email duty@ageukcamden.org.uk.
https://www.ageuk.org.uk/camden/our-services/make-a-referral/
What types of support sessions we offer
All of our upcoming support sessions can be found on our activities and events page here: https://www.ageuk.org.uk/camden/activities-and-events/

- Debt and Money Advice
Our Information & Advice Team, with help from funders The Hampstead Wells and Camden
Trust, are here to offer advice about money and benefits, such as debt advice and helping you to negotiate with creditors. They will be hosted at two locations on multiple days.

Abbey Community Centre, 222C Belsize Rd, London NW6 4DJ. To book a session at Abbey Community Centre please call: 020 7624 8378.

Henderson Court Hub, 102 Fitzjohn's Avenue, Hampstead, NW3 6NS, 10am, 11am & 12pm slots. To book a Henderson Court session please call: 020 7239 0400.

- Outreach Sessions
To attend an information session at the locations below, booking is essential, so please call 020 7837 3777

Age UK Camden Charity Boutique, 53 Leather Lane, London, EC1N 7TJ

Abbey Community Centre, 222C Belsize Rd, London NW6 4DJ. 10am, 11am, 12pm, 2.30pm, 3.30pm & 4.30pm slots:

Henderson Court Hub, 102 Fitzjohn's Avenue, Hampstead, NW3 6NS. 10am, 11am & 12pm slots:

Latin American House, 10 Kingsgate Place, London, NW6 4TA
To book an appointment at this venue, please contact the venue directly on 020 7372 8653

- Scams Prevention & Support
The team will be providing 1-1 support for anyone aged 50+ who have concerns about scams, have been a victim of a scam or would like some tips on how to avoid them. We know that scams are continually on the increase and evolving, and we aim to make you feel more confident and better equipped to recognise a scam. If you or anyone you know has any concerns around scams, please contact Ann-Marie on ann-marie.carrol@ageukcamden.org.uk who will arrange a talk or visit with yourself.
Worried About Abuse?
If you suspect that you or someone you know is being taken advantage of or suffering from some form of abuse, please contact us:

Phone: 020 7837 3777
Email: Safeguarding@ageukcamden.org.uk
Accessing local services
Are you looking for older people's services in Camden? Then look no further than Age UK Camden's Online Directory. A simple search tool to find information about care, health, housing, money, leisure and more.