Digital inclusion and computer training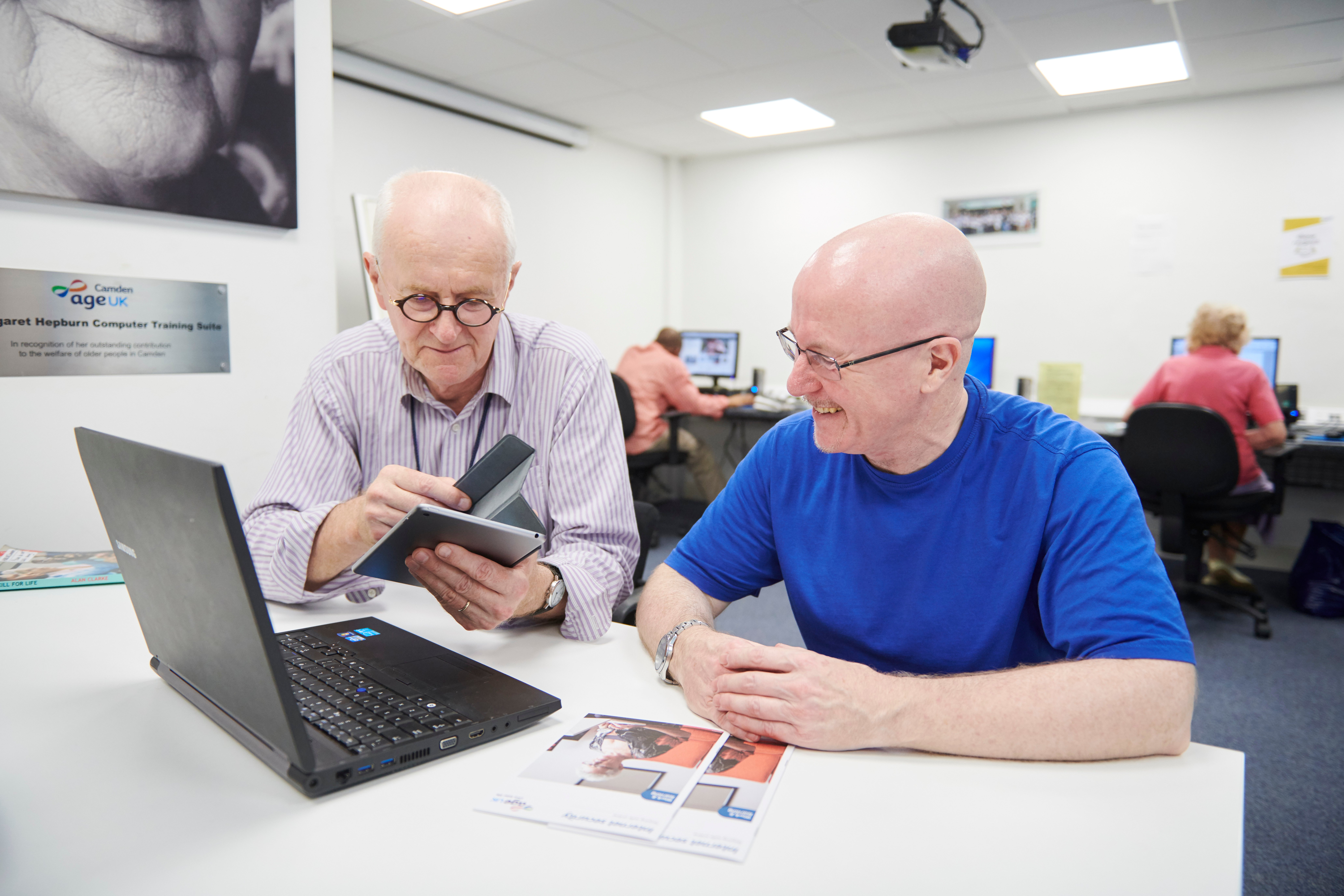 Stay connected with Age UK Camden
We offer free drop in sessions, gadget workshops and internet access. All of our sessions are delivered by knowledgeable volunteers in a friendly and supportive environment.
Drop in sessions
*In response to COVID 19 Drop in sessions have been suspended*
Access the internet for free, practise the skills you have learnt, use Skype, discover new things to try out on the computer and meet like-minded people. No appointment is needed and knowledgeable volunteers are on hand to help with any questions you have.
Who are they for?
You'll need to have some computer experience to get the most out of these sessions. But if you are a complete beginner we can provide information and signpost you to suitable classes in the borough
We are pleased to announce an exciting new collaboration with Samsung KX, providing weekly digital workshops that give older people in Camden the opportunity to learn new skills and find new ways of using technology in everyday life.
Running from 5th October – 14th December, these free workshops will take place every Monday from 11am – 1pm at Samsung KX in Coal Drops Yard, Kings Cross and will include sessions on Internet Shopping, Digital Art, Mobile Photography, Social Media and Gaming.
If you'd like to take part, please book a free space at your chosen October /November workshop/s by following the links below
26th October: Mindfulness & meditation
https://www.eventbrite.com/e/mindfulness-meditation-multimedia-mondays-with-age-uk-camden-tickets-122421986457
One-to-One Gadget Clinics
The Digital Inclusion Service is now hosting one to one Gadget Clinic sessions at Age UK Camden's Leather Lane Boutique
The sessions will take place on Monday afternoons and will be a dedicated time to learn or enhance your digital skills, supported by a volunteer tutor.
Please note: Age UK Camden are strictly following Government Guidelines, masks and appropriate social distancing measures will still apply and please bring your own hand sanitizer and bottled water/refreshment.
Places are limited. To book a place, please contact Callum Burke O Driscoll on 0207 239 0400 or email callum.burkeodriscoll@ageukcamden.org.uk
Who are they for?
You'll need to have a new or existing gadget of your own, which you will be required to bring along to the session, along with some idea of what you might like to know.