Charity celebrates first anniversary of new service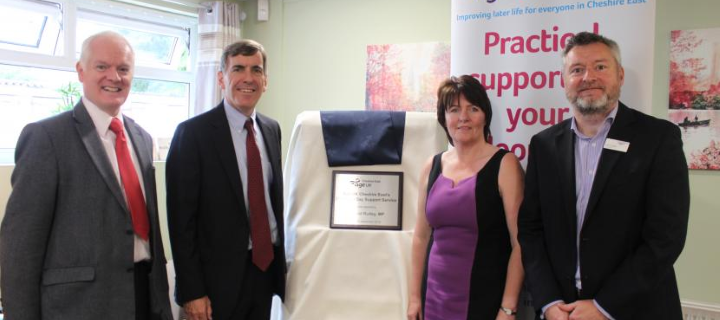 Published on 12 September 2017 12:00 AM
Age UK Cheshire East this week celebrated the first anniversary of the opening of its Support Service for people living with dementia by holding a celebratory tea party for service users' families and carers.
The service, provided from the charity's base in Macclesfield has been a great success since its inception, with 65 families/carers accessing support. During this time, 2,273 sessions have been provided for older people living with memory loss. A number of emergency respite places have also been available, providing an all-important last minute break for carers.
The centre was developed by the Charity having identified the lack of suitable provision in the local area for people and their families living with memory loss.
Thanks to the generous financial contributions from a number of parties, the specially adapted centre was officially opened by David Rutley MP on 12th September 2016.
Age UK Cheshire East firmly believes that a diagnosis of dementia should not prevent people living a fulfilling life, and their service makes sure that those who come along have a great time, with lots of chat, a wide variety of games and activities and the opportunity to have trips out in the charity's very own minibus. A combination of experienced staff and volunteers interact with service users and ensure that everybody leaves the centre at the end of the day feeling good about their day.
But don't just take their word for the success of the service! Below are some quotes from regular users.
"Coming here steadies my thoughts, I can work it out here. I like the social activities and meeting friends"
"Pleasant company, chat (I live on my own at home). Things to do which stimulates the brain!"
"I come here for all of the people here and the staff. It makes me feel younger coming here"
At the celebration event, the charity's Chief Executive Damon Taylor said "thanks to all of you for making this new service so successful in its first year, and providing so much support and care for people living with dementia. We are proud to be able to provide such a service and look forward to it going from strength to strength over the coming years."
"Since the service started, it has been known by the rather formal name of the 'Dementia Day Support Service', but I am pleased to announce that from now on, our service users and their carers will know us as 'The New Horizons Club', which we think is a great name for all we do here at the New Horizons Centre!"
If you know of anyone who may be interested in attending the New Horizons Club, please call the charity on 01625 612958.