Joining Forces to support aged veterans across Cheshire East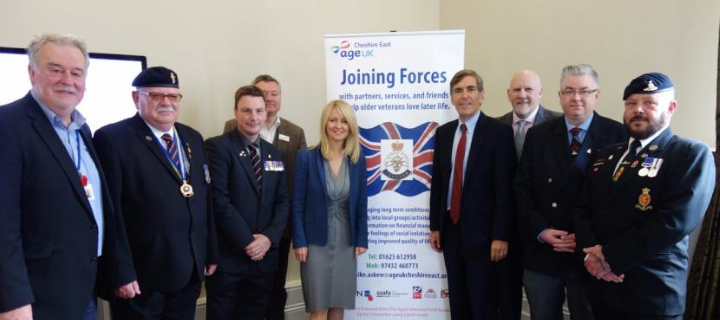 Published on 22 September 2017 12:00 AM
A new project to support veterans in Cheshire East is being given the strong support of Macclesfield's MP, David Rutley MP.
'Joining Forces' is a new Age UK Cheshire East initiative led by Wellbeing Coordinator Mike Askew which will work with older veterans across Cheshire East to build their resilience, manage their health and improve their independence.
Partners, ex-service personnel, local services and veterans charities attended a launch at Macclesfield Town Hall to learn more and to discuss how they can work together to improve the lives of local veterans.
Mr Rutley had the opportunity to meet with local veterans at the launch, and hear about their experiences of accessing health and care services to support their needs. He joined the Chief Executive of Age UK Cheshire East, Mr Damon Taylor, as well as the Joining Forces Veteran's Wellbeing Coordinator, Mike Askew, as they spoke about the importance of reaching out to 'hidden' veterans, who might not be aware of the range of support services available to them, so that they can become better connected to the community. Tatton's MP, Esther McVey, also attended the launch event.
Speaking after the event, David said, "I am pleased to support this important initiative. It is vital that our older veterans are properly supported for the significant sacrifices they have made for our country. I hope that the Joining Forces project will help highlight the range of support services available for older veterans, helping to tackle loneliness and isolation and promoting mental wellbeing. I would encourage local residents, businesses and voluntary groups to consider how they might be able to actively support this excellent project going forwarded."
Age UK Cheshire East will work together with veteran organisations and local services to improve the life of ex-service personnel and engage with those 'hidden' from services and support. Mike Askew, Veterans Wellbeing Coordinator at Age UK Cheshire East, will be able to provide information and advice, signpost and refer into relevant services and provide more concentrated one-to-one support for a smaller number of more vulnerable and/or complex cases.
Mike said: "Thanks to everyone who came along to the launch on Friday, it was great to share more information about the project with you. This project aims to compliment the great work already being carried out in our community and I very much look forward to working together with our local partners to engage with and support older veterans throughout Cheshire East over the next few years."
If you'd like to find out more or have ideas about partnership working, please call Mike on 01625 612958 or email mike.askew@ageukcheshireeast.org
The project is financed from The Aged Veterans Fund funded by the Chancellor using LIBOR funds until April 2020 and is being run across a number of local Age UK's throughout the UK, with slightly different projects in each area.