Men in Sheds going all green fingered!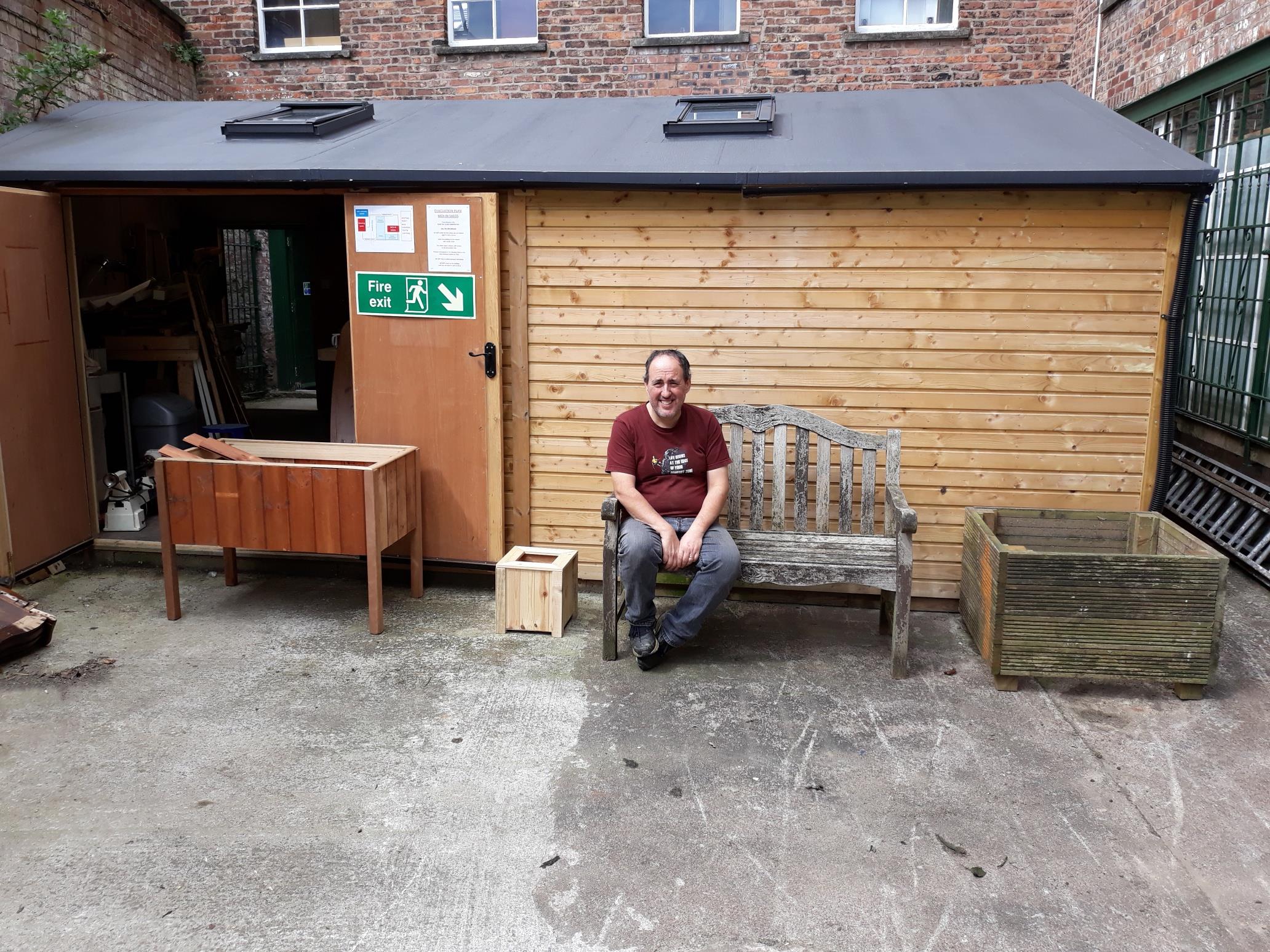 Published on 18 May 2018 12:07 PM
The Men in Sheds project in Macclesfield is branching out as it looks to develop a new garden for those visiting the shed.
The recent bout of sunny weather has got the shedders thinking about how they could benefit more from the lovely warm weather when they are visiting the shed. Anthony Madge, the Macclesfield shed co-ordinator, who is also a gardener in his other life, came up with the idea of developing a small garden beside the shed, where the men can sit and enjoy the sun, and also turn their hands to a spot of gardening if they wish.
Anthony said "we have a great space here beside the shed where we can fill up some planters with a range of plants, which will bring vibrant colours and smells to this little corner. As well as enjoy woodworking, our service users can also come outside and try their hand at some gardening."
The Shed is now embarking on a project to make a range of wooden planters which will define the edge of the garden, which sits behind the charity's furniture showroom in Henderson Street. The plot is currently empty and not very welcoming, however when the garden is complete, it is hoped that those attending the Charity's Dementia Day Centre, along with shed service users and staff, will use the garden. Using Anthony's gardening knowledge, the garden will be developed to include scented and edible plants and herbs, providing a relaxing, sensory environment for all those using it.
Research has shown that sensory gardens have proven therapeutic value, particularly people with sight problems and dementia. As mental functions decline, people operate more on a sensory level and to hear and experience the sounds and smells of a garden through plants and the activity of people in the garden will help stimulate fond memories and enable service users to enjoy nature in a safe and tactile place
"If anyone has any plants or other items for a small garden that they would like to donate, we would love to hear from you" added Anthony. "We are really looking forward to creating this little outside space which our service users can so enjoy during the warm summer months. It will also give our Shed users an opportunity to make some of the equipment for the garden and another activity to undertake when it's too hot to be inside!"
The garden will be developed over the next few months in the run up to summer, with the plan that by August, service users will be relaxing in the new garden, enjoying the summer sun whilst also doing a spot of gardening!