Business Supporters become Dementia Friends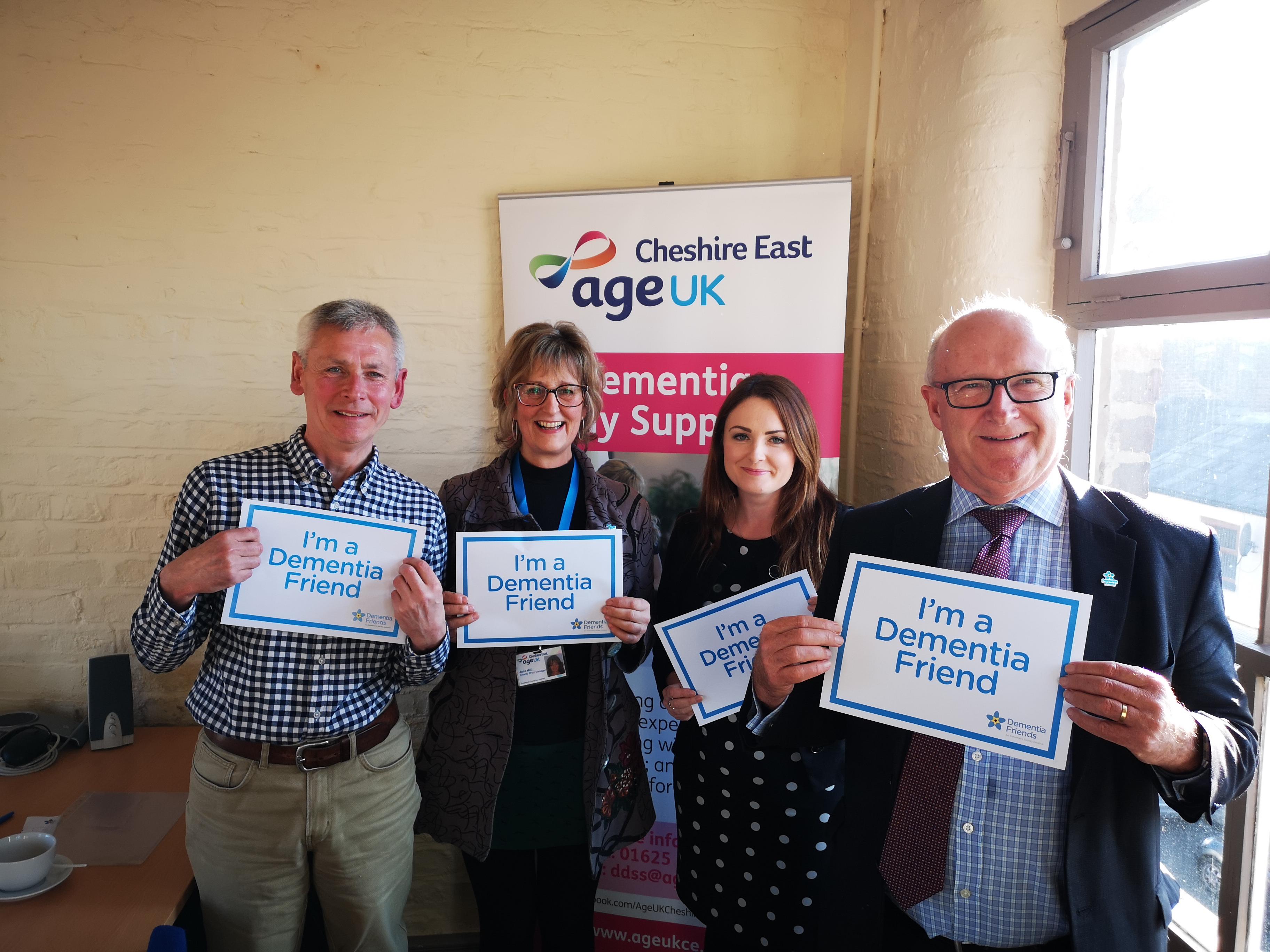 Published on 05 April 2019 03:52 PM
One of local charity Age UK Cheshire East's Business Supporters this week became dementia friends after an awareness session at the charity's offices in Macclesfield.
North West Mediation Solutions, a local business based in Kettleshulme, joined the charity's Business Supporters Scheme last October after being impressed by the valuable support the Charity provides for older people. The company, which resolves disputes about issues such as property, wills, power of attorney and care home issues, helps parties reach a settlement.
As well as giving businesses the opportunity to help support the charity's important work, the Supporters Scheme encourages its partners to partake in dementia awareness raising sessions with its employees. The dementia friends sessions, an Alzheimer's Society initiative, aim to teach people about dementia and how it impacts on a person living with the condition. After receiving the session, participants become 'dementia friends.'
Age UK Cheshire East is keen to raise awareness of the condition and make its local community dementia friendly. One of the key services it provides is its day club for people living with the condition based at its centre in Henderson Street, Macclesfield.
After undertaking the awareness session, Victoria Greenwood of North West Mediation Solutions commented "The session was really rewarding, not only did we gain an insight into living with dementia, but we learnt how simple changes to our daily lives can make things so much easier for those living with the condition. We are so pleased to have joined the business supporter scheme - not only do we get the chance to undertake useful training but as a charity dependent upon local support we can help make a real difference to the lives of local elderly people.
Damon Taylor, Chief Executive of Age UK Cheshire East said "We are grateful to Victoria and her team at North West Mediation Solutions for supporting our cause, and it's great that we can help them become more aware of dementia, which is something our charity is keen to do. Many older people live with dementia and we want to work with the local community and businesses to help them better understand the condition and its impact on individuals.
The local charity, which is in its 30th year, is encouraging any local business who may wish to learn more about dementia, to get in touch to arrange similar sessions. The session today follows fresh on the heels of a similar session held with another of the Charity's supporters, Thorneycroft Solicitors, at their offices last week.
-Ends-
Note to editors
The photograph above shows (left to right) Alan Stevenson, volunteer in the Charity's Dementia Club, Jane Hall, Manager of the Charity's Poynton Shop, together with Victoria Greenwood and Mark Whittell from North West Mediation Solutions, after becoming dementia friends.
Age UK Cheshire East's Business Supporters Scheme encourages local businesses to support our charity and provide awareness of each others business. Further details available on our website at https://www.ageuk.org.uk/cheshireeast/get-involved/business-supporters/
Age UK Cheshire East's mission is to 'improve later life for people in Cheshire East'. In 2018, it celebrated its 30th anniversary, having provided help and support to many thousands of older people in Cheshire East since its formation back in 1988.
Age UK Cheshire East provides services and support to older people throughout the Cheshire East area and campaigns to achieve positive change.
We believe poverty, isolation and loneliness, poor services, inadequate care and support, discrimination and a lack of respect are unacceptable.
For more information, please contact Age UK Cheshire East on 01625 612958, go to www.ageukce.org or visit us at the office – New Horizon's Centre, Henderson Street, Macclesfield, SK11 6RA.