Care Homes come together to raise funds for our Men in Sheds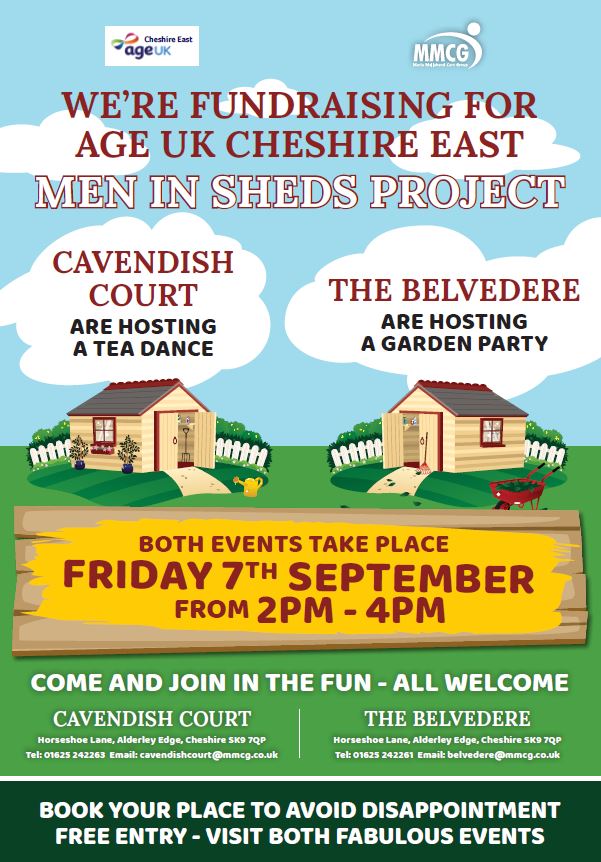 Published on 03 September 2018 02:07 PM
A major fundraising event is set to take place on Friday 7 September, when the Belvedere Nursing Dementia Care Home and the Cavendish Court Nursing/Residential and Dementia nursing home, both located in Horseshoe Lane, Alderley Edge, come together to raise vital funds for Age UK Cheshire East's Men in Sheds project.
Men in Sheds is a project run by the charity which specifically targets older men who may not always want to join other more formal activities. It gives them the opportunity to come along and enjoy some friendly chat over a cup of tea, whilst enjoying some woodworking, in the charity's two specially equipped workshops in Macclesfield and Congleton. Both sheds run 6 sessions per week, with both open on Monday and Tuesday.
At the special fundraiser on Friday there will be a range of exciting activities, including a Tea Dance; Garden Party; hanging basket competition; both home's managers in stocks with cash for sponges on the day; inter home football competition; musical entertainment; lots of tea coffee and cakes; guess the weight of the cake as well as lots of other fundraising activities which will hopefully raise much needed cash for the Men in Sheds project.
Damon Taylor, Chief Executive of the local charity said "We are really grateful to the two care homes for laying on such a great afternoon of activities to raise funds for our Men in Sheds. The project is so important as it helps us engage with local older men, and the difference we make to so many of the users' lives is evidence that the project is really valuable to our local community. Such funds will ensure that our project can continue."
Tracey Yates Regional director of MMCG, who run the two care homes added
"We are delighted to be in a position to raise funds for this fantastic Age UK initiative which brings the community together for this worthwhile cause. Residents, families, staff and friends are really looking forward the events at The Belvedere and Cavendish Court care homes."
The fundraising event takes place on Friday 7 September from 2-4pm, at the Cavendish Court and Belvedere Homes in Horseshoe Lane, Alderley Edge. All are welcome to come along and in the fun!