New Chair for Age UK Cheshire East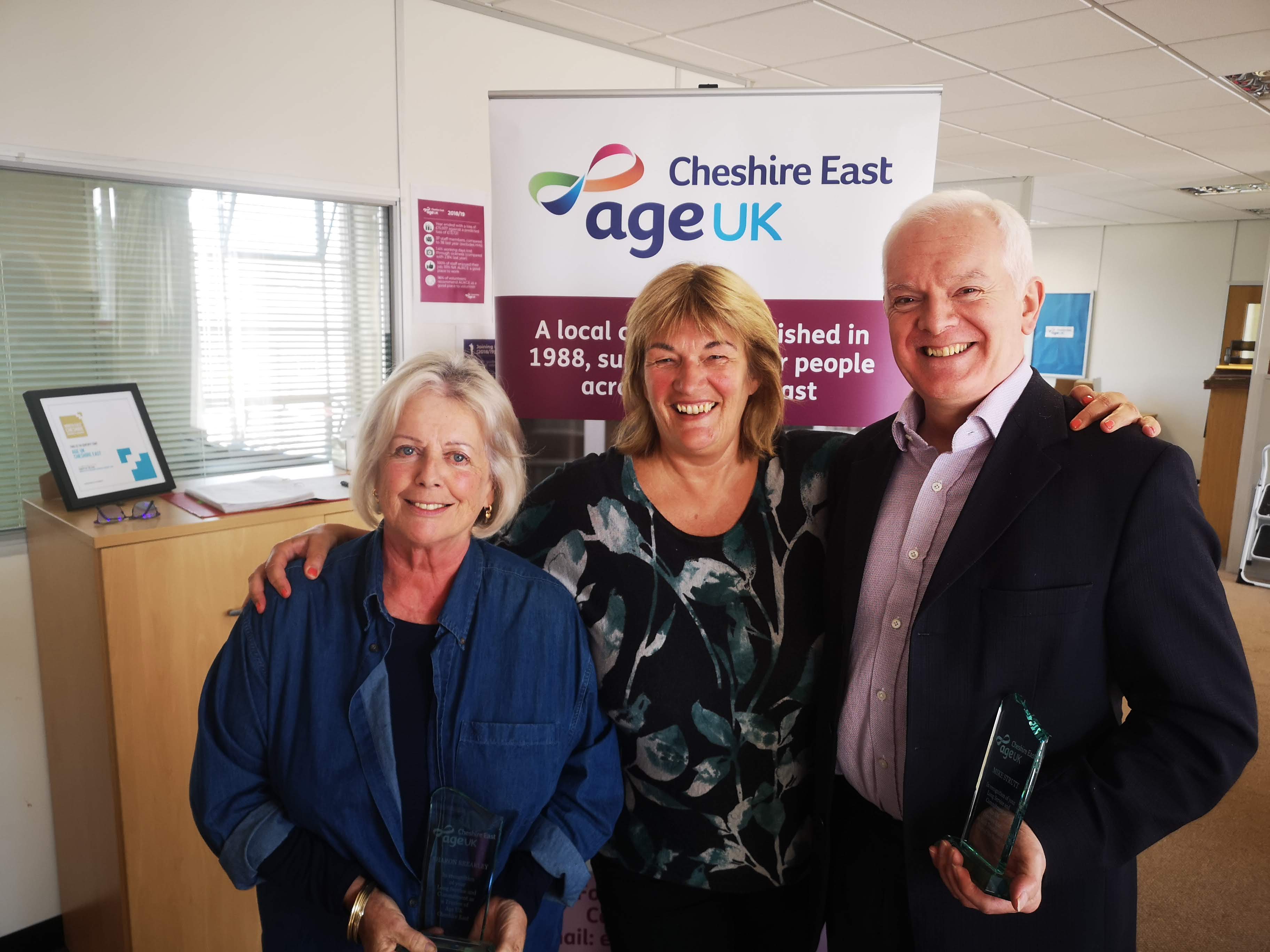 Published on 13 September 2019 03:19 PM
Picture above shows the new Chair Jenni Hardy flanked by retiring trustees Sharon Brearley and Mike Strutt
Age UK Cheshire East, the charity for older people based in Macclesfield, has welcomed a new Chair of its Trustee Board, whilst saying a fond farewell to two other long serving trustees, and at the same time, kicked off a recruitment campaign to find new trustees.
The Charity, based in Henderson Street Macclesfield, provides a number of services for local older people, including the New Horizons Club, for people living with dementia; a Help at Home Service; free information and advice; Joining Forces veterans project; as well as operating two Men in Sheds.
The Board of Trustees is made up of a number of volunteers who provide independent oversight of the running of the charity, as well as setting the charity's objectives and annual budget. At the AGM, Jenni Hardy was elected as the new Chair of the Board, and at the same time, the former Chair, Mike Strutt, and fellow trustee Sharon Brearley stepped down from the Board.
On taking the position of Chair, Jenni commented "I am delighted to take on this new role and to build on the great work Mike has done. Age UK Cheshire East provides essential local services and I will work with the team to ensure these services remain of high quality, excellent value and relevant to ever changing needs."
Mike Strutt, who retired from the role of Chair which he had occupied since 2012, said on his retirement "It has been an honour and a privilege to be a member of the Board of Age UK Cheshire East for so many years. An organisation is only as good as the people within it and the charity is blessed to have so many who are dedicated to see it succeed in its hopes and aspirations; championing a vision to improve later life for all."
Sharon Brearley also stood down from the Board at the Annual Meeting, having been a trustee since 2014.
As a result of the retirements from the Board, the Charity is now seeking expressions of interest from any member of the local community who would be interested in filling the role of Trustee. The role involves attending a number of meetings each year, as well as attending relevant other meetings and presentations, representing the charity as appropriate.
Jenni Hardy added "Being a trustee of a charity is a great way to use your skills & experience to benefit our local community, supporting the Age UK Cheshire East team to give practical support & advice for local older people. It involves a just a few hours of your time and brings the satisfaction of knowing you have helped others make a direct impact to people's wellbeing"
Further details about becoming a trustee are available on the Charity's website at https://www.ageuk.org.uk/cheshireeast/get-involved/trustee-recruitment/ or by calling 01625 7612958.