Scams Awareness goes online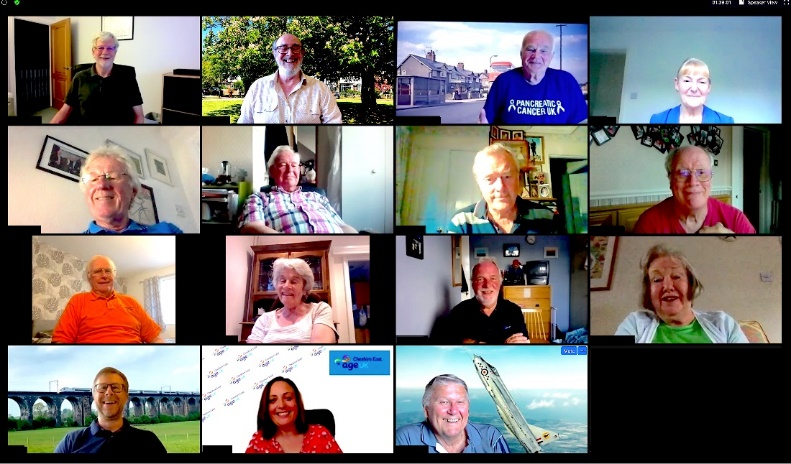 Published on 22 June 2020 09:27 AM
Our Scams Awareness and Aftercare Project has gone online to bring scams awareness sessions to older people, as lockdown continues and whilst criminals are still preying on the vulnerable during the COVID-19 outbreak.
Initially, it was hoped that sessions would be delivered to older people's interest groups in face-to-face meetings. However, as the project started during lockdown, the team has quickly adapted, and is now spreading awareness, rather than the virus, through Zoom video conferencing.
In the last week alone, two online sessions have been held with the Rotary Clubs of Wilmslow Dean and Macclesfield Castle, with over 30 people 'present' online to hear the talk.
Speaking after a Zoom session, Ian Bradley, of Wilmslow Dean Rotary Club said "This is an important project which it was helpful to hear all about so we could share with contacts we have, to ensure the messages get out as widely as possible." Mary Grant, President of Macclesfield Castle Rotary Club commented "On behalf of the Rotary Club of Macclesfield Castle I wish to thank Sally for an excellent, enjoyable and effective scams awareness presentation and Q&A session containing relevant, informative and interesting details with clear messages".
The Scams Awareness and Aftercare project is run in partnership with Cheshire East Council Trading Standards. Funded by the National Lottery Community Fund and Weston Garfield Foundation, one of its aims is to empower older people to identify, avoid and report scams, to prevent becoming a victim of such devious fraudsters.
Sally Wilson, the project's manager said, "It's great that we can share messages about scams through the Zoom platform, as it's vital our older residents are supported in keeping themselves and their communities safe from scams. This is especially important as they could be feeling even more isolated than usual in lockdown, and scammers continue to take advantage".
The launch of the Zoom sessions comes during the Citizens Advice Scams Awareness Fortnight, where the project will be working with its Cheshire East Council Trading Standards partner to raise awareness of different kinds of scams and the importance of spreading the word with family and friends. You can follow the project's campaign throughout the fortnight and beyond at @AgeUKCE on Twitter and @Age UK Cheshire East on Facebook.
However, the project goes far beyond the Zoom sessions. It produces a monthly Scams Awareness Update bulletin, highlighting types of scams and current scams in the local area. The bulletin has been popular, including being taken up by clients of Age UK Waltham Forest in London and delivered by Cheshire East Council to those currently shielding. The bulletins can be found, along with other useful resources on the Age UK Cheshire East website.
Councillor Mick Warren, Cheshire East Council cabinet member for communities, said: "I congratulate our trading standards service and the scams awareness and aftercare project team on the excellent and important work they are undertaking with our older residents who need to be protected from unscrupulous scammers who are taking advantage of their vulnerability, especially during this pandemic. Councillor Laura Jeuda, Cheshire East Council cabinet member for adult social care and health, added: "For an older person to discover that they have been tricked and robbed of their savings or possessions must be an extremely distressing experience and those responsible are beneath contempt."
The project operates in the northern end of the Cheshire East borough, around the towns of Congleton, Macclesfield, Knutsford, Poynton, Wilmslow and Alderley Edge. If you are a group of older people meeting on Zoom and would like to book a virtual scams awareness session, please get in touch with Sally Wilson on 07932 999902 or sally.wilson@ageukce.org. You may also like to get in touch with Sally if you know of someone who may benefit from the project or you would like to volunteer in your area.