Scams Awareness Project celebrates first birthday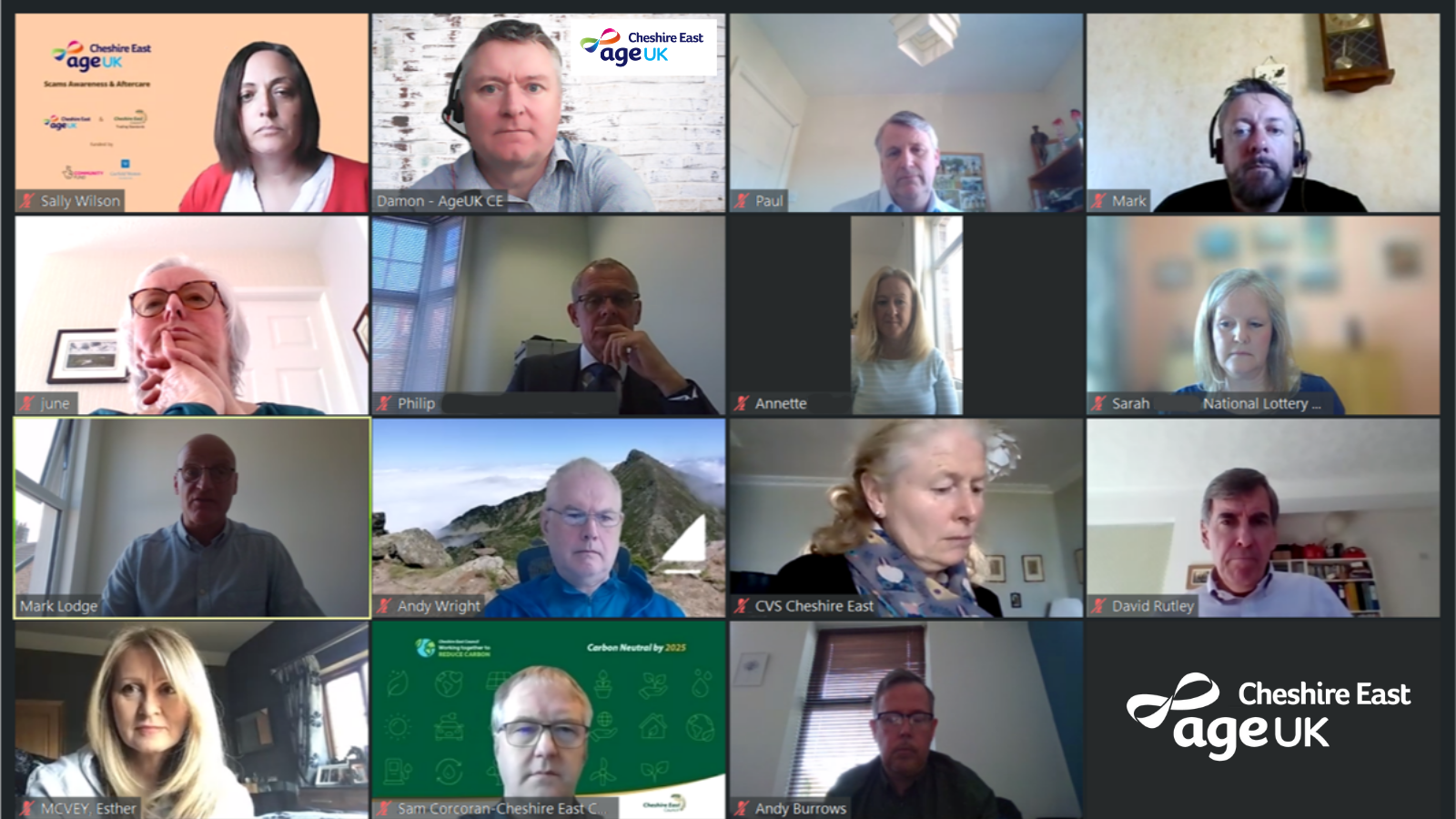 Published on 16 April 2021 01:15 PM
After starting just eight days into the first lockdown, Age UK Cheshire East's Older Person's Scams Awareness and Aftercare Project is now celebrating a year of raising scams awareness with older people, and supporting victims of fraud. The project, run in close partnership with Cheshire East Council Trading Standards, has been delivered in a year when more than £34 million has been stolen through COVID related scams alone.
To celebrate the anniversary, the project held an online event on 16 April attended by local MPs David Rutley and Esther McVey, together with Councillor Sam Corcoran, Leader of Cheshire East Council and partners involved in delivering the ground-breaking work. The event provided an opportunity to celebrate the project's many successes, as well as look ahead to how the project will further develop awareness in the coming year.
Funded by The Garfield Weston Foundation and The National Lottery Community Fund, the project has delivered scams awareness sessions to groups of older people meeting online, to empower them to spot, avoid and report scams. Participants have commented that they felt their scams awareness was high but, after the sessions, realised they were not as scam savvy as they previously thought.
The extremely popular monthly scams awareness bulletin, written in conjunction with Cheshire East Council Trading Standards, has prevented older people from falling foul of scams, with top tips on staying safe and alerts to current scams. The bulletin reaches far in excess of 5,000 subscribers each month.
The project is proud to have supported older people who have been victims of scams get back on their feet. This aftercare support has ranged from giving further advice about how to avoid scams, to longer, more intense work talking through the practical aftermath of fraud, building up clients' confidence, and supporting them to re-engage with their community.
The project's team is supported by Scams Awareness Champions. These volunteers, working from home, have alerted the project to almost 100 scams this year and have shared scams awareness messages with older people in their local community.
Project Manager, Sally Wilson says "We are delighted with the success of the project in its first year. Thank you to all our funders, volunteers and partners, who have been instrumental in keeping older people safe from scams. We are looking forward to this coming year where, hopefully, we'll also be able to raise older people's scams awareness face-to-face in the community".
David Rutley, MP for Macclesfield, commented on the project's work "I have supported this important project since day one, and have been very pleased at the high levels of awareness it has raised amongst our older people. I have been horrified by stories about how some older people have been scammed out of their life savings and am just glad that such a vital project has been able to achieve so much, despite the added challenges of the pandemic. We all stand together in sending a strong message to the scammers and the fraudsters that we will not tolerate the targeting of our older communities."
If you would like to subscribe to the scam awareness bulletin direct to your inbox, book an awareness session for your group, ask for support after being scammed, or would like to become a Scams Awareness Champion, please click on this box to get in touch.