Scams Project scoops national award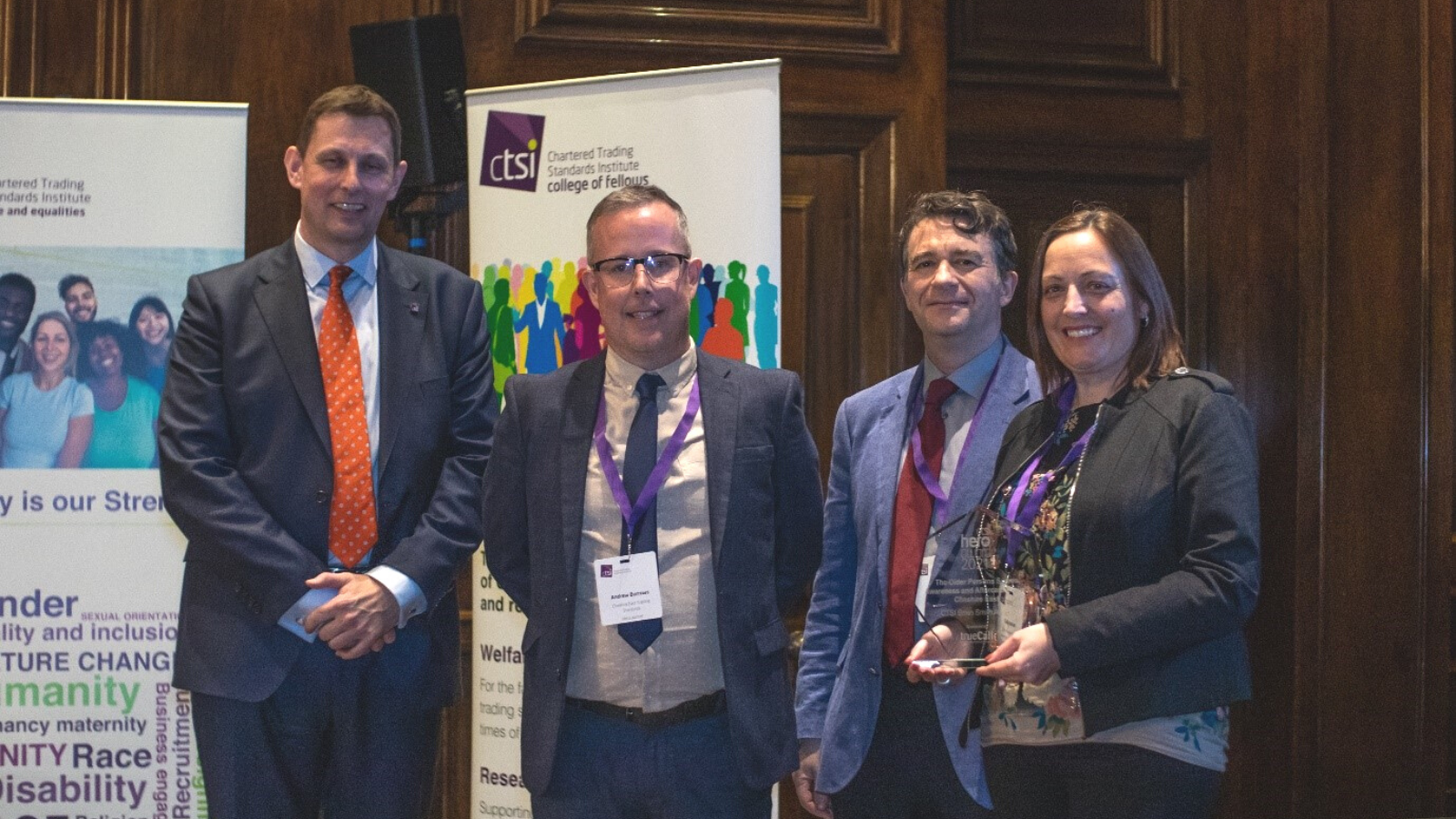 Published on 20 October 2021 11:13 AM
Photo above shows Members of the Scams Awareness and Aftercare Project receiving the award in London from John Herriman (far left), Chief Executive Chartered Trading Standards Institute and Steve Smith (2nd from right) Managing Director TrueCall.
The successful partnership between Age UK Cheshire East and Cheshire East Council Trading Standards Team has been recognised with a Charted Trading Standards Institute (CTSI) award.
The Older People Scams Awareness and Aftercare Project, funded by the Garfield Weston Foundation and the National Lottery Community Fund, raises scams awareness with people aged 50+ across Cheshire East, and supports older victims of fraud to get back on their feet. Over 6,000 people receive its scams awareness update bulletin each month, and it offers scams awareness sessions to groups of older people and those who work with them.
Due to its positive impact on the community and victims of scams, the project has been awarded a CTSI Brian Smith Individual Heroes Award. This is given to recognise the bravery of scam victims and the officers that work on these difficult cases. Falling victim to a scam can devastate someone's life, and it happens to even the sharpest of us. The Individual Heroes award is given to those who look out for vulnerable neighbours, volunteer within their communities, and those who may be a victim, but refuse to be defined by it.
The award was presented at a ceremony in London on Tuesday 19 October. Attending the event, with Cheshire East Council Trading Standards Enforcement Officer Andy Burrows, project manager Sally Wilson commented, "We are delighted that the project's success over the past eighteen months has been recognised. We receive the award on behalf of the hard-working teams at Age UK Cheshire East and the borough's Trading Standards Service, especially our Scams Awareness Champions who volunteer to raise awareness in their communities. This award is also to recognise the bravery of scam victims we have worked with in coming forward for support, so they can get back on their feet and be a valued member of their community".
Councillor Mick Warren, chair of Cheshire East Council's Environment & Communities Committee, said: "I warmly congratulate our Trading Standards Service and the Scams Awareness and Aftercare Project team on this deserved award for the excellent and important work they undertake to protect our older residents from unscrupulous scammers, who seek to take advantage of their vulnerability, especially during the current Covid-19 pandemic.
"It is hard to believe there are people who will prey on our elderly and vulnerable residents during this challenging time but, very sadly, the number of reports from victims shows that it is all-too-often the case."
"Protecting our older people from this kind of criminal activity is vital and I wish to thank Age UK Cheshire East for the work that they are doing with our Trading Standards Team. Well done all."
Information about the project's work can be found at www.ageukce.org. If you would like to receive the monthly bulletin by email, book a scams awareness session for your group or volunteer on the project in your community, you can contact Sally Wilson on 01625 612958 or enquiries@ageukce.org. Older people who have been a victim of scams can also contact the project for advice and support.