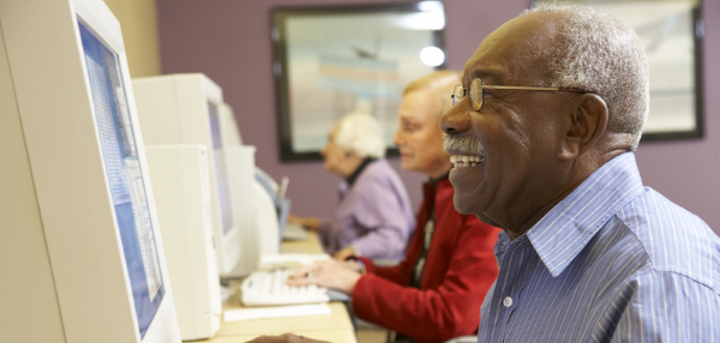 The technology revolution has brought with it many benefits for our society, but many older people are finding they need some help and support to get started or to keep pace with the rate of change.
For many years Age UK Cheshire East has been helping people develop and improve their use and understanding of computers and the internet.
Our volunteer tutors and mentors have many years of experience helping people and they understand how difficult it can be for some people to get started.
We provide a weekly drop in session at our learning centre in Macclesfield. Class sizes are kept small so that we can give individual attention to everyone regardless of ability and previous experience.
We provide support on a variety of topics to help people get started and gain confidence in the most common computer tasks:
Absolute Beginners
Word Processing
Pictures on Computers
One to One help
Internet and Email
Spreadsheets
Ipads and Tablets
The drop in sessuions are designed to provide help, advice and a chance to practice your skills. The session runs each Monday morning from 10am to 12 noon.
What does it cost
The drop in session costs £3
Reason-based approach to using computers and the internet
Technology can enhance later life, so we don't simply teach you how to use a computer, we look for the reason you need to use a computer and then show you what to do.
Our volunteer tutors and mentors are experienced and understand how difficult it can be to get started, but the friendly and informal way they approach their topic makes learning fun.
How to join in
To find out more about our weekly drop-in session, please contact us between 10:00am and 4:00pm, Monday to Friday.