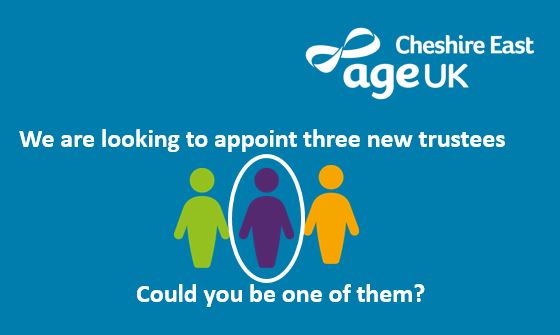 Age UK Cheshire East is the premier older persons' charity in Cheshire East. We provide a range of services particularly tailored to the needs of local people in later life. We generate our income through our five high street shops, as well as charged for services, fundraising, donations and trust funds.
Who we are looking for
We are looking for three committed individuals to join our Board as a Trustee, consolidating and complementing existing skills with an eye to succession planning and taking the charity forward in an ever more challenging environment. We require dynamic and motivated people who are sympathetic to the aims and objectives of our charity to fulfil these voluntary duties.
The Trustees will contribute actively to the Board by giving strategic direction; setting overall policy; defining goals and setting targets; evaluating performance; ensuring the charity's effective and efficient administration and financial stability.
We are particularly interested in hearing from you if you have an interest/knowledge of financial matters; fundraising; marketing; or digital skills as these are areas where the Board needs to strengthen its expertise. There is no need to have trustee experience to apply, but an interest in supporting older people is necessary.
What you are expected to do as a Trustee
Trustees are expected to
attend six Board meetings a year as well as the occasional ad-hoc meeting;
contribute advice and support on an ad hoc basis; and
attend events.
All travel and out of pocket expenses can be paid.
Please Note: There are rules which disqualify certain people from being a trustee of a charity. Being disqualified means that a person can't take on, or stay in, a charity trustee position – even on an interim basis, unless the Charity Commission has removed (or 'waived') the disqualification. Details of how you could be disqualified from acting as a charity trustee are shown in the attached document
How to apply
If you would like to apply to become a trustee, please send a covering letter along with your CV to recruitment@ageukce.org
Closing date: Completed applications should be returned to us at the email address listed above. Shortlisted applicants will be invited to meet with the Chair and Chief Executive, in the first instance, to discuss their application in more detail.