BBQ by Brighterkind raises £250 for Age UK Hertfordshire
Published on 20 August 2019 02:59 PM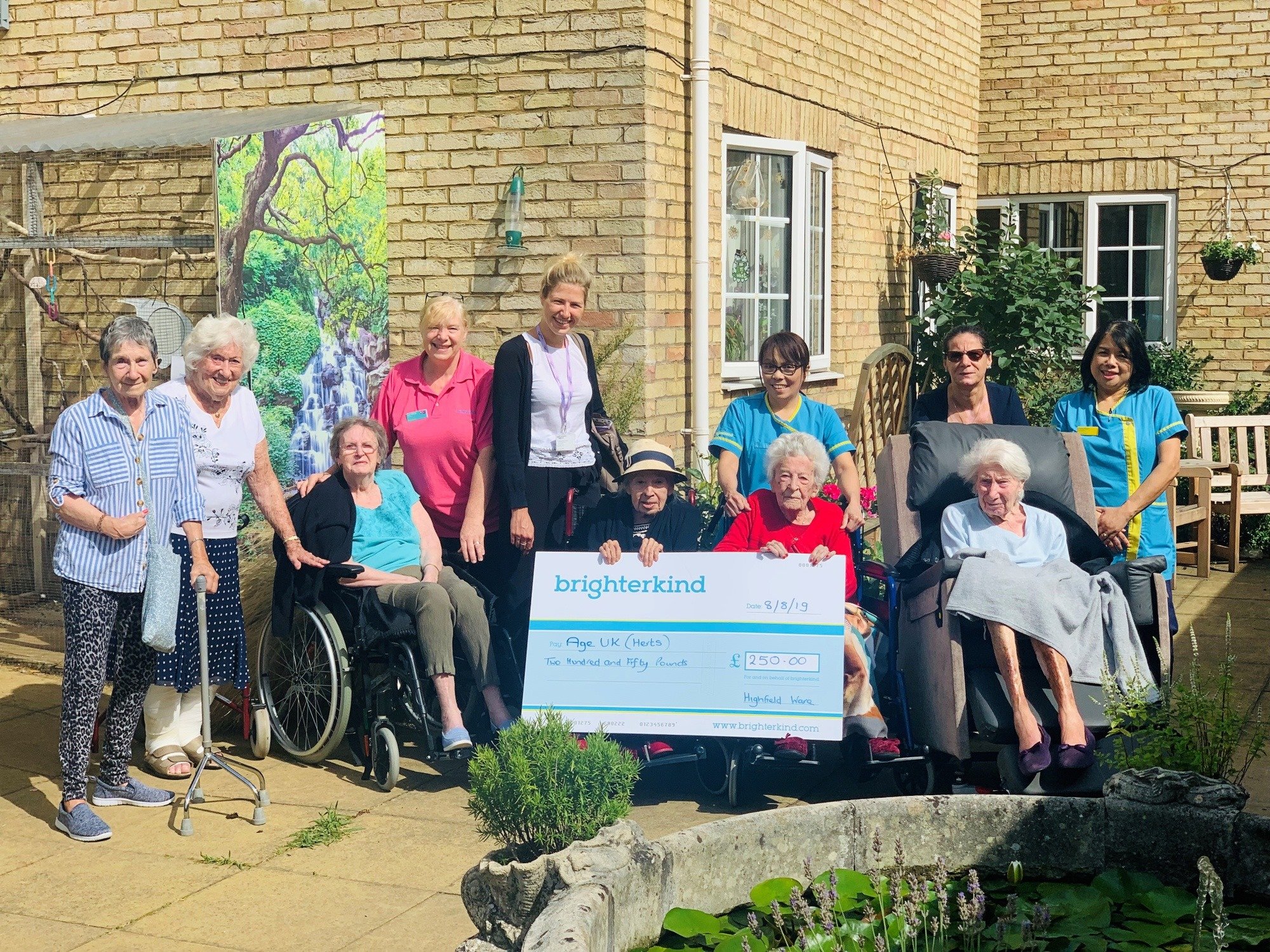 Highfield Care Home in Ware recently donated a whopping £250 to Age UK Herts following their Summer BBQ community fundraiser event.
The care home have recently been working alongside Age UK Herts division and in July, held a campaign for National Picnic Month to help raise money for all the hard work they do. Brighterkind decided to help support their efforts by holding a BBQ picnic fundraiser in their newly refurbished garden.
Although the event took place on the hottest day of the year, the residents and guests enjoyed the shelter of our beautiful trees and gazebos and sipped juices and ice cold water to keep cool.
Residents enjoyed BBQ burgers, hotdogs, chicken and salad, complimented by a beautiful fresh fruit salad all prepared and served by a wonderful Catering team!
Gareth John provided the musical entertainment throughout the day in the sunshine, bringing his unique style to entertain the residents with some great swing, reggae and golden oldies together with trumpet playing!
There was a fabulous tombola and stalls selling such diverse items as Orchids to pure Hertfordshire Honey to handbags and perfume bottles. The local NCS also attended to sell cakes for Cancer Research.
Some of the guests included members of HCPA (Herts Care Providers Association) Nicole Johnson and Karen Green who were very complimentary about the work at Highfield and how they try to make a difference to every day.
The day raised a fantastic £250 and were very pleased with this amount! The cheque was presented to Ellie Males, representative of Age UK Herts.
Lyn Wilkie, Magic Moments Club Co-ordinator said, "Although it was a very hot day, we really enjoyed being in the garden socialising with family, friends and guests, chatting together and enjoying a party!"
Resident Vi said, "I loved the music!"