Pilates, Tai-Chi and Yoga
These classes offer the opportunity to make friends while performing a relaxed and gentle workout for all ability levels.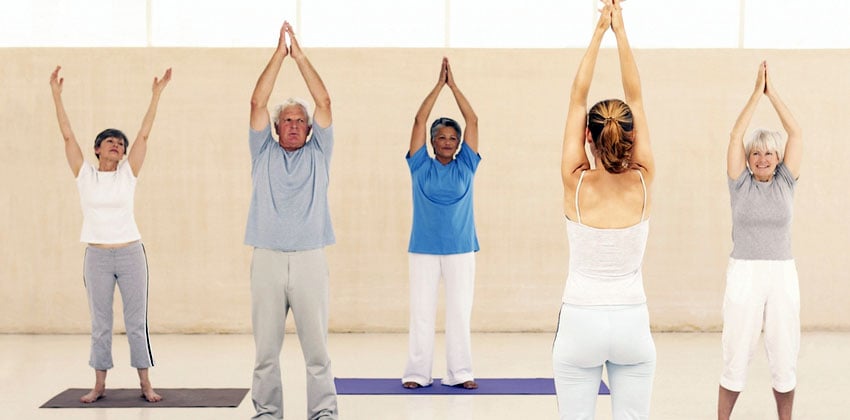 Catherine House, Evington
Tai Chi
Every Friday between 9am – 10am (Contact Nasser for more information on 0779 2242150)
Clarence House, Leicester
Tai Chi
Every Tuesday and Saturday from 12.30pm – 1.30pm (£4.50)
Yoga
Every Monday from 10.30am – 11.30am (£2.50)
North West Leicestershire
Seated Pilates
Every Tuesday at 11am at Moira Village Hall (£4.50)
Earl Shilton Centre
Tai Chi
Every Tuesday between 2.30pm and 3.30pm
Yoga
Every Wednesday from 9am – 10am
Pilates
Every Monday and Thursday from 7pm – 8pm (contact Emanuela on 07939 491059 or info@pilatesfitness.co.uk for more information)
Gloucester House, Melton Mowbray
Tai Chi
On Mondays between 11.30am and 12.30pm (contact Steve Taylor at MBC for more information, 01664 502389)
Yoga
Every Tuesday from 6pm – 8pm (Contact Colette Stein on 01664 454823 for more information)
Pilates
Every Tuesday from midday to 1pm (contact Emma Watson for more information on 07709 470990)
Oakham
Tai Chi
Every Tuesday at All Saints Church Hall, 1:30pm – 2:30pm. For men and women of all ages and abilities. No booking necessary, cost £5. To find out more contact Rosemary Gibbs on 01572 724 188.