Past Campaigns - On the Health and Well-being Campaign Trail
Published on 09 April 2018 11:47 AM
We are calling on public bodies in London to take action to improve the health and wellbeing of older Londoners.
Our campaign embraces three key areas of concern in the field of older people's health and wellbeing: getting prevention properly onto the agenda, finally seeing an end to the scandal of malnutrition in London hospitals and enabling older people to become IT literate.
Key strategic recommendations:
1. Joined-up thinking, planning and funding
Health and Wellbeing Boards, local authorities, Clinical Commissioning Groups, the London Commissioning Board, the London Clinical Senate and the London Health Improvement Board, must ensure that fully intergrated thinking, planning and funding arrangements are in place for the benefit of older people.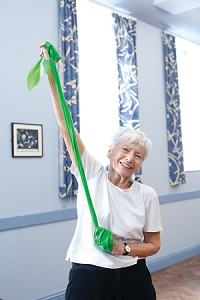 2. Eliminating malnutrition in London hospitals
All NHS Hospital Trusts and Foundation Trusts in London must provide:
Acceptable paid staffing levels
Recruitment, training, and deployment of volunteers to support patients on relevant wards at all mealtimes
Inclusion of malnutrition data in the performance metrics collected by hospitals for the CQC
A 'malnutrition Czar' appointed in every hospital to monitor progress and report to the Trust board quarterly, for a minimum of two years.
3. Addressing and preventing digital exclusion
A sustained digital inclusion campaign is urgently needed to capitalise on the outcomes of Age UK London's highly successful MiCommunity project. This would involve all local authorities in London, as well as secondary schools, higher and further education colleges, the Mayor of London, the London Chamber of Commerce, the Central Bureau of Investigation in London, other corporate sector representative bodies and the City of London.